Ultra Defragger. How to remove? (Uninstall guide)
Ultra Defragger is the updated version of fake computer optimization programs Quick Defragmenter or HDD Defragmenter. This new variant of malicious defragmenter, just like the earlier ones, will never report real computer problems because it is designed to swindle the money from trustful PC users. Just after its secret intrusion done with a help of Trojans, Ultra Defragger starts showing its fake notifications and pop-up ads that all can be clearly predicted to make you concerned about your machine. Never believe this fake useless defragmenter and instead of falling into its invented information given, remove Ultra Defragger!
Similarly to its above mentioned predecessors, Ultra Defragger reaches the system without user permission and in order to protect itself attempts to disable legit antivirus software found. Targeted PC becomes completely taken over by this scam in the result of such actions and Ultra Defragger begins the campaign it was designed to. UltraDefragger will keep launching at startup, so be sure it will greatly affect your computer by running fake scanners and pop-up ads or notifications that will annoy you to death. It will also block other programs that are important for a normal computer's work, like Notepad. On these alerts you will be seeing various phony system errors that are important to be ignored, for example:
Windows detected a hard drive problem.
A hard drive error occurred while starting the application.
Windows cannot find notepad. Make sure you typed the name correctly, and then try again. To search for a file, click the Start button, and then click Search.
Requested registry access is not allowed. Registry defragmentation required
Read time of hard drive clusters less than 500 ms
32% of HDD space is unreadable
Bad sectors on hard drive or damaged file allocation table
GPU RAM temperature is critically high. Urgent RAM memory optimization is required to prevent system crash
Drive C initializing error
Ram Temperature is 83 C. Optimization is required for normal operation.
Hard drive doesn't respond to system commands
Data Safety Problem. System integrity is at risk.
Registry Error – Critical Error
Critical Error
Windows can't find hard disk space. Hard drive error
Critical Error!
Windows was unable to save all the data for the file System32496A8300. The data has been lost. This error may be caused by a failure of your computer hardware.
Critical Error
A critical error has occurred while indexing data stored on hard drive. System restart required
System Restore
The system has been restored after a critical error. Data integrity and hard drive integrity verification required.
You must acknowledge that Ultra Defragger reports no genuine problems detected on your PC because it wasn't created for that. Having no such function, this scam just tries to swindle your money because for the repair of those problems it asks buying its registered copy. You should keep in mind though that instead of repairing something UltraDefragger can ruin the infected system unless uninstalled on time. It completely distorts the PC security settings and may let more of the other viruses. Please review and use the removal guide given below to remove Ultra Defragger scareware effectively and without getting computer damaged.
The latest parasite names used by FakeHDD:
[newest id="fakehdd"]
Alternative Software
Different security software includes different virus database. If you didn't succeed in finding malware with Reimage, try running alternative scan with Malwarebytes.
Alternative Software
Different security software includes different virus database. If you didn't succeed in finding malware with Reimage, try running alternative scan with Combo Cleaner.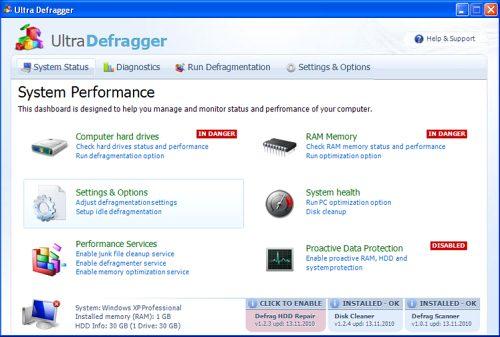 About the author

November 14th, 2010 at 9:11 pm

thank you this was really helpful


June 4th, 2011 at 11:06 pm

Before you download the spyware, note the "For free scan" and dont waste your time. It will only scan unless you pay for it. It will not remove your malware. If youre going to remove it manually, write down what filename was randomly selected before you start deleting.