Remove UPCleaner (Improved Guide)
UPCleaner virus – is it the right term to describe this program?
In fact, you should not call UPCleaner a virus because it is not a malicious software. It is annoying and useless, indeed, but it cannot wreak havoc on the computer system. It is named as a potentially unwanted program (PUP), and can be defined as a rogue computer optimization tool. Despite the fact that it presents itself as a beneficial software that is designed to speed up the computer by deleting junk files and disabling unwanted programs, or even malware, UPCleaner PUP can hardly provide these functions.
Once installed, UPCleaner starts displaying intrusive pop-up alerts and warnings that inform the computer user about the state of computer security level. It claims that computer is at risk and that there is a huge number of errors that need to be fixed. Inexperienced or simply inattentive computer users can be convinced by such claims, but attentive computer users may notice that these alerts started to come up, and the computer started to malfunction and lag only after UPCleaner alerts began to show up. That is not a coincidence because UPCleaner PUP seeks to create an illusion that computer is messed up while in reality it is okay. UPCleaner adware sends annoying pop-up ads that urge the PC user to fix issues as soon as possible. However, ads by UPCleaner are delusive, and so you should not believe what they state. If you have started to see UPCleaner ads, you should scan your computer with a professional anti-malware software and see what it detects. Most likely, a reliable anti-malware software will identify UPCleaner as the real problem.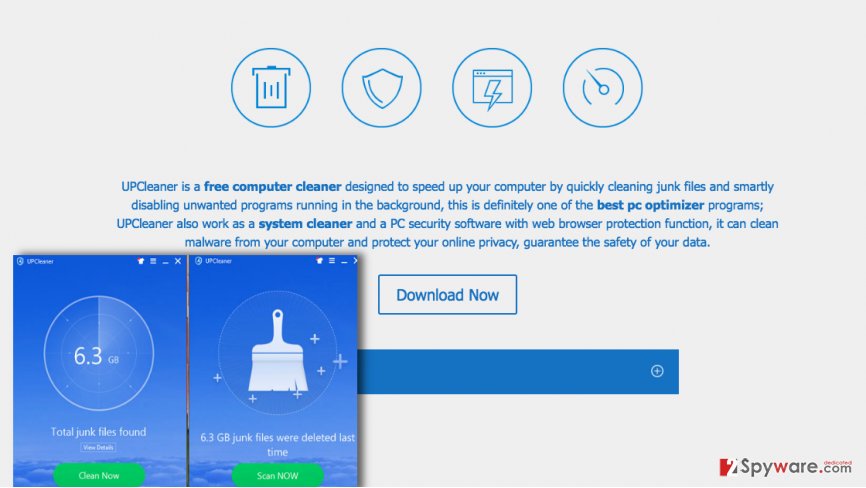 The reason why UPCleaner urges to fix your system is that it seeks to convince you to buy a full version of it. However, we do not recommend you to waste money on such untrustworthy computer optimizers like UPCleaner.
How did UPCleaner hijack your computer system and how to prevent it from happening in the future?
Questions about UPCleaner
Sometimes people install potentially unwanted programs without even realizing it. The question is, how and when does it happen? What it takes to prevent such situations? The answer is simple – it doesn't take much. All you need to do to avoid placing potentially unwanted programs on your PC is to adjust installation settings and set them to Advanced or Custom option whenever you install new programs. These settings give a chance to see additional programs added to your download, and if you do not want to install them, you just need to deselect them. That is literally all it takes to avoid installing potentially unwanted apps.
Speaking of malicious programs, this method might not help you to prevent installing dangerous software on your computer. If you want to secure your computer from both spyware and malware, consider installing anti-malware software like Reimage. This program can remove UPCleaner and other dangerous programs from your computer and also protect it from virus attacks. If you would rather opt for the manual UPCleaner removal option, please proceed to page 2 to see manual removal instructions.
How can you remove UPCleaner from your computer?
You should not call this potentially unwanted program as UPCleaner virus because it cannot harm your machine. To stop UPCleaner ads and normalize the functionality of your computer, uninstall UPCleaner system tool from your computer. You can do it with a help of UPCleaner removal guide given here, or with anti-malware software.
For Windows users:
Click "Start" button;
Enter "Control Panel";
Find "UPCleaner" and select "Uninstall" function;
Finish the process by clicking "OK."
Alternative Software
Different security software includes different virus database. If you didn't succeed in finding malware with Reimage, try running alternative scan with SpyHunter.
Alternative Software
Different security software includes different virus database. If you didn't succeed in finding malware with Reimage, try running alternative scan with Combo Cleaner.
About the author

May 23rd, 2016 at 2:33 pm

Thank you! My computer started to function smoothly just right after I removed UPCleaner. 🙂