Remove US System Care virus (Improved Instructions)
Why using US System Care is not safe?
Even though the Internet is full of the users complaints about the "US System Care virus", we think this is a relatively harsh statement. This program is not a virus, nor a malicious program. Yet, some of its characteristics may be rather questionable. Essentially, US System Care application promises its users a handy service of indicating and fixing the potential system errors. Nevertheless, it seems that the program is barely functional. Naturally, it explains the negative feedback from the users. Because of the poor feedback, the software downloads decrease and, as a result, the program's developers have to employ other techniques to deliver their product to the users' computers. Mainly, this program is distributed together with other freeware or shareware programs and automatically install with these programs as well. What is more, this system optimization tool will initiate its processes without the user's permission too. Because of the mentioned reasons, the security experts agree that keeping such program on the computer is not safe and recommend immediate US System Care removal from the computer.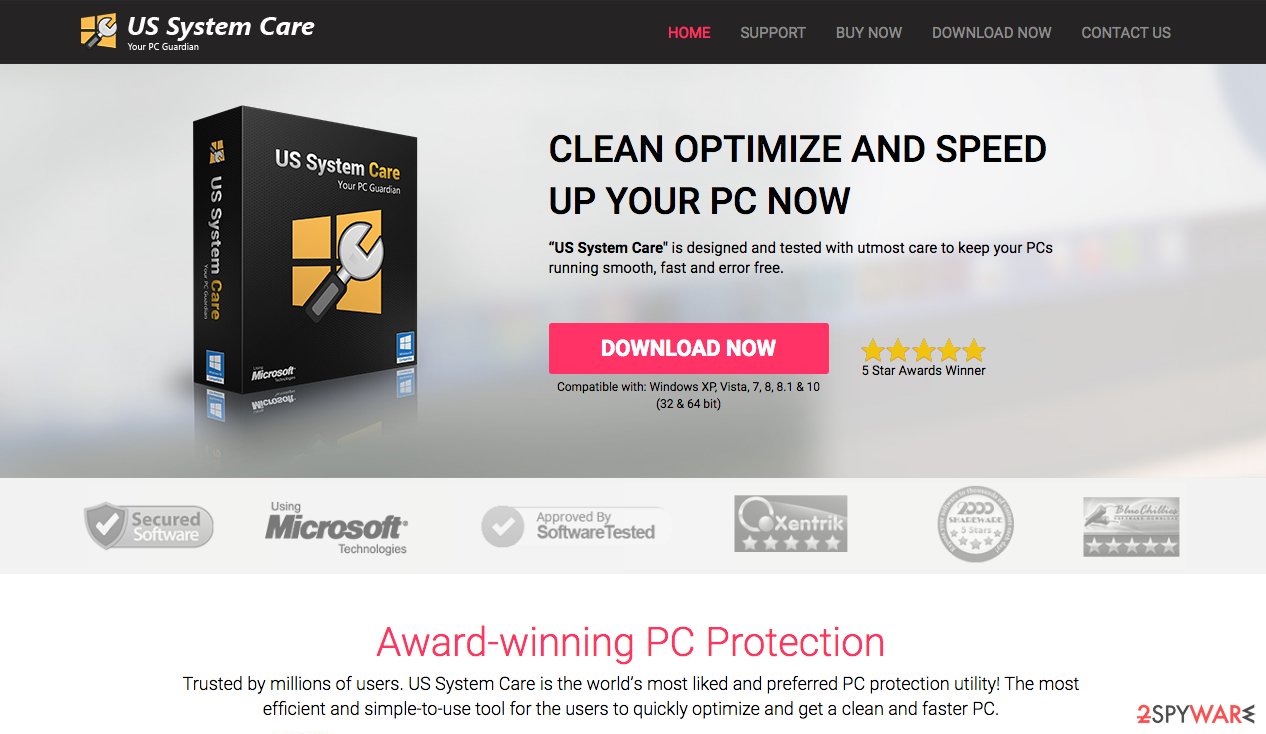 It is important to note that once this program is installed on the system, it automatically starts scanning it for errors. The scanning itself is really shady because it last just a couple of seconds and presents you with a long list of system errors, supposedly found during the scan. There are no sophisticated system optimization tools that can perform a task like this in such a short period of time. It seems that this scan is merely an imitation of a real system checkup when, in reality, no actual threats are discovered. What also adds to this presumption is the fact that once these supposed errors are detected, the user will be offered to purchase the full version of this software to remove them. We do not recommend that, because, frankly speaking, it is simply a waste of money. It is better to remove US System Care from your computer and look for some more reliable tools instead.
How can this application end up on my computer?
Interestingly enough, even though this program is promoted as a legitimate system optimization tool, it actually spreads like the majority of malware programs, via software packages. You should keep in mind that you can come across such malicious software packages on unreliable sites or download them through peer-to-peer networks. Therefore, you should be careful when choosing sites for downloading software. Also, always make sure that your downloaded program is not bundled with some other, potentially unwanted applications. You can disclose additional software by choosing advanced installation settings. Nevertheless, most importantly, equip your computer with reliable antivirus gear to avoid such secret system infiltrations.
Recommendations on the US System Care removal:
Questions about US System Care virus
There are two ways to remove US System Care from your computer quickly and effectively. First, you can try removing it manually. Locate the usscr.exe file in your task manager and terminate it. Then, follow the instructions provided below:
For Windows users:
1. Click "Start" button
2. Enter "Control Panel"
3. Find "US System Care" and select "Uninstall" function
4. Finish the process by clicking "OK"
If you are a Mac OS X user and you have downloaded this tool to your computer, you can remove it following these steps:
1. Click "Go" button and select "Applications"
2. Find the "US System Care" in the list
3. After selecting the program, choose "Move to Trash"
Remember that if you have inadvertently downloaded this application to your computer, there is a high chance that some other malicious programs like adware of browser hijackers may have entered your system in the same way. We recommend running an extra scan of your system with some reputable antivirus tool, such as Reimage, and make sure your computer secure.
Alternative Software
Different security software includes different virus database. If you didn't succeed in finding malware with Reimage, try running alternative scan with SpyHunter 5.
Alternative Software
Different security software includes different virus database. If you didn't succeed in finding malware with Reimage, try running alternative scan with Combo Cleaner.
About the author

May 10th, 2016 at 8:58 am

Sad that this app is fake. The site sure looks sweet though


May 10th, 2016 at 9:00 am

Not it explains EVERYTHING! I THOUGHT there simply could not be as much errors in my system as it claimed to be


May 10th, 2016 at 9:01 am

Cool short removal instructions. THANKS! 🙂 Got rid of this shady app just in time 🙂