Vid Adblock virus. How to remove? (Uninstall guide)
Vid Adblock is an application that promises to block annoying advertisements when you view YouTube and other online videos. Despite that this program may look legitimate; you should think twice before adding it to your system. In fact, Vid Adblock may act the opposite of what it promises. This program is promoted as a legitimate tool in order to trick people into downloading this useless adware. Try not to fall for this deception and avoid installing this application. However, if this potentially unwanted program (PUP) is already hiding in your system, and now you see Vid Adblock ads, you should not waste time and remove this application as soon as possible.
How can Vid Adblock hijack my computer?
Vid Adblock redirects may bother you out of nowhere. If that is the case, you need to check your recently installed programs because Vid Adblock virus may travel together with freewares as an additional attachment. Besides, as we have stated before, this program is promoted as an ad-blocker, and it has its own download page. So, there are many ways how you can download this adware. That is why we always recommend having an anti-spyware tool that should protect your computer and prevent similar intruders from entering your computer. If your computer is unprotected, you should carefully choose what programs you want to install. We strongly recommend selecting 'advanced' or 'custom' installation' option when installing unfamiliar free programs. This will give you an opportunity to spot unwanted attachments, such as Vid Adblock virus, and unmark them if needed.
How to remove Vid Adblock virus from my computer?
If you want to do that, you should check your Add/Remove Programs and eliminate Vid Adblock virus from there. What is more, you should also check your browsers and remove suspicious extensions, add-ons and plug-ins. You just need to follow these simple guidelines.
Remove Vid Adblock from your computer:
1. Click Start → Control Panel → Uninstall a Program.
2. When in the Add/Remove Programs/Uninstall a Program, look for recently installed/unfamiliar applications, such as Vid Adblock, Coinis Downloader, SaverAddon, SupTab, WebSaver, Shopping-Addon, ValueApps, Lollipop, PriceMeter, Supra Savings, weDownload Manager, Software Updated Version, DP1815, Video Player, Convert Files for Free, BetterSurf, PureLead, Search Assist, Re-Markable, Lollipop, HD-Total-Plus, Safe Saver, Trusted Web, PassShow, LyricsBuddy-1, PureLeads, Media Player 1.1, RRSavings or similar unfamiliar entries.
3. Click 'Uninstall' and then OK to save the changes.
Remove Vid Adblock extension from your browsers (Internet Explorer, Mozilla Firefox, and Google Chrome):
Internet Explorer:
1. Open Internet Explorer, go 'Tools' → 'Manage Add-ons' → 'Toolbars and Extensions'.
2. Here, look for Vid Adblock and similar entries, and click 'uninstall'.
3. Once you remove it, change your start page.
Reset your Internet Explorer (Optional):
1. Open Internet Explorer, click the Gear icon or 'Tools' → 'Internet Options'.
2. Here, go to the 'Advanced' tab and click the 'Reset' button.
3. Go to the 'Reset Internet Explorer settings' → 'Delete personal settings' and click on 'Reset' option.
4. Finally, click 'Close' and OK to save the changes.
Mozilla Firefox:
1. Open Mozilla Firefox, go 'Tools' → 'Add-ons' → 'Extensions'.
2. Find Vid Adblock and similar entries, and click 'Uninstall'.
3. After that, change the start page.
Reset your Mozilla Firefox (Optional)
1. Open Mozilla Firefox, go to the 'Help' section → 'Troubleshooting Information'.
2. Here, choose a 'Reset Firefox' for a couple of times and 'Finish'.
Google Chrome:
1. Click the Chrome menu button on the Google Chrome browser, select Tools → Extensions.
2. Here, look for Vid Adblock or similar unfamiliar extensions and get rid of them by clicking on the Recycle Bin.
3. Don't forget to change start page.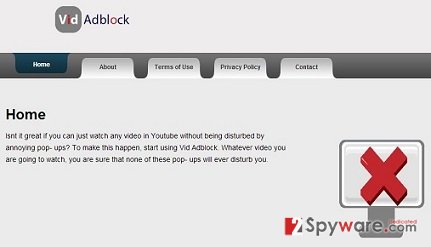 About the author