Virus Melt. How to remove? (Uninstall guide)
Virus Melt is another fake spyware remover, rogue anti-spyware application. Once installed, this rogue floods the system with fake alert notifications about various infections and security problems hopping that user will buy a full version of Virus Melt for removal of those fake infections. But actually, VirusMelt is a scam. This rogue is absolutely worthless.
Virus Melt enters the system using trojan viruses, from dangerous websites or user can mistakenly download and install a trial version of this parasite himself. Regardless of the manner in which this rogue enters the system, the main aim remains the same – to promote useless product and collect money from inexperienced users. In order to achieve it's goals, Virus Melt performs fake system scan and reports bogus results about privacy and security problems or vulnerabilities. Virus Melt is then advertised as the best solution in current situation. However, trial version is unable to remove those infections, so user has to purchase a full copy if VirusMelt. And this is nothing more than a fraud, because Virus Melt is an infection itself. It should be removed as soon as possible after detection.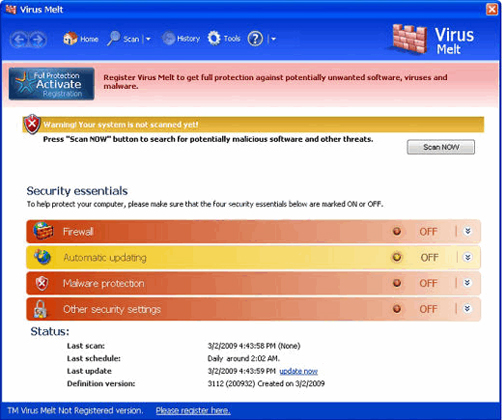 Virus Melt manual removal:
Kill processes:
VMelt.exe
SICKBOY.exe
sld.exe
SM.exe
Unregister DLLs:
exec.dll
gid.dll
Delete files:
VMelt.exe
mscfg.ini
SICKBOY.exe
ANTIGEN.sys
delfile.sys
sld.exe
sld.sys
exec.dll
SM.exe
gid.dll
fix.drv
snl2w.sys
fix.drv
PE.sys
Virus Melt.lnk
Instructions.ini
wrkdata.cfg
About the author