Virus Sacem Police Nationale. How to remove? (Uninstall guide)
Virus Sacem Police Nationale is a French version of Ukash ransomware that has been infecting French-speaking countries for almost a year. Just like all previous ransomwares, this threat can't be unnoticed if manages to get on victim's computer because it locks the entire system down as soon as machine is rebooted. Typically, Virus Sacem Police Nationale locks the whole computer's desktop and leaves PC users without the Internet's connection. Besides, most if its victims have reported that they haven't been capable to reach their files and programs installed on the PC. As you can see, Virus Sacem Police Nationale is a serious threat that initiates various problems as soon as it gets inside the system. It seeks only to mislead people into thinking that they have been caught by official authority (Police Nationale) for their illegal activities on the Internet and that they have to pay the fine if they want to get their computers unlocked. Under no circumstances you should pay this fine.
HOW CAN I GET INFECTED WITH Virus Sacem Police Nationale?
Virus Sacem Police Nationale is distributed by shareware, freeware, spam emails and other files that have been infected by trojan horse. Typically, that's Trojan.Ransomlock or similar threat. As soon as it gets into the system, it launches every time PC is rebooted and virus and block the system. Additional task of Virus Sacem Police Nationale is to create a false impression that you have been blocked for violation of Law. We highly recommend to remove Virus Sacem Police Nationale from your computer if you don't want to be left without money.
HOW CAN I REMOVE Virus Sacem Police Nationale?
If you have been infected by Virus Sacem Police Nationale, you must run a full system scan with reputable anti-malware program to fix your computer. However, most of the victims find themselves blocked by the trojan and can't get on the Internet. If you also find yourself blocked, read the following guide, which will help you to unlock your computer from Ukash virus:
* Flash drive method:
1. Take another machine and use it to download Reimage or other reputable anti-malware program.
2. Update the program and put into the USB drive or simple CD.
3. In the meanwhile, reboot your infected machine to Safe Mode with command prompt and stick USB drive in it.
4. Reboot computer infected with Ukash virus once more and run a full system scan.
* Users infected with Ukash viruses are allowed to access other accounts on their Windows systems. If one of such accounts has administrator rights, you should be capable to launch anti-malware program.
* Try to deny the Flash to make your ransomware stop function as intended. In order to disable the Flash, go to Macromedia support and select 'Deny': http://www.macromedia.com/support/documentation/en/flashplayer/help/help09.html. After doing that, run a full system scan with anti-malware program.
* Manual Virus Sacem Police Nationale removal (special skills needed!):
Reboot you infected PC to 'Safe mode with command prompt' to disable Ukash virus (this should be working with all versions of this threat)
Run Regedit
Search for WinLogon Entries and write down all the files that are not explorer.exe or blank. Replace them with explorer.exe.
Search the registry for these files you have written down and delete the registry keys referencing the files.
Reboot and run a full system scan with updated Reimage to remove remaining virus files.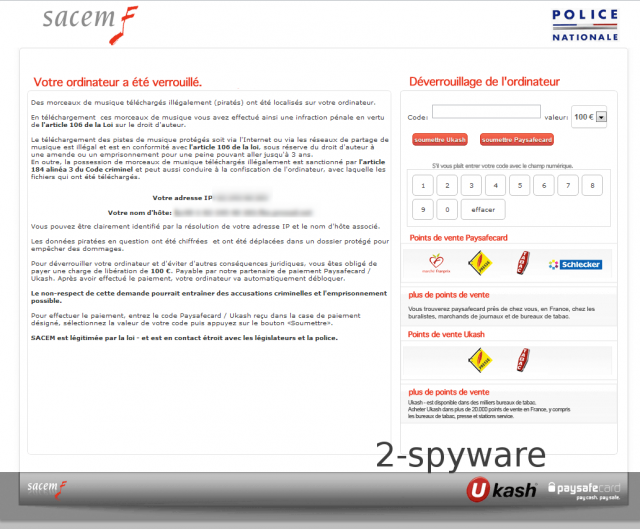 About the author
Removal guides in other languages