Vista Antispyware Pro 2013. How to remove? (Uninstall guide)
Vista Antispyware Pro 2013 may look like a legitimate security application. However, it should never be taken as a serious antispyware tool because it belongs to a dangerous group of malware threats that share identical notifications and attack systems using the same Trojan virus. All the threats that belong to this Braviax family use similar names, such as Win 7 Antispyware Pro 2013, Vista Antivirus Pro 2013 and other. No matter which version has infected your computer, be sure that you must remove Vista Antispyware Pro 2013 because it is malicious software, which is distributed for one basic intension – to get the money from people who fall for its trickery. Seeking this aim, malware displays annoying system scanners and alerts that all repot about nonexistent viruses. After doing this, this rogue offers its paid services and promises that this will help for the user to fix his computer. However, paying for Vista Antispyware Pro 2013 is the same as supporting scammers or throwing your money away. We highly recommend staying away from Vista Antispyware Pro 2013.
HOW CAN I GET INFECTED WITH Vista Antispyware Pro 2013?
Vista Antispyware Pro 2013 is usually spread by Trojan viruses that come inside the system without any permission asked. Typically, you can download this threat after downloading a video codec, which was misleadingly required for watching some video online, or after opening an attachment that came on a spam letter. However, no matter how you have got infected with this rogue, it will definitely show up on its alerts as soon as you reboot your computer. Vista Antispyware Pro 2013 can be predetermined to launch its executable every time user starts browsing the web and display its annoying alerts that claim something like that:
Threat detected!
Security alert! Your computer was found to be infected with privacy-threathening software. Private data may get stolen and system damage may be severe. Recover your PC from the infection right now, perform a security scan.
Privacy alert!
Rogue malware detected in your system. Data leaks and system damage are possible. Click here for a free security scan and spyware deletion.
Security Breach
Beware! Spyware infection was found. Your system security is at risk. Private information may get stolen, and your PC activity may get monitored. Click for an anti-spyware scan.
Keep in mind that Vista Antispyware Pro 2013 is a rogue anti-spyware, which has an empty virus data base and displays only invented viruses. When it comes to the actual virus protection work, this program turns out to be a hollow application, so you must remove Vista Antispyware Pro 2013 as soon as possible.
HOW TO REMOVE Vista Antispyware Pro 2013?
First of all, try scanning your computer with reputable anti-malware. This will help you to stop Vista Antispyware Pro 2013's processes and will eliminate its files. For that, we recommend choosing Plumbytes Anti-MalwareWebroot SecureAnywhere AntiVirus, Reimage, Malwarebytes Anti Malware or other reputable anti-malware program. If you can't launch it, reboot your computer to Safe Mode with networking (reboot PC and, while it's booting up, click F8 for few times to get ability to choose this mode) and try again. You can also launch the program by following these steps:
1) Go START -> RUN; 2) enter https://www.2-spyware.com/download/hunter.exe; 3) after saving the executable on the desktop, rename it from xxx.exe to xxx.com and run.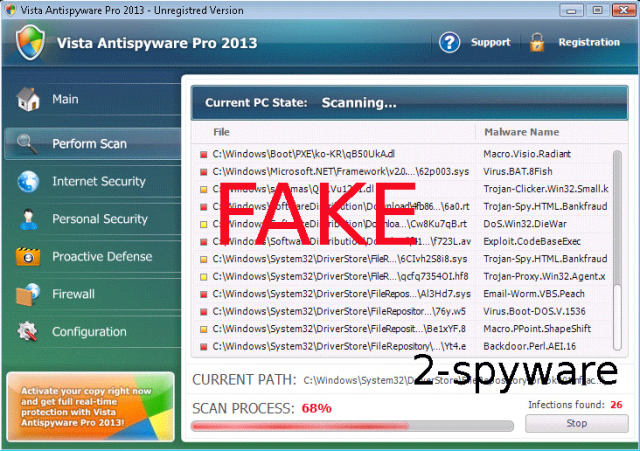 Vista Antispyware Pro 2013 manual removal:
Kill processes:
%AppData%[random 3 letters].exe
Delete files:
%AppData%[random 3 letters].exe
About the author