Vista Defender 2013. How to remove? (Uninstall guide)
Vista Defender 2013 is a clear example of cyber threat, which is based on misleading activity used for stealing the money from unaware PC users. This program does nothing else but tries to create an impression that computer is infected with malware and additionally offers its virus removal or other services that are paid. It should be clear that Vista Defender 2013 infects only those computers that run Windows Vista. However, scammers have also released Win 7 Defender 2013, XP Defender 2013 and Win 8 Defender 2013 for other Windows versions as well. Once you get infected with this scamware, you start seeing falsified security alerts and notifications, reporting about various cyber issues detected. As a result, you get an impression that your computer is not safe and that you need to buy Vista Defender 2013's license in order to fix it. However, paying the money for such program is the same as throwing your money away because this program belngs to malicious Rogue.FakeRean-Braviax family. We highly recommend to ignore this manipulation and remove Vista Defender 2013 rogue anti-virus once it starts appearing on your desktop.
HOW CAN I GET INFECTED WITH VISTA DEFENDER 2013?
Similarly to other rogue parasites, Vista Defender 2013 infiltrates system using trojan horse, which can easily come together with shareware, freeware, video/audio codecs and other potentially-infected downloads. Once inside, this scareware creates a bunch of corrupt files and drops some new Registry entries in order to start its successful activity. Vista Defender 2013 begins to show its forged and completely fake notifications on every browsing session of the user and reports about 'serious issues' detected:
Malware Intrusion
Sensitive areas of your system were found to be under attack. Spy software attack or virus infection possible. Prevent further damage or your private data will get stolen. Run an anti-spyware scan now. Click here to start.
Be the way, it may also offer you to scan your system and make sure that there is something wrong about it. However, it can be easily said that Vista Defender 2013's scanners return only forged results. As you notice this scam running on your computer, you must eliminate its files and get rid of it immediately.
HOW CAN I REMOVE VISTA DEFENDER 2013?
Firstly, ignore all those offers to buy Vista Defender 2013 because it will make you lose your money (and credit card details as well!). In order to remove this malicious program from your computer, you should rely only on a reputable antispyware program. Try using updated Malwarebytes or Reimage to scan your computer for infected Vista Defender 2013's files. If you can't launch these apps, open task manager first and stop all 3-letter randomly named processes.
UPDATE: If you can't download any security program from the Internet, you can try to the fake registration method by using this key : 3425-814615-3990. Additionally, you have to scan your PC with anti-malware programs to remove infected files from the system. Try choosing one of those modern solutions that are capable to find infections no matter what the name of your virus is: Malwarebytes, Reimage, Plumbytes Anti-MalwareNorton Internet Security.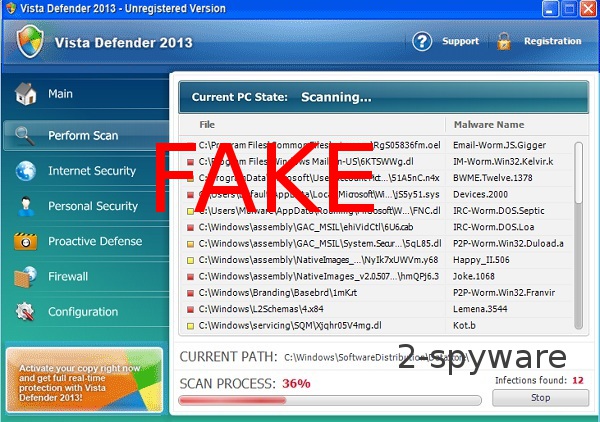 Vista Defender 2013 manual removal:
Kill processes:
%AppData%[random 3 letters].exe
Delete files:
%AppData%[random 3 letters].exe
About the author
Removal guides in other languages