"Warning!Trojan Found!" Pop up. How to remove? (Uninstall guide)
"Warning!Trojan Found!" Pop up is a false security alert generated by rogue anti-spyware application called Ultra Antivir2009. The "Warning!Trojan Found!" alert usually states:
"Warning!Trojan Found!
Threat detected: Trojan
File name: kernel32.exe
Threat name: Trojan-PSW.Win32.Hooker
File at risk of infection: C:\Documents and Settings\…
Total Vulnerabilities: 2
Description: This is a password-stealing Trojan. When activated, it installs itself to the system, copies itself to the Windows or Windows system directory and registers itself in the system registry auto-run section."
It is very important to ignore this fake security alert, because if user clicks on it, he will automatically download and install Ultra Antivir2009. Further consequences can be even worse.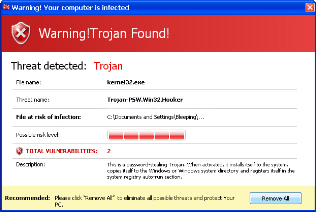 "Warning!Trojan Found!" Pop up manual removal:
Kill processes:
energy.exe
SICKBOY.exe
tjd.exe
UA2009.exe
Unregister DLLs:
exec.dll
CLSV.dll
ppal.dll
Delete files:
uavir.cfg
Ultra Antivir2009.lnk
Instructions.ini
std.drv
kernel32.tmp
delfile.sys
ANTIGEN.sys
snl2w.drv
ppal.tmp
nl2w.drv
vd952342.bd
Delete directories:
%UserProfile%Application DataUltra Antivir2009
c:Documents and SettingsAll UsersApplication Data7c69f0cSystemStore
c:Documents and SettingsAll UsersApplication DataSystemStore
About the author