Win 7 Antivirus Plus 2013. How to remove? (Uninstall guide)
Win 7 Antivirus Plus 2013 virus is a dangerous rogue anti-spyware, which doesn't need your permission when it decides to enter the system. If you see its alerts on your desktop, you should simply ignore them because they report about invented threats or harmless system files and return phony scan results for the victim. Win 7 Antivirus Plus 2013 hails from the same family as Win 7 Antivirus Pro 2013, which was noticed about one month ago. Just like its predecessor, this threat is used for the only aim – to swindle the money. It does that really easily: after reporting about numerous viruses detected, it explains that their removal is possible only with its licensed version and redirects users to its purchase page. Before you pay for it, you must realize that 'licensed', 'registered' or other Win 7 Antivirus Plus 2013's version is useless and should never be purchased. You must remove this rogue from your computer ASAP.
HOW CAN I GET INFECTED WITH WIN 7 ANTIVIRUS PLUS 2013?
As we have said, Win 7 Antivirus Plus 2013 is distributed without any user's permission asked. This method is based on trojan horse, which can easily use security holes when trying to get inside the system. Such viruses hide inside freeware, shareware, spam emails' attachments and similar downloads. Besides, hacked websites can also be used to distribute Win 7 Antivirus Plus 2013. Once it gets inside, it classically modifies the system and starts interrupting you every time you reboot your PC. Be sure that these viruses that are reported by this rogue are harmless system files that are dropped on the system as soon as this virus gets inside it. Ignore such alerts:
System hijack!
System security threat was detected. Viruses and/or spyware may be damaging your system now. Prevent infection and data loss or stealing by running a free security scan.
Be sure that Win 7 Antivirus Plus 2013 is useless in virus detection and it should never be used for their removal. If you have already purchased the license, contact your credit card company to save the money and your credit card details as well. Of course, you must remove Win 7 Antivirus Plus 2013 as well.
HOW CAN I REMOVE WIN 7 ANTIVIRUS PLUS 2013?
In order to remove Win 7 Antivirus Plus 2013, you should run a full system scan with reputable anti-spyware, like Malwarebytes, Reimage or Plumbytes Anti-MalwareNorton Internet Security. If you can't launch any of these programs, try renaming executable's extension from xxx.exe to xxx.com: Just click Start->Run, enter https://www.2-spyware.com/download/hunter.exe and press 'Enter'. Now click 'Continue unprotected' and save the executable on your desktop. Then rename the executable from xxx.exe to xxx.com and run it. You should remove Win 7 Antivirus Plus 2013 files, which will be detected by a program.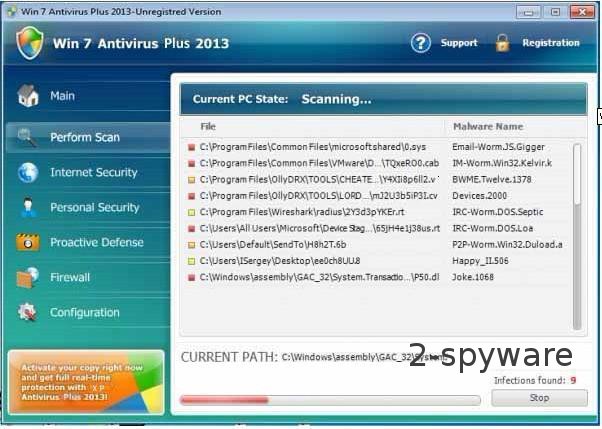 Win 7 Antivirus Plus 2013 manual removal:
Kill processes:
[random].exe
Delete files:
[random].exe
About the author
Removal guides in other languages