Win 7 Antivirus Pro 2013. How to remove? (Uninstall guide)
Win 7 Antivirus Pro 2013 is a rogue anti-spyware, which should never be trusted. The reason why we say so is really simple – this threat can easily make you think that you have many viruses on your computer that can be removed only with its 'licensed' version. Of course, this 'license' is not for free – Win 7 Antivirus Pro 2013 requires a certain amount of money for getting it. Before you start believing its alerts and pay for upgrading it, keep in mind that this program hails from a dangerous group of viruses, Rogue.FakeRean-Braviax, which is already known for its name-changing threats. Just like Win 7 Defender 2013, Win 7 Antivirus Pro 2013 attacks those systems that run Windows 7 version of Windows. Once it gets there, it displays fake alerts and notifications, and seeks to scare you into thinking that your PC is full of threats. You must ignore these messages and remove Win 7 Antivirus Pro 2013 as soon as possible.
HOW CAN I GET INFECTED WITH Win 7 Antivirus Pro 2013?
Win 7 Antivirus Pro 2013 is promoted via freeware, shareware, spam emails or their attachments. Besides, it can easily be downloaded after clicking on the hacked alert left on some random website, so there are, obviously, many ways how you can get infected with this rogue anti-spyware without any permission asked. Once it gets there, it alters computer's settings and sets its executable file to start as soon as PC is rebooted. As a result, Win 7 Antivirus Pro 2013 begins showing up with its annoying notifications that report something like that:
Threat detected!
Security alert! Your computer was found to be infected with privacy-threathening software. Private data may get stolen and system damage may be severe. Recover your PC from the infection right now, perform a security scan.
Privacy alert!
Rogue malware detected in your system. Data leaks and system damage are possible. Click here for a free security scan and spyware deletion.
Security Breach
Beware! Spyware infection was found. Your system security is at risk. Private information may get stolen, and your PC activity may get monitored. Click for an anti-spyware scan.
Besides, it will also show you its fake system scanners and will redirect you to its purchase page.
Under no circumstances you should believe Win 7 Antivirus Pro 2013 and its notifications. Firstly, think have you ever installed such program on your PC. Secondly, scan your PC with reputable anti-spyware and see what it finds. It can be predetermined that it will report Win 7 Antivirus Pro 2013's files as malicious ones. If you find some troubles when trying to get rid of this scam, keep reading the post.
HOW TO REMOVE Win 7 Antivirus Pro 2013?
In order to remove Win 7 Antivirus Pro 2013, you have to scan your computer with decent anti-malware, like Malwarebytes or Reimage. If you can't launch it, reboot your computer to Safe Mode with networking (reboot PC and, while it's booting up, click F8 for few times to get ability to choose this mode) and try again.
You can also launch the program by going START -> RUN and entering https://www.2-spyware.com/download/hunter.exe. After saving the executable on the desktop, rename it from xxx.exe to xxx.com and run.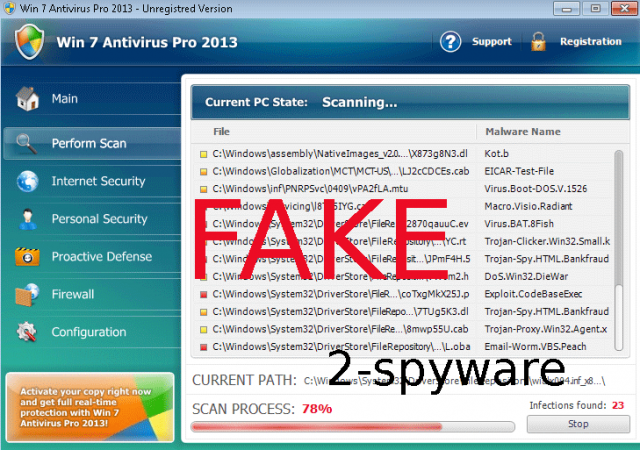 Win 7 Antivirus Pro 2013 manual removal:
Kill processes:
%AppData%[random 3 letters].exe
Delete files:
%AppData%[random 3 letters].exe
About the author