Win 7 Defender 2013. How to remove? (Uninstall guide)
Win 7 Defender 2013 is a new threat from the same family as XP Defender 2013. Just like its predecessor, it tries to create an impression that computer has lots of serious issues and that it needs to be repaired with the help of Win 7 Defender 2013 licensed version. Of course, this version is not for free and in order to 'fix' your computer with it you will have to pay the money and purchase it. There are many Internet users who have already did that, but, instead of getting the assistance in virus removal, they found themselves completely ripped off. Be aware that Win 7 Defender 2013 belongs to Rogue.FakeRean-Braviax family and is FAKE anti-virus that seeks the only thing – to leave its victims without the money. If you have already paid for its license, note that you must contact your credit card company right away and dispute the charges. Besides, the second step you must do is to remove Win 7 Defender 2013 without any delay.
HOW CAN I GET INFECTED WITH WIN 7 DEFENDER 2013?
Win 7 Defender 2013 penetrates into computers without any permission asked. It classically uses malicious methods based on trojans and other potentially dangerous programs that can help it to come inside the system undetected. For example, you can easily download Win 7 Defender 2013 together with fake updates, video/audio codecs, freeware or shareware. As soon as malicious files are downloaded, Win 7 Defender 2013 begins its campaign, which starts together with every computer's reboot. It lets its victims know it's on the machine through the following symptoms: Win 7 Defender 2013 displays system scanners, misleading malware infiltration alerts and fake notifications that pretend to be from the Action center and report about security issues detected. Here is an example:
Tracking software found!
Your PC activity is being monitored. Possible spyware infection. Your data security may be compromised. Sensitive data can be stolen. Prevent damage now by completing a security scan.
Of course, you must ignore all there notifications got from Win 7 Defender 2013 because none of them is real. Instead of wasting your money, you must remove this dangerous application and keep your PC protected to prevent future viruses.
HOW CAN I REMOVE WIN 7 DEFENDER 2013?
It's essential to remove Win 7 Defender 2013 from your computer because it may let more viruses on your computer. Besides, it causes system slow downs, browser redirections and other issues. So, as soon as you find Win 7 Defender 2013 on your computer, you must scan your computer with Reimage or other reputable malware remover. Note that you may find yourself disabled, so kill Win 7 Defender 2013 malicious processes and try once more. Just press ctrl+shift+esc and open Task Manager. Look for three letter randomly-named processes, stop them and run a full system scan with updated anti-malware tools.
UPDATE: If you can't get on the Internet or download anti-malware program, you can use this serial key to disable your rogue: 3425-814615-3990. Of couse, this won't remove infection from your computer, but will definitely stop annoying alerts and will let you on the Internet to download removal tool. Choose one of these modern solutions: Malwarebytes, Reimage.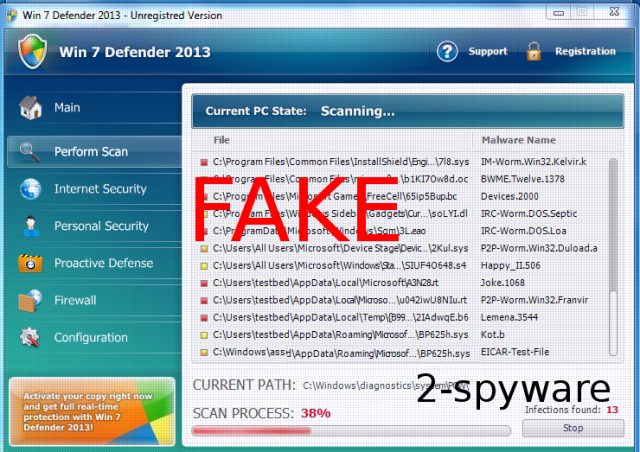 Win 7 Defender 2013 manual removal:
Kill processes:
%AppData%[random 3 letters].exe
Delete files:
%AppData%[random 3 letters].exe
About the author
Removal guides in other languages