Win 7 Security 2011. How to remove? (Uninstall guide)
Win 7 Security 2011 is a new malvertised program from the dangerous Security AntiMalware Guard family of malwares that change their names according to the OS which their infected computer runs. This group is represented by such scams like Win 7 AntiMalware 2011, Vista Antispyware 2011 or XP Security 2011. This one (Win 7 Security 2011) is a similar to other variants of malwares and shares the same GUI or misleading campaign based on faked information. Remember that once detected you MUST ignore its information given and remove the same Win 7 Security 2011.
Win 7 Security 2011 rogue anti-spyware is distributed through Trojans that enter unprotected systems without any permission of the user asked. Besides, it can also be installed with a fake flash update or free online scanner, so watch out! Having penetrated into your computer, unregistered version of Win 7 Security 2011 modifies the system and some its parameters to launch after every computer's reboot. Then in becomes capable to interrupt into your normal computers usage and starts its misleading campaign. This campaign is nothing else but fake system scanners and alerts issuing numerous infections. However, the truth is that all these parasites are harmless your system files, so never remove them. Some examples of such notifications:
Privacy threat!
Spyware intrusion detected. Your system is infected. System integrity is at risk. Private data can be stolen by third parties, including credit card details and passwords. Click here to perform a security repair.
Stealth intrusion!
Infection detected in the background. Your computer is now attacked by spyware and rogue software. Eliminate the infection safely, perform a security scan and deletion now.
So, Win 7 Security 2011 will make you worry about your computer but later it will offer its help. Malware starts declaring that its "registered" version is the only anti-spyware powerful enough to remove the threats detected and then will ask to purchase it. Never do that! Rely on a reputable anti-spyware and remove Win 7 Security 2011! You should act immediately if you notice it. If not uninstalled on time, Win 7 Security 2011 will keep continuing its deceptive campaign and will deteriorate all your PC's performance.
UPDATE!!! One of PC security bloggers, S!Ri, has announced about a serial code that may help you to disable those malwares like Win 7 Security 2011 that all change their names according to OS they find. Enter this serial code when doing registration: 145-17884799-7733. This and the order number 21197673 should also work for earlier versions of this type of parasite.
After typing them, you should become able to use your anti-spyware, if it fails follow the guide written below. Be aware that these numbers are expected to change in the near future!
How to get rid of Win 7 Security 2011:
To remove Win 7 Security 2011 you will need another PC, as removing it from safe mode with networking will not work in most of the cases.
a) Burn these programs to CD or write them to USB disk. You can use your MP3 player, or smartphone if it has storage functions. This parasite does not spread through USB at the moment:
1.STOPzilla or an automatic removal tool below. Update STOPzilla and run a full system scan.
2.You might want to download Hitman Pro or Malwarebytes as alternate scanners. Though you are likely to be able to download them later on.
b) Boot normally. Wait for Win 7 Security 2011to launch, and run exeregfix.reg . This should allow launching legitimate programs
c) Delete or remove the files that are mentioned in our files box. You can use STOPzilla to identify the infected files and additional infections or automatic Win 7 Security 2011removal tool. Do not forget update it before scanning. Remove what it finds.
d) Scan with STOPzilla and secondary tools and reboot your PC. This should fully get rid of Win 7 Security 2011.
Alternative Software
Different security software includes different virus database. If you didn't succeed in finding malware with Reimage, try running alternative scan with SpyHunter.
Alternative Software
Different security software includes different virus database. If you didn't succeed in finding malware with Reimage, try running alternative scan with Combo Cleaner.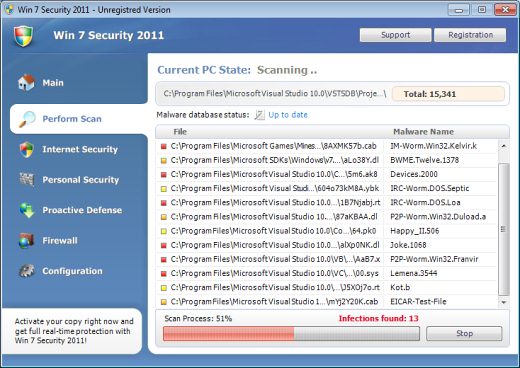 About the author

April 24th, 2011 at 6:04 pm

Norton Power Eraser took care of the problem. I had to use my yahoo security button to search the page because the win 2011 would not let me get on the page
it blocked it but I never installed the spy ware so it took me to a download page and I typewd in the search thing there bottom line Nortons Power Eraser worked and it is free the Win 7 2011 is a jerk!!!! GO NORTON


April 25th, 2011 at 1:04 pm

I was able to use Spybot Search and Destroy to remove this from my system. I updated and scanned. I also ran SS&D upon restart.
The trojan damaged Microsoft Security Essentials so I had to uninstall and reinstall MSE.


April 29th, 2011 at 3:04 pm

How about pressing F8, then clickin on Repair, and restore your computer to an earlier date? that worked for me 🙂


May 7th, 2011 at 3:05 pm

for anything i should add please email me at johnny.krasnow@gmail.com

when first noticing my problem i knew the virus had rewritten my registry to open "fyb.exe" before actually opening my program. since the fyb.exe is a fake they obviously wouldnt include the code to open the file you actually wanted after the fact, so your well stuck seeing that stupid screen. So i opened up my other computer and found what code makes all exes open, searched and noticed a slight change. So i wrote the code [listed below] and made a "fix" file for the registry. i got halted by some problems after the quick fix but the program i mentioned fixes it without hassle to much hassle.

before doing any of this i hope you have firefox or chrome for your web browser, otherwise youll deal with some hugggeee pains after the fact when trying to get tuneup utilities to fix said errors after this quick fix another computer not infected will also work for getting the tune-up utilities trial version to fix all related errors caused by this quickfix.
(reason for saying this is after you change the registry and try and choose internet explorer then open it will pop up with the "open with" and then try to for some strange reason download iexplorer.exe (still cant figure out why but firefox doesnt have that problem, or chrome, have no idea if opera does. but yeah follow these steps and your problems will be solved.

go to run type msconfig (a dialog type box should pop up.) go to startup tab and make checkbox next to fyb.exe unchecked so it will not start on startup. press control-alt-delete (you have to hold all 3 buttons down real quick) and terminate process and related components (this is done by right clicking and going to the end process tree button). search for and delete fyb.exe after you remove from startup.
once you know fyb.exe is no longer running open a notepad file (.txt) and type all this crap in.
——————————————————————————————————————-
Windows Registry Editor 5.00
[-HKEY_CURRENT_USERSoftwareClasses.exeshellopencommand]
[-HKEY_CURRENT_USERSoftwareClassessecfileshellopencommand]
[-HKEY_CLASSES_ROOT.exeshellopencommand]
[-HKEY_CLASSES_ROOT.exe]
@="exefile"
"Content Type"="application/x-msdownload"
[-HKEY_CLASSES_ROOTsecfile]
————————————————————————————————————–
save as fix.reg

doesnt matter what the name is just as long as you put ".reg" at the end.

run the file.

you now should when opening firefox or any of that should get a "open with" box you then if wanting to use firefox find the program mozilla firefox in your program files and open mozilla with the "firefox.exe" you will see you no longer get that stupid win 7 virus crap (meaning you in a sense deactivated that nonsense) the tune up utilities will then correct your issue of you having to choose what programs open with the one your selecting, (thank god i figured that little tidbit out aswell or i could see still being heavily aggravated.

and apparently tuneup utilities will fix the problem automatically

(now you might get errors when running this program due to the quick fix, at first i was confused too, so after i opened my tune up and saw it wasnt opening the registrytroubleshooter thing i was like "wait, it opens up a separate exe to access it, so i went to the actual tuneup utility file noticed a few different exes like integrator and such, as well as the one i was looking for. so naturally opened RegistryCleaner.exe in the tuneup utilities file the open with menu popped up so i went to browse went to where that same file is located and as stated selected to open registrycleaner.exe with RegistryCleaner.exe which popped up the cleaner program, I then started a full scan, then let it fix my issue and no more "open with" problem

neat little program for dealing with errors

can even find the serial# online through google but I dont condone or recommend that 😛

but yeah tune-up utilities will automatically fix the errors caused by the quick fix i posted

so you now have the way to fix the win7security issue, you have the way to fix the open with issue caused by the quick fix i had posted, AND you have a nifty little program which will fix ALOT of different crap and keep your computer running all good and kosher.

the only thing that pissed me off is when trying to find the way to supposedly fix it someone else also posted near the same thing but didnt say it will screw alot of your stuff up if you dont know what you are doing. so i figured adding that tidbit in would be good…

hola atcho boy!


June 27th, 2011 at 4:06 pm

I used registration code 223-298080-3424 with success, tried 1147-175591-6550 it didnt work. My computer is working normal now but wondering if i safe to keep this software on my computer. I cant seem to figure out how to uninstall it.


July 8th, 2011 at 10:07 pm

The way should be somewhat the same as I had originally posted.

Hold control+alt+delete a blue screen menu should pop up you then click task manager, a menu of everything your running should pop up. Click on the "processes" tab, a list of program names should be moving around, if you see the program name I listed follow the steps I listed from that point on if you would like to remove it, if the program name isnt there you are going to have to write every one of them down so I can tell you which one it is, and then you would follow the same steps as below but with that program name instead of fyb.exe

Hope this answer helps ya or that I can help ya in the future, I dont think its all that good to have that thing running as it listed program names that were "corrupt" that actually werent but the fact you got a reg code to work mind boggles me.