Win Antispyware Center. How to remove? (Uninstall guide)
Win Antispyware Center is a rogue anti-spyware program that imitates a system scan and reports numerous false system security threats to make you think that your computer is infected with malicious software. The rogue program is promoted mostly through the use of Trojans, fake online scanners and misleading online video websites. Once installed, Win Antispyware Center will report many fake infections and then will ask to purchase the program to remove the infections. Obviously, you shouldn't buy it, because WinAntispywareCenter is nothing more but a scam. Instead, please use the removal instructions below to remove Win Antispyware Center from your computer either manually or with an automatic removal tool.
The bad news is that , this fake program will block legit software and state that it's infected. Of course, it will block anti-virus and anti-spyware programs in the first place, but that's not all, it will also block such programs as notepad or task manager. What is more, Win Antispyware Center will impersonate Widows Security Center and will claim that your computer is not protected. It will also display fake security alerts and pop-ups like every on or two minutes. Some of the fake security alerts read:
Win Antispyware Center has blocked a program from accessing the internet.
Notepad is infected with Trojan-BNK.Win32.Keylogger.gen. Private data can be stolen by third parties, including credit card details and passwords.
Malware intrusion!
Sensitive areas of your system ware found to be under attack. Spy software attack or virus infection possible. Prevent further damage or your private data will get stolen. Run an anti-spyware scan now. Click here to start.
Virus infection!
System security was found to be compromised. Your computer is now infected. Attention, irreversible system changes may occur. Private data may get stolen. Click here now for an instant anti-virus scan.
As you can see, Win Antispyware Center is absolutely useless program that should be removed from the computer as soon as possible. If you have already purchased it, then you should contact your credit card company and dispute the charges. Then, follow the removal instructions below to remove Win Antispyware Center and any related malware from your computer.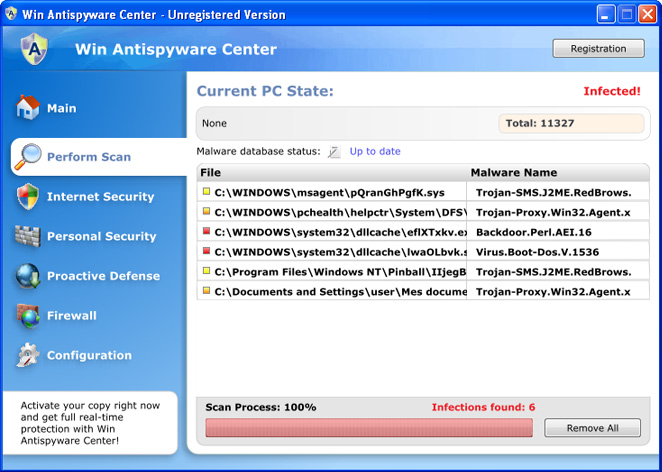 Win Antispyware Center manual removal:
Kill processes:
av.exe
Delete registry values:
HKEY_CURRENT_USERSoftwareClassessecfile
HKEY_CURRENT_USERSoftwareWin Antispyware Center
HKEY_CLASSES_ROOTsecfile
HKEY_CURRENT_USERSoftwareClasses.exeshellopencommand "(Default)" = "C:Program FilesWinAntispywareCenterav.exe" /START "%1" %*
HKEY_CURRENT_USERSoftwareMicrosoftWindowsCurrentVersionRun "Win Antispyware Center"
HKEY_LOCAL_MACHINESOFTWAREMicrosoftWindowsCurrentVersionRun "Win Antispyware Center"
Delete files:
C:Program FilesWinAntispywareCenter
About the author