Win Defrag. How to remove? (Uninstall guide)
Win Defrag is a rogue computer optimization and defragmentation program from the same family as Win HDD. This scareware wants to scare you into thinking that your computer has some problems and issues. Win Defrag pretends to scan your hard drives and system memory for various errors. Then it states that you need to use the defragment tool to fix supposedly found errors. It fixes some errors for free and then prompts to pay for a full version of the program to fix other programs as well. Please do not fall victim to this rogue program and remove Win Defrag from your computer upon detection. Please use the removal instructions below.
Win Defrag enters the system without user permission and in order to protect itself attempts to disable legit antimalware software found. Actually, it blocks nearly all programs on the computer. Just run a program several times and it will eventually work. Compromised computer becomes completely taken over by this fake program in the result of such actions and Win Defrag begins the campaign it was designed to. Win Defrag will be configured to launch at startup, so be sure it will greatly affect your computer by running fake scanners and pop-up ads or notifications that will annoy you. Some of the fake errors read:
Requested registry access is not allowed. Registry defragmentation required
Read time of hard drive clusters less than 500 ms
32% of HDD space is unreadable
Bad sectors on hard drive or damaged file allocation table
GPU RAM temperature is critically high. Urgent RAM memory optimization is required to prevent system crash
Drive C initializing error
Ram Temperature is 83 C. Optimization is required for normal operation.
Hard drive doesn't respond to system commands
Data Safety Problem. System integrity is at risk.
Registry Error – Critical Error
Overall, your computer will work slower. You will also see fake alerts from Windows taskbar. The text of some of the alerts you may see include:
Critical Error!
Damaged hard drive clusters detected. Private data is at risk.
Critical Error
Hard Drive not found. Missing hard drive.
Critical Error
RAM memory usage is critically high. RAM memory failure.
Critical Error
Windows can't find hard disk space. Hard drive error.
As you can see, Win Defrag is a total scam. Do not purchase it. If you have this rogue program on your computer please use the removal instructions below. You can remove Win Defrag manually but we strongly recommend to use an automatic removal tool given below.
UPDATE: you can use this code: 0973467457475070215340537432225 to register Win Defrag. This should make the removal procedure easier. Thanks to XyliBox.
The latest parasite names used by FakeHDD:
[newest id="fakehdd"]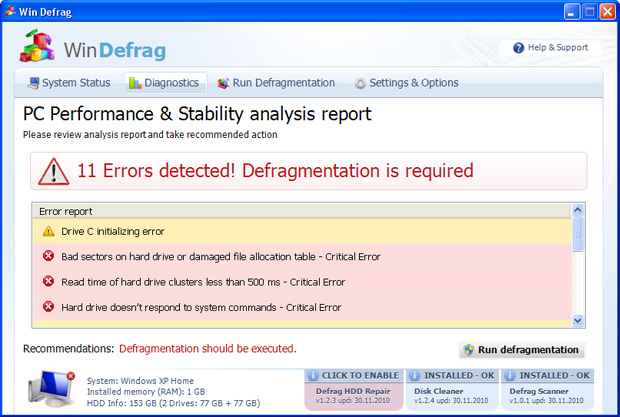 Win Defrag manual removal:
Kill processes:
[random].exe
Delete registry values:
HKEY_CURRENT_USERSoftwareMicrosoftWindowsCurrentVersionRun "[random]"
HKEY_CURRENT_USERSoftwareMicrosoftWindowsCurrentVersionRun "[random].exe"
Unregister DLLs:
[random].dll
Delete files:
%Temp%[random].exe
%Temp%[random].dll
%Temp%[random].exe
%Temp%dfrg
%Temp%dfrgr
%UserProfile%DesktopWin HDD.lnk
%UserProfile%Start MenuProgramsWin HDD
%UserProfile%Start MenuProgramsWin HDDUninstall Win HDD.lnk
%UserProfile%Start MenuProgramsWin HDDWin HDD.lnk
Delete directories:
%Temp%[random]
About the author