Win Disk. How to remove? (Uninstall guide)
Win Disk is a rogue computer optimization program that displays system errors and infections to scare you into thinking that there is something wrong with your computer. It displays numerous fake error messages when you attempt to launch programs too. Win Disk prompts the user to pay for a full version of this scareware to fix the errors and remove the threats. As this program is a scam do not be scared into purchasing the program when you see its alerts. If you attempt to launch a program it will terminate it and state that the program or hard drive is corrupted. The messages that you will see when you attempt run a program are:
Windows detected a hard drive problem.
A hard drive error occurred while starting the application.
Some examples of the fake problems it detects on the victim's computer are:
Requested registry access is not allowed. Registry defragmentation required
Read time of hard drive clusters less than 500 ms
32% of HDD space is unreadable
Bad sectors on hard drive or damaged file allocation table
GPU RAM temperature is critically high. Urgent RAM memory optimization is required to prevent system crash
Drive C initializing error
The text of some of the fake alerts you may see include:
Critical Error!
Damaged hard drive clusters detected. Private data is at risk.
Critical Error
Hard Drive not found. Missing hard drive.
The warnings issued by Win Disk are all fake. Do not purchase Win Disk for any reason. To remove this infection and related malware, please follow the steps in the guide below. We strongly recommend you to scan your computer with STOPzilla.
The latest parasite names used by FakeHDD:
[newest id="fakehdd"]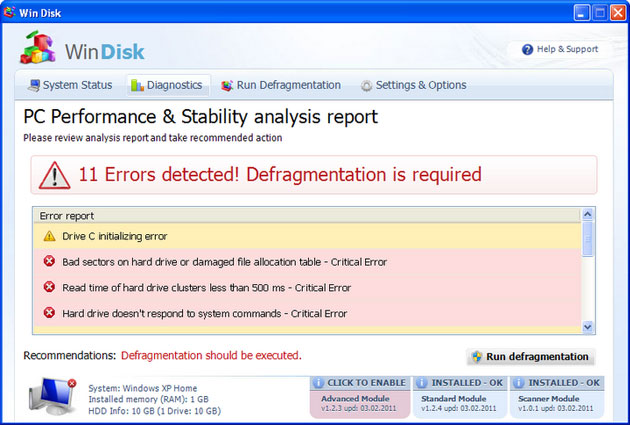 Win Disk manual removal:
Kill processes:
[random].exe
Delete registry values:
HKEY_CURRENT_USERSoftwareMicrosoftWindowsCurrentVersionRun "[random].exe"
HKEY_CURRENT_USERSoftwareicrosoftWindowsCurrentVersionRun "[random]"
HKEY_CURRENT_USERSoftwareMicrosoftWindowsCurrentVersionPoliciesAssociations "LowRiskFileTypes" = '/{hq:/s`s:/ogn:/uyu:/dyd:/c`u:/bnl:/ble:/sdf:/lrh:/iul:/iulm:/fhg:/clq:/kqf:/`wh:/lqf:/lqdf:/lnw:/lq2:/l2t:/v`w:/rbs:'
HKEY_CURRENT_USERSoftwareMicrosoftWindowsCurrentVersionPoliciesAttachments "SaveZoneInformation" = '1'
HKEY_CURRENT_USERSoftwareMicrosoftInternet ExplorerDownload "CheckExeSignatures" = 'no'
HKEY_CURRENT_USERSoftwareMicrosoftInternet ExplorerMain "Use FormSuggest" = 'yes'
Unregister DLLs:
[random].dll
Delete files:
[random].exe
[random].dll
Win Disk.lnk
Uninstall Win Disk.lnk
Delete directories:
%AllUsersProfile%~[random]
%UserProfile%Start MenuProgramsWin Disk
About the author