Win Security 360. How to remove? (Uninstall guide)
Win Security 360 is not a trusted application. Computer experts announce that this program, sometimes also called as WinSecurity 360 or Security 360 Antivirus, is a rogue anti-spyware hailing from notorious WiniGuard. These conclusions are done after finding many similarities to other WiniGuard programs, that all use the same GUI or design of their "official websites".
Win Security 360 MUST not be purchased though it attempts to get users' money as soon as possible. It loads fake security scanners and lists a great variety of infections. Typically to many other rogues, once after detection WinSecurity 360 offers its own services for fixing problems reported but states that only its commercial version will remove everything. Users also constantly get pop-up ads, system tray notifications and scary messages that all give information written below and then prompt people to protect them from this supposed infection:
Application .exe
has crashed because of Conficker.Worm Virus.
Infected File:
Potential Risks: Viruses is spreading over your PC and the system status is unsafe. Your service provider may lock you out of internet access , because your PC is potentially harmful.
Viruse's actions: Steal your personal data and send it to the remote host. Spread between your friends quickly (via internet or storage drives). Send spam and malicious codes from your computer.
Win Security 360 is distributed through the use of fake malware scanners with cyber threats. Such websites, like Doubleclickredir.com, Security360update.com, Winsecurity360.com or Theauthorizer.com must also be avoided because they are known to spread Security 360 Antivirus with a help of trojans. Once on board, this malware drops some Registry Entries of its own and because of that it starts its annoying tactics once after Windows starts.
Be attentive and use a reputable anti-spyware to make sure your PC is not infected with malware like this one. All the notifications produced by WinSecurity360 should ignored and also the trialware of its should be deleted as soon as possible. If you have already purchased Win Security 360, contact your credit card company to dispute the charges. Moreover, use a removal guide listed below and delete Win Security 360 without wasting your time.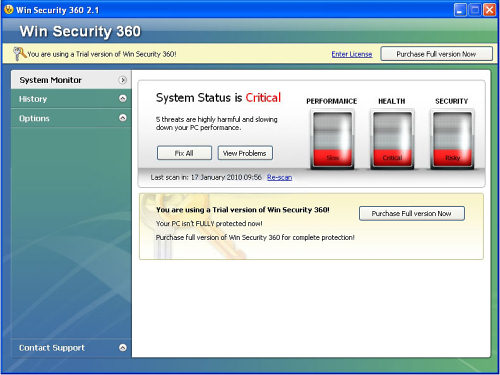 Win Security 360 manual removal:
Kill processes:
WinSecurity360.exe
Delete registry values:
HKEY_LOCAL_MACHINESOFTWAREMicrosoftWindowsCurrentVersionApp PathsWinSecurity360
Delete files:
vlc.dat
WinSecurity360.ini
Website.lnk
Win Security 360 Help.lnk
Win Security 360.lnk
sk.lst
Win Security 360 Help.url
Win Security 360.url
WinSecurity360.exe
Delete directories:
%UserProfile%Application Data
%UserProfile%Desktop
%UserProfile%Start MenuPrograms
%UserProfile%Start MenuProgramsWin Security 360
c:Program FilesWinSecurity360
About the author