Win7 AV malware warning page. How to remove? (Uninstall guide)
Win7 AV is promoted mostly through the use Trojans and misleading social engineering schemes that end up with fake malware warning pages in Internet Explorer, Mozilla Firefox, Google Chrome and other web browsers. These fake Win7 AV malware warning pages try to trick users into downloading the rogue program and the worse thing is that they look genuine but there are some misspellings in the fake Firefox malware warning page.
The fake Mozilla Firefox malware warning page reads:
Reported attack site!
This website has been reported as an attack site and has been blocked based on your security preference.
Attack sites try to install programs that steal private information, use your computer to attack others, or damage your system.
Some attack sites intentionally distribute harmful software but many are compromised without the knowledge or permission of their owners!
Firefox Tip: Use reliable solution for malware protection
Update now
The fake Google Chrome malware warning page reads:
Warning: visit this site may harm your computer
This website may contain elements from the site gcounter.cn, which appears to host malware – software that can hurt your computer or otherwise operate without your consent. Just visiting a site that contains malware can infect your computer. For detailed information about the problems with these elements, visit the Google Safe browsing diagnostic page for gcounter.cn
Google advice: Use reliable solution for Malware protection with Antivirus Protection
Update now
The fake Internet Explorer malware warning page reads:
This is a reported phishing website
Internet Explorer has determined that this is a reported phishing website. Phishing websites impersonate other sites and attempt to trick you into revealing personal or financial information.
We recommend that you close this website and do not continue to this website.
Click here to close this webpage
Continue to this website (not recommended without upgrade)
Upgrade to a reliable solution for Malware Protection and Antivirus Scanner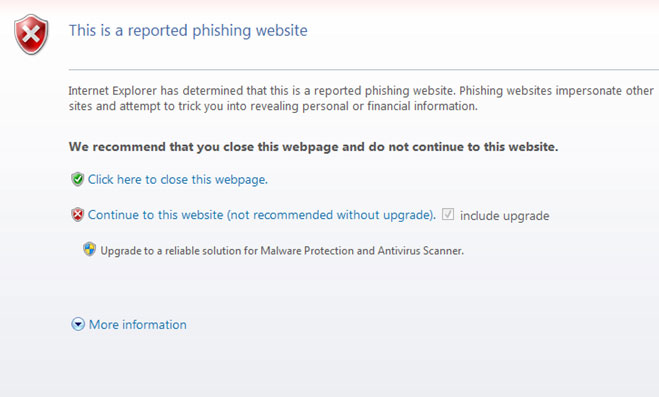 Win7 AV malware warning page manual removal:
Kill processes:
Win7 AV.exe
Win7Browser.exe
Unregister DLLs:
VmDetectLibrary.dll
svhostqt.dll
svhostesl.dll
sbhostcl.dll
Win7Common.dll
Delete files:
Win7Common.dll
Win7Browser.exe
Win7 AV.exe
VmDetectLibrary.dll
svhostqt.dll
svhostesl.dll
sbhostcl.dll
Delete directories:
C:Program FilesWin7 AV
About the author