WinBlueSoft. How to remove? (Uninstall guide)
WinBlueSoft is another rogue anti-spyware application. Basically, it is just a rename of WiniBlueSoft. This rogue is similar to many of the other fake security programs. It is advertised through the use of Trojans that constantly display fake security alerts stating that your computer is seriously infected and that you should download and install WinBlue Soft in order to clean your PC. These alerts, though, are are all fake and should be ignored. What is more, the rogue creates a file called blocker.dll. This file makes the situation even more complicated, because it doesn't allow you to launch your normal programs and processes, except iexplore.exe, explorer.exe, sidebar.exe, WinBlueSoft.exe and several others. Blocker.dll will also hijack your desktop and display the following text:
"Warning!
Your're in danger!
Your computer is infected with Spyware!
All you do with computers is stored forever in your hard disk. When you visit sites, send emails… All your actions are logged. And it is impossible to remove them with standard tools. Your data is still available for forensics. And in some cases
For your boss, your friends, your wife, your children.
Every site you or somebody or even something, like spyware, opened in the browsers, with all the images, and all the downloaded and maybe later removed movies or mp3 songs – ARE STILL THERE and could break your life!
Secure yourself right now!
Remove all Spyware from your PC!"
Once installed, WiniBlueSoft will also scan your computer and state that your PC is infected with malware, spyware, Trojans or it has many security and privacy issues. These infections and security issues won't be removed until you first purchase the program. However, WiniBlueSoft is a scam. The main goal of this parasite is to trick you into purchasing the program. Of course, it is recommended not to do so. Instead, remove WinBlueSoft from your computer upon detection. Otherwise, it can cause even more damage to the system.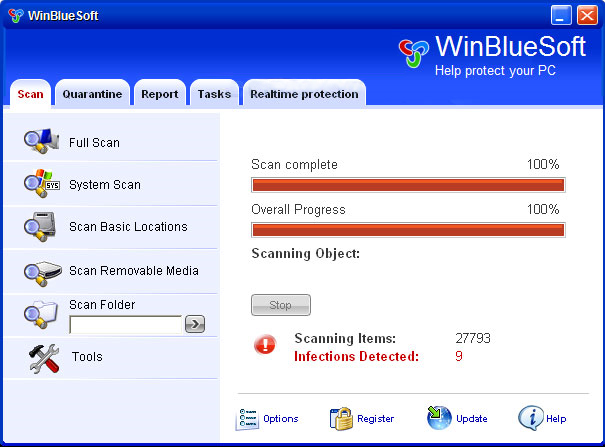 WinBlueSoft manual removal:
Kill processes:
WinBlueSoft.exe
uninstall.exe
Setup2.exe
Unregister DLLs:
blocker.dll
Delete files:
WinBlueSoft.lnk
1 WinBlueSoft.lnk
2 Homepage.lnk
3 Uninstall.lnk
data.bin
license.txt
uninstall.exe
WinBlueSoft.exe
blocker.dll
Setup2.exe
Delete directories:
c:Documents and SettingsAll UsersStart MenuProgramsWinBlueSoft
c:Program FilesWinBlueSoft Software
c:Program FilesWinBlueSoft SoftwareWinBlueSoft
About the author