Windows 7 Fix. How to remove? (Uninstall guide)
Windows 7 Fix is almost the same malware as Windows XP Fix which will also pretend to be a powerful PC optimization tool. Windows 7 Fix will continuously give you hard drive error reports that will return nothing else but completely fake results that are expected to make you purchase this scam. Please, never believe the problems announced on Windows 7 Fix messages! These should be only ignored in order to prevent more damage done to your machine. Additionally, you must remove Windows 7 Fix before it lets more viruses inside and steals your money together with credit card details. If you notice it, launch updated STOPzilla immediately and remove Windows 7 Fix without any delay.
Windows 7 Fix is all about deceiving PC users. It reports multiple hard drive problems found on your computer and then asks you to make a payment to get them fixed. This trick is quite usual between such scams and it can be easily said that all those 'errors' found by Windows 7 Fix are non-existent. To make you fall into this lie even more, this scamware deletes shortcuts found in various locations, so when trying to launch a program from your start menu, none of shortcuts appear. So, normally, you would think that something is really wrong with your computer. To push you into thinking that PC is bundled, this scam says on its alerts:
Windows 7 Fix Diagnostics
Windows detected a hard disk error.
A problem with the hard drive sectors has been detected. It is recommended to download the following sertified software to fix the detected hard drive problems. Do you want to download recommended software?
Requested registry access is not allowed. Registry defragmentation required
Read time of hard drive clusters less than 500 ms
32% of HDD space is unreadable
Bad sectors on hard drive or damaged file allocation table
GPU RAM temperature is critically high. Urgent RAM memory optimization is required to prevent system crash
Drive C initializing error
Ram Temperature is 83 C. Optimization is required for normal operation.
Hard drive doesn't respond to system commands
Data Safety Problem. System integrity is at risk.
Registry Error – Critical Error
Critical Error
Hard drive critical error. Run a system diagnostic utility to check your hard disk drive for errors. Windows can't find hard disk space. Hard drive error.
Fix Disk
Windows Vista Repair Diagnostics will scan the system to identify performance problems.
Start or Cancel
Please, never fall into this lie! Run updated STOPzilla to remove the virus and also install the licensed its version to avoid more secret intrusions. You may also think, that virus has removed some of your files and folders. However, they are simply hidden by Windows 7 Fix. In order to unhide them, follow these steps:
1. Open Folder Options in Control Panel: click Start, and then click Control Panel -> Appearance and Themes -> Folder Options.
2. On the View tab, under Hidden files and folders, click Show hidden files and folders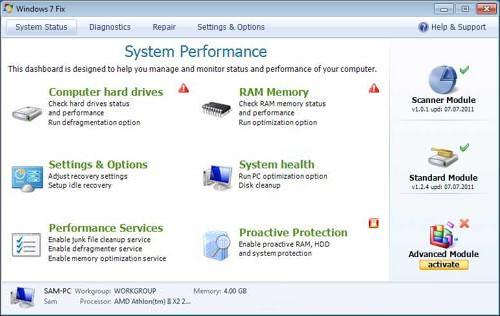 Windows 7 Fix manual removal:
Delete registry values:
HKEY_CURRENT_USERSoftwareMicrosoftWindowsCurrentVersionRun "[random].exe"
HKEY_CURRENT_USERSoftwareMicrosoftWindowsCurrentVersionRun "[random]"
HKEY_CURRENT_USERSoftwareMicrosoftWindowsCurrentVersionInternet Settings "CertificateRevocation" = '0'
HKEY_CURRENT_USERSoftwareMicrosoftWindowsCurrentVersionInternet Settings "WarnonBadCertRecving" = '0'
HKEY_CURRENT_USERSoftwareMicrosoftWindowsCurrentVersionPoliciesActiveDesktop "NoChangingWallPaper" = '1'
HKEY_CURRENT_USERSoftwareMicrosoftWindowsCurrentVersionPoliciesAssociations "LowRiskFileTypes" = '/{hq:/s`s:/ogn:/uyu:/dyd:/c`u:/bnl:/ble:/sdf:/lrh:/iul:/iulm:/fhg:/clq:/kqf:/`wh:/lqf:/lqdf:/lnw:/lq2:/l2t:/v`w:/rbs:'
HKEY_CURRENT_USERSoftwareMicrosoftWindowsCurrentVersionPoliciesAttachments "SaveZoneInformation" = '1'
HKEY_CURRENT_USERSoftwareMicrosoftWindowsCurrentVersionPoliciesSystem "DisableTaskMgr" = '1'
HKEY_LOCAL_MACHINESOFTWAREMicrosoftWindowsCurrentVersionpoliciessystem "DisableTaskMgr" = '1'
HKEY_CURRENT_USERSoftwareMicrosoftInternet ExplorerDownload "CheckExeSignatures" = 'no'
HKEY_CURRENT_USERSoftwareMicrosoftInternet ExplorerMain "Use FormSuggest" = 'yes'
HKEY_CURRENT_USERSoftwareMicrosoftWindowsCurrentVersionExplorerAdvanced "Hidden" = '0'
HKEY_CURRENT_USERSoftwareMicrosoftWindowsCurrentVersionExplorerAdvanced "ShowSuperHidden" = 0'
Delete files:
%LocalAppData%[random]
%LocalAppData%[random].exe
%LocalAppData%~[random]
%LocalAppData%~[random]
%StartMenu%ProgramsWindows XP Fix
%StartMenu%ProgramsWindows XP FixUninstall Windows XP Fix.lnk
%StartMenu%ProgramsWindows XP FixWindows XP Fix.lnk
Delete directories:
About the author