Windows Abnormality Checker. How to remove? (Uninstall guide)
Windows Abnormality Checker is a rogue security program that outputs false system security threats and malware infections to make you think that you are infected with all sorts of malware. Most of the time, this rogue anti-spyware program claims that your computer is infected with trojans, spyware, adware and even viruses. However, if you had a virus on your computer, you probably wouldn't be able to use it. So, the only infection is Windows Abnormality Checker itself and there are no other threats on your PC except maybe trojan downloaders that downloaded and installed the rogue program in the first place. Once installed, the rogue program will imitate a full system scan and display a variety of infections that can't be removed with a trial version of the program. So you will be prompted to buy Windows Abnormality Checker to remove those non-existing infections. However, we strongly recommend you not do so. Just don't waste your money and instead of buying it, remove Windows Abnormality Checker from your computer as soon as possible.
When running, Windows Abnormality Checker will display fake security alerts and notifications from task bar claiming that your computer is infected or that certain internet attacks were blocked to protection your PC from further damage. The rogue program will impersonate Windows Security Center and claim that it did not find antivirus software on your computer. Next, Windows Abnormality Checker will suggest you to buy a license and active anti-spyware software. You may see fake alerts with the following text:
Error
Keylogger activity detected. System information security is at risk.
It is recommended to activate protection and run a full system scan.
Error
Software without a digital signature detected.
Your system files are at risk. We strongly advise you to activate your protection.
Torrent Alert
Recomended: Please use secure encrypted protocol for torrent links.
Torrent link detected!
Receiving this notification means that you have violated the copyright laws. Using Torrent for downloading movies and licensed software shall be prosecuted and you may be sued for cybercrime and breach of law under the SOPA legislation.
Please register your copy of the AV to activate anonymous data transfer protocol through the torrent link.
It goes without saying that Windows Abnormality Checker is a scam, totally useless security program that must be removed from the system upon detection. If you find that your computer is infected with this malware, please download and scan your computer with legitimate malware removal software listed below.
The latest parasite names used by FakeVimes:
[newest]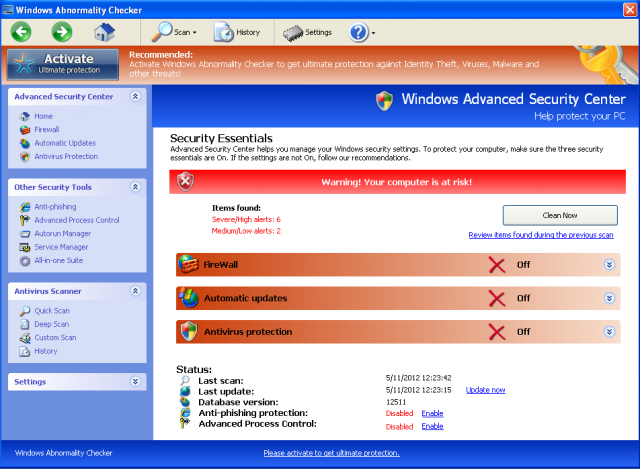 Windows Abnormality Checker manual removal:
Kill processes:
Protector-[random].exe
Delete registry values:
HKEY_LOCAL_MACHINESOFTWAREMicrosoftWindows NTCurrentVersionImage File Execution Optionsafwserv.exe "Debugger" = 'svchost.exe'
HKEY_LOCAL_MACHINESOFTWAREMicrosoftWindows NTCurrentVersionImage File Execution Optionsavastsvc.exe "Debugger" = 'svchost.exe'
HKEY_LOCAL_MACHINESOFTWAREMicrosoftWindows NTCurrentVersionImage File Execution Optionsavastui.exe "Debugger" = 'svchost.exe'
HKEY_LOCAL_MACHINESOFTWAREMicrosoftWindows NTCurrentVersionImage File Execution Optionsegui.exe "Debugger" = 'svchost.exe'
HKEY_LOCAL_MACHINESOFTWAREMicrosoftWindows NTCurrentVersionImage File Execution Optionsekrn.exe "Debugger" = 'svchost.exe'
HKEY_LOCAL_MACHINESOFTWAREMicrosoftWindows NTCurrentVersionImage File Execution Optionsmsascui.exe "Debugger" = 'svchost.exe'
HKEY_LOCAL_MACHINESOFTWAREMicrosoftWindows NTCurrentVersionImage File Execution Optionsmsmpeng.exe "Debugger" = 'svchost.exe'
HKEY_LOCAL_MACHINESOFTWAREMicrosoftWindows NTCurrentVersionImage File Execution Optionsmsseces.exe "Debugger" = 'svchost.exe'
HKEY_LOCAL_MACHINESOFTWAREMicrosoftWindows NTCurrentVersionSystemRestore "DisableSR " = '1'
Delete files:
Protector-[random].exe
About the author