Windows AntiHazard Center. How to remove? (Uninstall guide)
Here is one more fake antivirus program that has been released by cyber criminals. Make sure not fall for this scam that comes as Windows AntiHazard Center.
Most probably you can get your computer infected while browsing some malicious Internet websites that contain Trojan viruses there. Then the Trojan is able to install this malicious program without consent of the user. Usually it imitates an automatic Windows update. These websites may also imitate performing system scan with some fake scanner online. You shouldn't take such scan results for granted under any circumstances.
Once the program access the system, Windows AntiHazard Center completely takes it over. The program is configured to start automatically once the computer is restarted. The same repeats after each computer reboot. The application contains fake system scanner and it loads to imitate the program is looking for some threats. Unfortunately, it generates a fake list of infections. If you try deleting them manually you may end up harming your system as Windows AntiHazard Center may display files of legitimate programs on the infections list.
Another annoying thing is unstoppable pop ups and security tray alerts that will show up no matter what you will be doing on your computer. The messages will warn about spyware infections found and recommend purchasing a license of Windows AntiHazard Center promising it will solve your security issues.
Warning
Firewall has blocked a program from accessing the Internet.
Windows Media Player Resources
C:\Windows\system32\dllcache\wmploc.dll
C:\Windows\system32\dllcache\wmploc.dll is suspected to have infected your PC. This type of virus intercepts entered data and transmits them to a remote server.
Error
Keylogger activity detected. System information security is at risk.
It is recommended to activate protection and run a full system scan.
Error
Software without a digital signature detected.
Your system files are at risk. We strongly advise you to activate your protection.
Torrent Alert
Recomended: Please use secure encrypted protocol for torrent links.
Torrent link detected!
Receiving this notification means that you have violated the copyright laws. Using Torrent for downloading movies and licensed software shall be prosecuted and you may be sued for cybercrime and breach of law under the SOPA legislation.
Please register your copy of the AV to activate anonymous data transfer protocol through the torrent link.
Warning! Identity theft attempt Detected
Hidden connection IP: xxxxxxxxx
Target: Your passwords for sites
The best advice would be to get rid of Windows AntiHazard Center as soon as you detect it on your system. You definitely don't want this kind of application to be run secretly so please take serious actions to eliminate it form your system. The best results will be achieved with a reputable antispyware program, for example, Plumbytes Anti-MalwareWebroot SecureAnywhere AntiVirus or Reimage.
The latest parasite names used by FakeVimes:
[newest]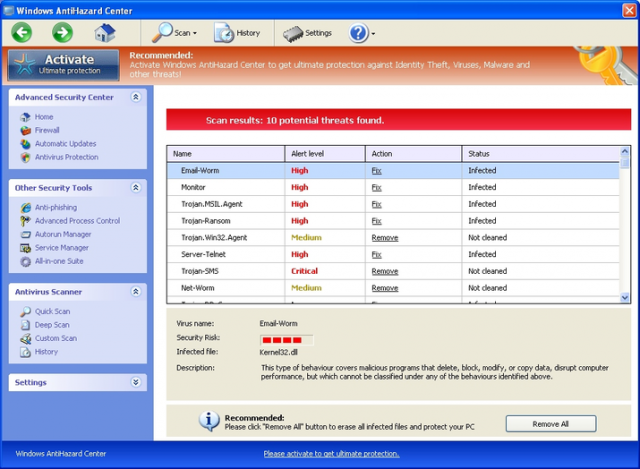 Windows AntiHazard Center manual removal:
Kill processes:
%appdata%Inspector-[rnd].exe
%AppData%Protector-[rnd].exe
Delete registry values:
HKEY_CURRENT_USER\SoftwareMicrosoft\Windows\CurrentVersion\Internet Settings "WarnOnHTTPSToHTTPRedirect" = 0
HKEY_CURRENT_USER\SoftwareMicrosoft\Windows\CurrentVersion\Policies\System "DisableRegedit" = 0
HKEY_CURRENT_USER\SoftwareMicrosoft\Windows\CurrentVersion\Policies\System "DisableRegistryTools" = 0
HKEY_CURRENT_USER\SoftwareMicrosoft\Windows\CurrentVersion\Policies\System "DisableTaskMgr" = 0
HKEY_CURRENT_USER\SoftwareMicrosoft\Windows\CurrentVersion\Run "Inspector"
HKEY_CURRENT_USER\SoftwareMicrosoft\Windows\CurrentVersion\Settings "net" = "2012-3-11_2?
HKEY_CURRENT_USER\Software\Microsoft\Windows\CurrentVersion\Settings "UID" = "origkboryd"
HKEY_LOCAL_MACHINE\SOFTWAREMicrosoft\InternetExplorer\Main\FeatureControl\FEATURE_ERROR_PAGE_BYPASS_ZONE_CHECK_FOR_HTTPS_KB954312
HKEY_LOCAL_MACHINE\SOFTWAREMicrosoft\Windows NT\CurrentVersion\Image File Execution Options\atcon.exe
HKEY_LOCAL_MACHINE\SOFTWAREMicrosoft\Windows NT\CurrentVersion\Image File Execution Options\bipcp.exe
HKEY_LOCAL_MACHINE\SOFTWAREMicrosoft\Windows NT\CurrentVersion\Image File Execution Options\ecengine.exe
HKEY_LOCAL_MACHINE\SOFTWARE\Microsoft\Windows NT\CurrentVersion\Image File Execution Options\infwin.exe
HKEY_LOCAL_MACHINE\SOFTWARE\Microsoft\Windows NT\CurrentVersion\Image File Execution Options\msconfig
HKEY_LOCAL_MACHINE\SOFTWARE\Microsoft\Windows NT\CurrentVersion\Image File Execution Options\PavFnSvr.exe
HKEY_LOCAL_MACHINE\SOFTWARE\Microsoft\Windows NT\CurrentVersion\Image File Execution Options\sahagent.exe
HKEY_LOCAL_MACHINE\SOFTWARE\Microsoft\Windows NT\CurrentVersion\Image File Execution Options\titaninxp.exe
HKEY_LOCAL_MACHINE\SOFTWARE\Microsoft\Windows NT\CurrentVersion\Image File Execution Options\wsbgate.exe
Unregister DLLs:
%AppData%NPSWF32.dll
Delete files:
%AppData%NPSWF32.dll
%AppData%Protector-3 characters.exe
%AppData%result.db
%CommonStartMenu%ProgramsWindows Managing System.lnk
%Desktop%Windows Managing System.lnk
About the author