Windows Antivirus Pro. How to remove? (Uninstall guide)
Windows Antivirus Pro is rogue security program that uses such misleading methods as fake security alerts, infiltration warnings and false scan results to trick the owner of the infected computer into purchasing this application. Once your computer is infected, you will notice that WindowsAntivirus Pro blocks almost all legitimate programs. Of course, security applications will be blocked in first place. Your computer will work slower that usual. Likely, you won't be able to perform a system restore or even access Control Panel. However, there is a way to uninstall Windows Antivirus Pro from your computer, just use the removal guide below.
Usually, Windows Antivirus Pro is promoted through the use of Trojan viruses and fake online anti-malware scanners. While running, this infection will be configured to ostensibly scan your computer each time you log on into Windows. The scan results are obviously false. WindowsAntivirusPro identifies any executed program as a computer threat. You will also see many fake security alerts and warnings about serious infections, Internet attacks. Some of the alerts you will see:
"Internet attack attempt detected:
Somebody is trying to attack your PC:
This can result in loss of your personal information and infection other computers connected to your network."
"Warning: Infection is Detected
Windows has found spyware infection on your computer!
Click here to update your Windows antivirus software"
"svchost.exe has encountered a problem and needs to close. We are sorry for the inconvenience.
If you are in the middle of something, the information you were working on might be lost."
"Security Warning
Malicious programs that may steal your private information and prevent your system from working properly are detected on your computer.
Click here to clean your PC immediately."
Most of the time these fake, but legitimately looking alerts will come from the Task bar and Windows Security Center. Windows Antivirus Pro will also hijack Internet Explorer and display warnings about insecure internet connection or other threats. As you could already understand, this program is a scam designed to steal money from you. It's absolutely non-functional scam. Please use the removal guide below to remove Windows Antivirus Pro from your computer manually for free.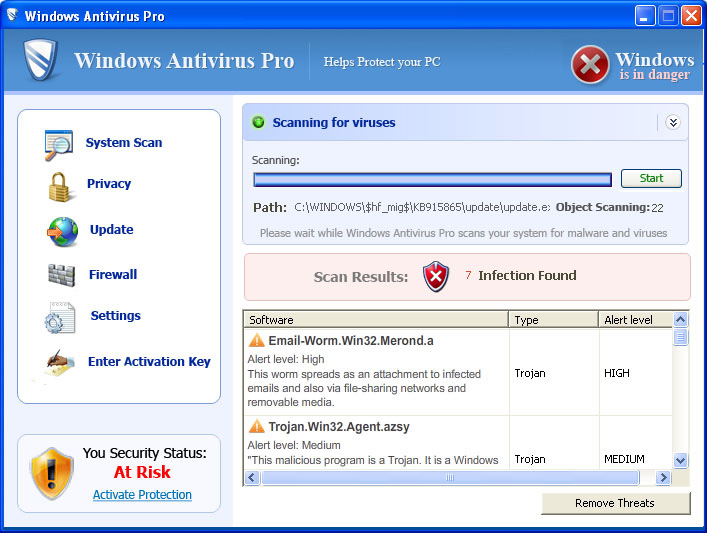 Windows Antivirus Pro manual removal:
Kill processes:
Windows Antivirus Pro.exe
ANTI_files.exe
dbsinit.exe
svchast.exe
desot.exe
Delete registry values:
HKEY_CURRENT_USERSoftwareSoftimer
HKEY_CURRENT_USERSoftwareWindows Antivirus Pro
HKEY_CLASSES_ROOTCLSID{425882B0-B0BF-11CE-B59F-00AA006CB37D}
HKEY_CLASSES_ROOTCLSID{F54AF7DE-6038-4026-8433-CC30E3F17212}
HKEY_LOCAL_MACHINESOFTWAREMicrosoftWindowsCurrentVersionExplorerBrowser Helper Objects{F54AF7DE-6038-4026-8433-CC30E3F17212}
HKEY_LOCAL_MACHINESOFTWAREMicrosoftWindowsCurrentVersionUninstallWin Antivirus Pro
HKEY_LOCAL_MACHINESYSTEMControlSet001ServicesAntipPro2009_12
HKEY_LOCAL_MACHINESYSTEMCurrentControlSetServicesAntipPro2009_12
Unregister DLLs:
msvcm80.dll
msvcp80.dll
msvcr80.dll
dddesot.dll
Delete files:
Desktop\Windows Antivirus Pro.lnk
ANTI_files.exe
msvcm80.dll
msvcp80.dll
msvcr80.dll
Windows Antivirus Pro.exe
dbsinit.exe
wispex.html
i1.gif
i2.gif
i3.gif
j1.gif
j2.gif
j3.gif
jj1.gif
jj2.gif
jj3.gif
l1.gif
l2.gif
l3.gif
pix.gif
t1.gif
t2.gif
up1.gif
up2.gif
w1.gif
w11.gif
w2.gif
w3.gif
w3.jpg
wt1.gif
wt2.gif
wt3.gif
ppp3.dat
ppp4.dat
svchast.exe
bennuar.old
dddesot.dll
desot.exe
sysnet.dat
Delete directories:
%UserProfile%Start MenuProgramsWindows Antivirus Pro
c:Program FilesWindows Antivirus Pro
C:Program FilesWindows Antivirus Protmp
C:Program FilesWindows Antivirus Protmpimages
About the author