Windows Component Protector. How to remove? (Uninstall guide)
Windows Component Protector is a rogue anti-spyware program that uses various misleading methods such as false scan results, and fake alerts to scare users into thinking that their computers are infeced with viruses. It's just another scareware, which was designed to steal money form inexperienced PC users and maybe also those who don't have any genuine antivirus software installed on their computers. One way or another, you shouldn't buy it. Remove Windows Component Protector virus from your computer as soon as possible to prevent further damage.
Very often, Windows Component Protector is promoted through the use of trojans, fake online virus scanners and infected websites. Once your computer is infected with a trojan virus, you will see numerous fake security alerts and notifications claiming that your computer is infected. Most of the time, these alerts come like from nowhere because scammers use software bugs to access the system secretly without your permission. No matter what you click in these fake alerts, you will be taken to the Windows Component Protector pay page.
When running, Windows Component Protector will be configured to scan your computer automatically each time you log on into Windows. The scan results are false, so you may safely ignore them. It simply detects non-existent infections or files that cannnot hamr your PC. Also, Windows Component Protector will constantly display very annoying and absolutely fake security warnings. Usually, these alerts are will be very similar to those, displayed by Windows Security Center to make it look more reliable. The rogue program will also hijack your Internet browser and make your computer work slower than usual.
Windows Component Protector is a scam, don't purchase it. Instead, use the removal guide below to remove this infection from your computer using our recommend malware removal tool. Besides, removal delay will only worsen the situation, because this parasite may download more malware onto your computer.
The latest parasite names used by FakeVimes:
[newest]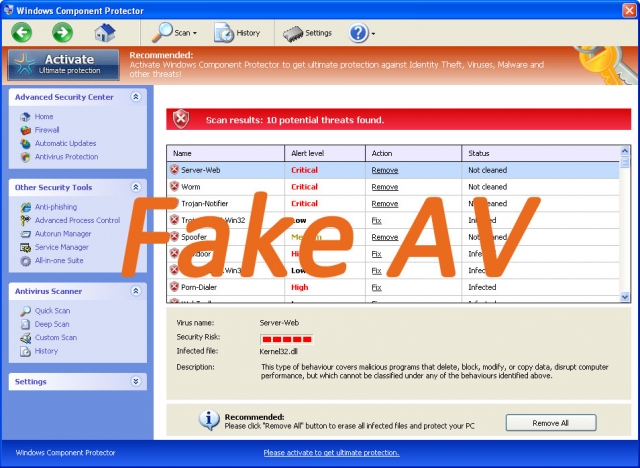 Windows Component Protector manual removal:
Kill processes:
Inspector-[rnd].exe
Protector-[rnd].exe
Delete registry values:
HKEY_LOCAL_MACHINESOFTWAREMicrosoftInternet ExplorerMainFeatureControlFEATURE_ERROR_PAGE_BYPASS_ZONE_CHECK_FOR_HTTPS_KB954312
HKEY_CURRENT_USERSoftwareMicrosoftWindowsCurrentVersionInternet Settings "WarnOnHTTPSToHTTPRedirect" = 0
HKEY_CURRENT_USERSoftwareMicrosoftWindowsCurrentVersionPoliciesSystem "DisableRegedit" = 0
HKEY_CURRENT_USERSoftwareMicrosoftWindowsCurrentVersionPoliciesSystem "DisableRegistryTools" = 0
HKEY_CURRENT_USERSoftwareMicrosoftWindowsCurrentVersionPoliciesSystem "DisableTaskMgr" = 0
HKEY_CURRENT_USERSoftwareMicrosoftWindowsCurrentVersionRun "Inspector"
HKEY_CURRENT_USERSoftwareMicrosoftWindowsCurrentVersionSettings "ID" = 0
HKEY_CURRENT_USERSoftwareMicrosoftWindowsCurrentVersionSettings "net" = "2012-2-17_2"
HKEY_CURRENT_USERSoftwareMicrosoftWindowsCurrentVersionSettings "UID" = "rudbxijemb"
HKEY_LOCAL_MACHINESOFTWAREMicrosoftWindows NTCurrentVersionImage File Execution Options_avp32.exe
HKEY_LOCAL_MACHINESOFTWAREMicrosoftWindows NTCurrentVersionImage File Execution Options_avpcc.exe
HKEY_LOCAL_MACHINESOFTWAREMicrosoftWindows NTCurrentVersionImage File Execution OptionsashDisp.exe
HKEY_LOCAL_MACHINESOFTWAREMicrosoftWindows NTCurrentVersionImage File Execution Optionsdivx.exe
HKEY_LOCAL_MACHINESOFTWAREMicrosoftWindows NTCurrentVersionImage File Execution Optionsmostat.exe
HKEY_LOCAL_MACHINESOFTWAREMicrosoftWindows NTCurrentVersionImage File Execution Optionsplatin.exe
HKEY_LOCAL_MACHINESOFTWAREMicrosoftWindows NTCurrentVersionImage File Execution Optionstapinstall.exe
HKEY_LOCAL_MACHINESOFTWAREMicrosoftWindows NTCurrentVersionImage File Execution Optionszapsetup3001.exe
Delete files:
%AppData%Inspector-[rnd].exe
%AppData%Protector-[rnd].exe
About the author