Windows Control Series. How to remove? (Uninstall guide)
Windows Control Series is the newest rogue anti-spyware we came across this morning. It uses identical GUI just like other threats that belong to the same family of malwares called FakeVimes. You must have heard about this group if you are interested in viruses because it releases its identically-looking rogues almost everyday. Be sure you don't fall for them and remove Windows Control Series from your computer just like you must have done with other threats. Though it may look like normal anti-spyware, Windows Control Series is dangerous application that seeks only to steal your money and credit card details. If you have already paid for the 'licensed' version of this rogue, contact your credit card company immediately to dispute the charges.
SYMPTOMS OF Windows Control Series
From the first sight, Windows Control Series may look like a regular security application that contains all components needed. However, this program is more than just malicious: it gets inside the system with a help of trojans, triggers misleading alerts, imitates system scans and finally bombards you with offers to purchase licensed its version. Windows Control Series does not need to ask any permission from you when it comes an infiltration moment. Besides, it won't ask for one when it makes some changes on PCs registry so that it could launch every time victim reboots the PC. So, as soon as machine is rebooted, Windows Control Series starts its aggressive activity. Be sure that this scamware will keep running its fake virus scanners and alerts, reporting something like that:
Error

Software without a digital signature detected.
Your system files are at risk. We strongly advise you to activate your protection.
Torrent Alert

Recommended: Please use secure encrypted protocol for torrent links.Torrent link detected!
Receiving this notification means that you have violated the copyright laws. Using Torrent for downloading movies and licensed software shall be prosecuted and you may be sued for cybercrime and breach of law under the SOPA legislation.
The reason of displaying such alerts is really simple – Windows Control Series tries to create a need of its licensed version which is a tool used by scammers to get some money. However, just like the trial version, licensed version is useless and has an empty virus database.
HOW TO REMOVE Windows Control Series
If you don't want to support scammers, we recommend to remove Windows Control Series before it downloads more malware on your computer. You won't be capable to use Add/Remove Programs list with this rogue, so run a full system scan with reputable anti-spyware and forget Windows Control Series for good. We highly recommend using Plumbytes Anti-MalwareWebroot SecureAnywhere AntiVirus or Reimage to get rid of Windows Control Series.
The latest parasite names used by FakeVimes:
[newest]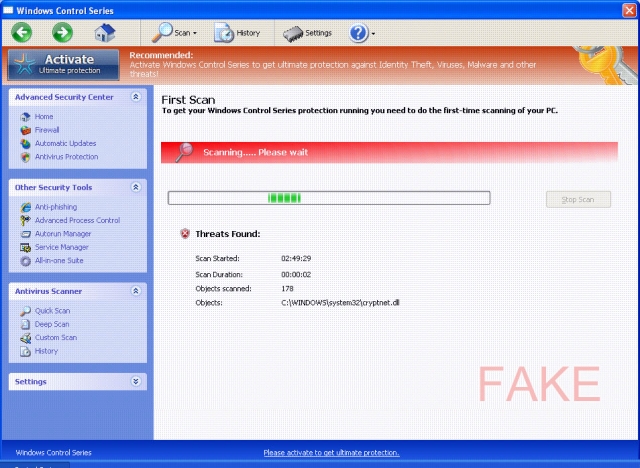 Windows Control Series manual removal:
Kill processes:
Protector-[3 random characters].exe
Protector-[4 random characters].exe
Delete registry values:
HKEY_LOCAL_MACHINESOFTWAREMicrosoftWindows NTCurrentVersionImage File Execution Optionsafwserv.exe "Debugger" = 'svchost.exe'
HKEY_LOCAL_MACHINESOFTWAREMicrosoftWindows NTCurrentVersionImage File Execution Optionsavastsvc.exe "Debugger" = 'svchost.exe'
HKEY_LOCAL_MACHINESOFTWAREMicrosoftWindows NTCurrentVersionImage File Execution Optionsavastui.exe "Debugger" = 'svchost.exe'
HKEY_LOCAL_MACHINESOFTWAREMicrosoftWindows NTCurrentVersionImage File Execution Optionsegui.exe "Debugger" = 'svchost.exe'
HKEY_LOCAL_MACHINESOFTWAREMicrosoftWindows NTCurrentVersionImage File Execution Optionsekrn.exe "Debugger" = 'svchost.exe'
HKEY_LOCAL_MACHINESOFTWAREMicrosoftWindows NTCurrentVersionImage File Execution Optionsmsascui.exe "Debugger" = 'svchost.exe'
HKEY_LOCAL_MACHINESOFTWAREMicrosoftWindows NTCurrentVersionImage File Execution Optionsmsmpeng.exe "Debugger" = 'svchost.exe'
HKEY_LOCAL_MACHINESOFTWAREMicrosoftWindows NTCurrentVersionImage File Execution Optionsmsseces.exe "Debugger" = 'svchost.exe'
HKEY_LOCAL_MACHINESOFTWAREMicrosoftWindows NTCurrentVersionSystemRestore "DisableSR " = '1'
Delete files:
%AppData%Protector-[rnd].exe
%AppData%NPSWF32.dll
%AppData%Protector-[3 random characters].exe
%AppData%Protector-[4 random characters].exe
%AppData%result.db
%AppData%1st$0l3th1s.cnf
About the author