Windows Efficiency Accelerator. How to remove? (Uninstall guide)
Windows Efficiency Accelerator is a fake security program from the FakeVimes family. The rogue application reports grossly exaggerated system security threats and malware infections on your computer and displays fake security alerts to scare you into thinking your computer is infected with all sorts of malcious software, from trojans to dialers. Once installed, it will imitate a fake system scan and then will prompt you to pay for a full version of the program to remove the threats supposedly found on your computer during the fake system scan. Do not purchase Windows Efficiency Accelerator. This is nothing more but a scam and won't in any way protect your computer from malware. It will not remove any infections simply because it is an infection itself. The removal guide below will show you how to get rid of Windows Efficiency Accelerator using legitimate malware removal software.
When running, Windows Efficiency Accelerator will constantly display fake security alerts and warnings about serious security and privacy issues that may supposedly lead to identity theft and badly infected machine. This rogue security program displays the same alerts as other rogue program from this family. Malware creators didn't even bother to change them. You will likely see alerts about Backdoor.Win32.Agent and similar infections.
Torrent Alert
Recomended: Please use secure encrypted protocol for torrent links.
Torrent link detected!
Receiving this notification means that you have violated the copyright laws. Using Torrent for downloading movies and licensed software shall be prosecuted and you may be sued for cybercrime and breach of law under the SOPA legislation.
Please register your copy of the AV to activate anonymous data transfer protocol through the torrent link.
These infections (names) are not made up, but that doesn't mean that your computer is actually infected with these viruses. Scammers simply want to make it look as realistic as possible to trick as many users as possible to pay for useless software. Windows Efficiency Accelerator uses real names and descriptions to make it look more credibly. So, what you should do if your computer is infected? Do not purchase this rogue program. You won't get anything in return. Maybe just a false sense of security. Secondly, please use the removal guide below to remove Windows Efficiency Accelerator from your computer using our malware removal tool.
The latest parasite names used by FakeVimes:
[newest]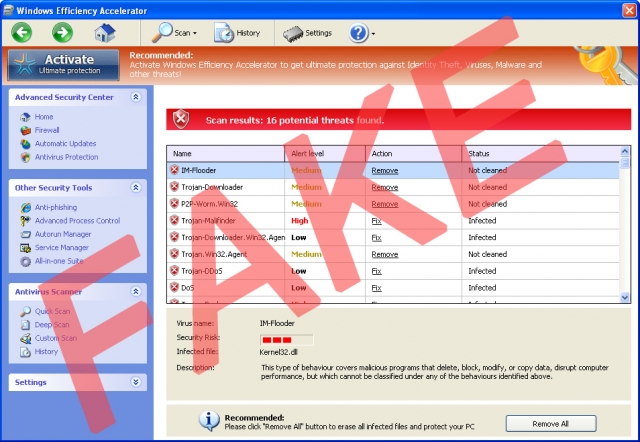 Windows Efficiency Accelerator manual removal:
Kill processes:
Inspector-[rnd].exe
Protector-[rnd].exe
Delete registry values:
HKEY_LOCAL_MACHINESOFTWAREMicrosoftInternet ExplorerMainFeatureControlFEATURE_ERROR_PAGE_BYPASS_ZONE_CHECK_FOR_HTTPS_KB954312
HKEY_CURRENT_USERSoftwareMicrosoftWindowsCurrentVersionInternet Settings "WarnOnHTTPSToHTTPRedirect" = 0
HKEY_CURRENT_USERSoftwareMicrosoftWindowsCurrentVersionPoliciesSystem "DisableRegedit" = 0
HKEY_CURRENT_USERSoftwareMicrosoftWindowsCurrentVersionPoliciesSystem "DisableRegistryTools" = 0
HKEY_CURRENT_USERSoftwareMicrosoftWindowsCurrentVersionPoliciesSystem "DisableTaskMgr" = 0
HKEY_CURRENT_USERSoftwareMicrosoftWindowsCurrentVersionRun "Inspector"
HKEY_CURRENT_USERSoftwareMicrosoftWindowsCurrentVersionSettings "ID" = 0
HKEY_CURRENT_USERSoftwareMicrosoftWindowsCurrentVersionSettings "net" = "2012-2-17_2"
HKEY_CURRENT_USERSoftwareMicrosoftWindowsCurrentVersionSettings "UID" = "rudbxijemb"
HKEY_LOCAL_MACHINESOFTWAREMicrosoftWindows NTCurrentVersionImage File Execution Options_avp32.exe
HKEY_LOCAL_MACHINESOFTWAREMicrosoftWindows NTCurrentVersionImage File Execution Options_avpcc.exe
HKEY_LOCAL_MACHINESOFTWAREMicrosoftWindows NTCurrentVersionImage File Execution OptionsashDisp.exe
HKEY_LOCAL_MACHINESOFTWAREMicrosoftWindows NTCurrentVersionImage File Execution Optionsdivx.exe
HKEY_LOCAL_MACHINESOFTWAREMicrosoftWindows NTCurrentVersionImage File Execution Optionsmostat.exe
HKEY_LOCAL_MACHINESOFTWAREMicrosoftWindows NTCurrentVersionImage File Execution Optionsplatin.exe
HKEY_LOCAL_MACHINESOFTWAREMicrosoftWindows NTCurrentVersionImage File Execution Optionstapinstall.exe
HKEY_LOCAL_MACHINESOFTWAREMicrosoftWindows NTCurrentVersionImage File Execution Optionszapsetup3001.exe
Delete files:
%AppData%Inspector-[rnd].exe
%AppData%Protector-[rnd].exe
About the author