Windows Foolproof Protector. How to remove? (Uninstall guide)
Windows Foolproof Protector is a rogue anti-spyware program that displays fake security alerts and claims that your computer is infected with viruses. The rogue program also claims that your personal information is at risk and cane be stolen by hackers. This fake anti-spyware program has been noticed to be actively distributed with a help of Trojans and hacked websites that redirect users to fake online virus scanners. Fake scanners reports non-existent infections and offer to download malware removal tool to remove supposedly found malware. Most of the time Windows Foolproof Protector has to be installed manually but sometimes it may enter your computer without your knowledge. Either installed manually or without any user's permission it starts misleadin actions. Its strategy involves some certain modifications done for computer's registry and also invention of some harmless files that later will be detected as spyware, trojans and rootkits. They are mostly announced on such alerts:
Warning
Firewall has blocked a program from accessing the Internet
C:\program files\internet explorer\iexplore.exe
is suspected to have infected your PC. This type of virus intercepts entered data and transmits them to a remote server.
Warning! Identity theft attempt Detected
Hidden connection IP: 58.82.12.124
Target: Your passwords for sites
When Windows Foolproof Protector is installed on your computer, it starts displaying fake security alerts reporting many of viruses detected on the system during fake system scan. Rogue alerts, useless virus scanners and other notifications are nothing but scam because their function is to encourage you to start thinking about the program which will fix everything. Windows Foolproof Protector claims that it is definitely the best removal tool for these trojans, keyloggers and spyware but before getting it installed asks paying the money. However, these detections should be simply ignored because sometimes they may even be simple your system files.
As you can see, this is the way rogue anti-spywares act, and Windows Foolproof Protector is a typical fake anti-spyware program. You should ignore fake security alerts and notifications of this scareware and keep away from instructions it recommends you to do. As soon as you notice it on board, remove Windows Foolproof Protector from your computer as soon as possible. It's nothing more but a scam. Use our recommend malware removal software to remove this virus from your PC. Also, if you have already purchased it, you should contact your credit card company and dispute the charges.
The latest parasite names used by FakeVimes:
[newest]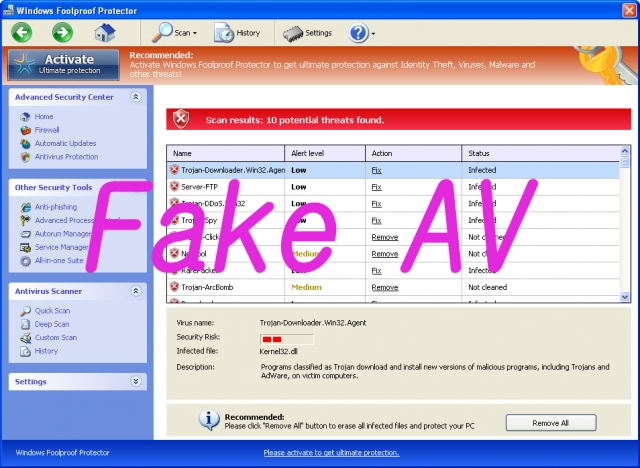 Windows Foolproof Protector manual removal:
Kill processes:
Inspector-[rnd].exe
Protector-[rnd].exe
Delete registry values:
HKEY_LOCAL_MACHINESOFTWAREMicrosoftInternet ExplorerMainFeatureControlFEATURE_ERROR_PAGE_BYPASS_ZONE_CHECK_FOR_HTTPS_KB954312
HKEY_CURRENT_USERSoftwareMicrosoftWindowsCurrentVersionInternet Settings "WarnOnHTTPSToHTTPRedirect" = 0
HKEY_CURRENT_USERSoftwareMicrosoftWindowsCurrentVersionPoliciesSystem "DisableRegedit" = 0
HKEY_CURRENT_USERSoftwareMicrosoftWindowsCurrentVersionPoliciesSystem "DisableRegistryTools" = 0
HKEY_CURRENT_USERSoftwareMicrosoftWindowsCurrentVersionPoliciesSystem "DisableTaskMgr" = 0
HKEY_CURRENT_USERSoftwareMicrosoftWindowsCurrentVersionRun "Inspector"
HKEY_CURRENT_USERSoftwareMicrosoftWindowsCurrentVersionSettings "ID" = 0
HKEY_CURRENT_USERSoftwareMicrosoftWindowsCurrentVersionSettings "net" = "2012-2-17_2"
HKEY_CURRENT_USERSoftwareMicrosoftWindowsCurrentVersionSettings "UID" = "rudbxijemb"
HKEY_LOCAL_MACHINESOFTWAREMicrosoftWindows NTCurrentVersionImage File Execution Options_avp32.exe
HKEY_LOCAL_MACHINESOFTWAREMicrosoftWindows NTCurrentVersionImage File Execution Options_avpcc.exe
HKEY_LOCAL_MACHINESOFTWAREMicrosoftWindows NTCurrentVersionImage File Execution OptionsashDisp.exe
HKEY_LOCAL_MACHINESOFTWAREMicrosoftWindows NTCurrentVersionImage File Execution Optionsdivx.exe
HKEY_LOCAL_MACHINESOFTWAREMicrosoftWindows NTCurrentVersionImage File Execution Optionsmostat.exe
HKEY_LOCAL_MACHINESOFTWAREMicrosoftWindows NTCurrentVersionImage File Execution Optionsplatin.exe
HKEY_LOCAL_MACHINESOFTWAREMicrosoftWindows NTCurrentVersionImage File Execution Optionstapinstall.exe
HKEY_LOCAL_MACHINESOFTWAREMicrosoftWindows NTCurrentVersionImage File Execution Optionszapsetup3001.exe
Delete files:
%AppData%Inspector-[rnd].exe
%AppData%Protector-[rnd].exe
About the author