Windows Instant Scanner. How to remove? (Uninstall guide)
Windows Instant Scanner is a 100% clone of another fake malware removal program called Windows Privacy Counsel. It's annoying as hell and rather dangerous malware scanner. The rogue program pretends to scan the system for viruses and then reports about ten or even more supposedly found viruses that can only be removed with the registered version of this bogus software. This is a scam and one of many ways how scammers try to steal money from internet users. This virus spreads via Trojan horses, mostly Trojan droppers and downloaders, and therefore gets inside new target systems without users' knowledge. It can be also promoted via fake virus scanners and infected websites. Spam and messages on popular social networks may lead you to fake security programs and other malware as well.
When installed, Windows Instant Scanner runs all the time while you are using your computer and uses various misleading tactics to promote its licensed version: from fake security alerts to blocked system tools and legitimate antivirus software. The techniques applied include triggering completely fake security alerts and fake scanners that report multiply infections and malware security risks on the compromised computer. If you get tricked by these fake security alerts and system scans, you may end up installing Windows Instant Scanner full version for a certain sum of money, usually around $100.dow Too bad this rogue anti-spyware program will prove to be worthless and incapable of removing the infections which do not even exist on your computer. Examples of fake security alerts:
Error
Software without a digital signature detected.
Your system files are at risk. We strongly advise you to activate your protection.
Warning! Spambot detected!
Attention! A spambot sending viruses from your e-mail has been detected on your PC.
How to remove Windows Instant Scanner?
While running, Windows Instant Scanner will slow your computer down and interrupt your internet connection blocking web browsers or security related websites. Another way of this malware promotion is via hijackers that modify browser settings and redirect the victim's web-surfing to websites that advertise it. It's highly recommended to remove Windows Instant Scanner and related malware from your PC as soon as possible. If you won't remove it, Windows Instant Scanner will do your PC a lot of harm and may even install spyware that may steal your personal information.
The latest parasite names used by FakeVimes:
[newest]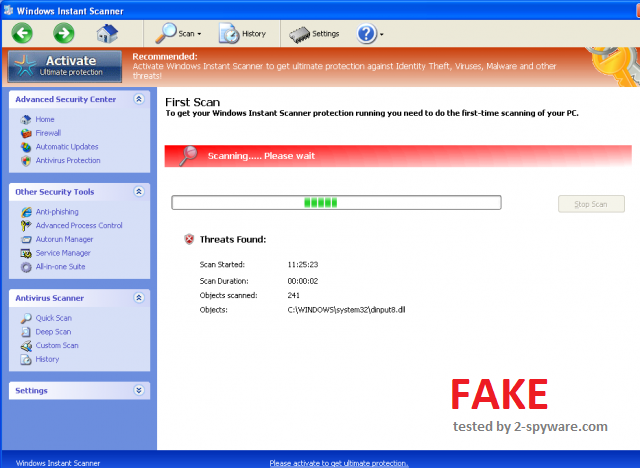 Windows Instant Scanner manual removal:
Kill processes:
Protector-[rnd].exe
Delete registry values:
HKEY_LOCAL_MACHINESOFTWAREMicrosoftInternet ExplorerMainFeatureControlFEATURE_ERROR_PAGE_BYPASS_ZONE_CHECK_FOR_HTTPS_KB954312
HKEY_CURRENT_USERSoftwareMicrosoftWindowsCurrentVersionInternet Settings "WarnOnHTTPSToHTTPRedirect" = 0
HKEY_CURRENT_USERSoftwareMicrosoftWindowsCurrentVersionPoliciesSystem "DisableRegedit" = 0
HKEY_CURRENT_USERSoftwareMicrosoftWindowsCurrentVersionPoliciesSystem "DisableRegistryTools" = 0
HKEY_CURRENT_USERSoftwareMicrosoftWindowsCurrentVersionPoliciesSystem "DisableTaskMgr" = 0
HKEY_CURRENT_USERSoftwareMicrosoftWindowsCurrentVersionRun "Inspector"
HKEY_CURRENT_USERSoftwareMicrosoftWindowsCurrentVersionSettings "ID" = 0
HKEY_CURRENT_USERSoftwareMicrosoftWindowsCurrentVersionSettings "net" = "2012-2-17_2"
HKEY_CURRENT_USERSoftwareMicrosoftWindowsCurrentVersionSettings "UID" = "rudbxijemb"
HKEY_LOCAL_MACHINESOFTWAREMicrosoftWindows NTCurrentVersionImage File Execution Options_avp32.exe
HKEY_LOCAL_MACHINESOFTWAREMicrosoftWindows NTCurrentVersionImage File Execution Options_avpcc.exe
HKEY_LOCAL_MACHINESOFTWAREMicrosoftWindows NTCurrentVersionImage File Execution OptionsashDisp.exe
HKEY_LOCAL_MACHINESOFTWAREMicrosoftWindows NTCurrentVersionImage File Execution Optionsdivx.exe
HKEY_LOCAL_MACHINESOFTWAREMicrosoftWindows NTCurrentVersionImage File Execution Optionsmostat.exe
HKEY_LOCAL_MACHINESOFTWAREMicrosoftWindows NTCurrentVersionImage File Execution Optionsplatin.exe
HKEY_LOCAL_MACHINESOFTWAREMicrosoftWindows NTCurrentVersionImage File Execution Optionstapinstall.exe
HKEY_LOCAL_MACHINESOFTWAREMicrosoftWindows NTCurrentVersionImage File Execution Optionszapsetup3001.exe
Unregister DLLs:
npswf32.dll
Delete files:
Protector-[rnd].exe
npswf32.dll
About the author