Windows Maintenance Suite. How to remove? (Uninstall guide)
Windows Maintenance Suite is another rogue antispyware that was released by FakeVimes family. Just like its predecessors the program infiltrates into random computer systems using social networks, malicious websites, spam email attachments, etc. As soon as it gets inside the system, the application makes some changes in the Windows Registry which allows Windows Maintenance Suite to perform its further steps.
First of all, you will notice a scanner running on your system after each computer reboot. The program will warn that your system is infected and even show a list of threats that are supposedly harming your system. However, these files are either fake or they belong to your legitimate programs. Removing them can even harm proper functioning of your system. Besides none of the versions of Windows Maintenance Suite can detect or remove any real infections. So your PC is completely unprotected
Additionally, Windows Maintenance Suite uses fake pop up messages which appear on the system out of nowhere and warn about certain system problems. The purpose of these notifications is also to make computer user think that his system has certain security issues. This is a common way rogue programs promote them. You shouldn't take these notifications for real and you should never act they way they tell you. Here's how the look like:
Error
Keylogger activity detected. System information security is at risk.
It is recommended to activate protection and run a full system scan.
Warning
Firewall has blocked a program from accessing the Internet.
Windows Media Player Resources
C:\Windows\system32\dllcache\wmploc.dll
C:\Windows\system32\dllcache\wmploc.dll is suspected to have infected your PC. This type of virus intercepts entered data and transmits them to a remote server.
It is highly recommended to remove Windows Maintenance Suite using a reliable antispyware program. Just make sure you upgrade it to its newest version. If your Intenret Explorer is blocked, just keep trying again and eventually, you will be able to browse. Do not hesitate as this badware wishes no good for you and it only wants your money. In case you took this scam serious and paid for it, contact your credit card company and dispute the charges as soon as possible.
The latest parasite names used by FakeVimes:
[newest]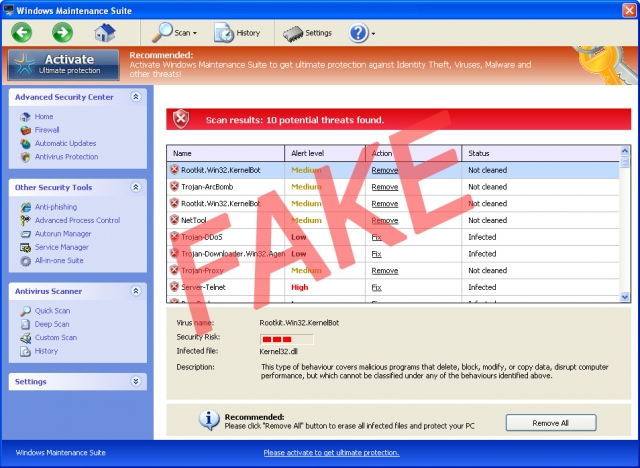 Windows Maintenance Suite manual removal:
Kill processes:
Protector-[rnd].exe
Delete registry values:
HKEY_LOCAL_MACHINESOFTWAREMicrosoftInternet ExplorerMainFeatureControlFEATURE_ERROR_PAGE_BYPASS_ZONE_CHECK_FOR_HTTPS_KB954312
HKEY_CURRENT_USERSoftwareMicrosoftWindowsCurrentVersionInternet Settings "WarnOnHTTPSToHTTPRedirect" = 0
HKEY_CURRENT_USERSoftwareMicrosoftWindowsCurrentVersionPoliciesSystem "DisableRegedit" = 0
HKEY_CURRENT_USERSoftwareMicrosoftWindowsCurrentVersionPoliciesSystem "DisableRegistryTools" = 0
HKEY_CURRENT_USERSoftwareMicrosoftWindowsCurrentVersionPoliciesSystem "DisableTaskMgr" = 0
HKEY_CURRENT_USERSoftwareMicrosoftWindowsCurrentVersionRun "Inspector"
HKEY_CURRENT_USERSoftwareMicrosoftWindowsCurrentVersionSettings "ID" = 0
HKEY_CURRENT_USERSoftwareMicrosoftWindowsCurrentVersionSettings "net" = "2012-2-17_2"
HKEY_CURRENT_USERSoftwareMicrosoftWindowsCurrentVersionSettings "UID" = "rudbxijemb"
HKEY_LOCAL_MACHINESOFTWAREMicrosoftWindows NTCurrentVersionImage File Execution Options_avp32.exe
HKEY_LOCAL_MACHINESOFTWAREMicrosoftWindows NTCurrentVersionImage File Execution Options_avpcc.exe
HKEY_LOCAL_MACHINESOFTWAREMicrosoftWindows NTCurrentVersionImage File Execution OptionsashDisp.exe
HKEY_LOCAL_MACHINESOFTWAREMicrosoftWindows NTCurrentVersionImage File Execution Optionsdivx.exe
HKEY_LOCAL_MACHINESOFTWAREMicrosoftWindows NTCurrentVersionImage File Execution Optionsmostat.exe
HKEY_LOCAL_MACHINESOFTWAREMicrosoftWindows NTCurrentVersionImage File Execution Optionsplatin.exe
HKEY_LOCAL_MACHINESOFTWAREMicrosoftWindows NTCurrentVersionImage File Execution Optionstapinstall.exe
HKEY_LOCAL_MACHINESOFTWAREMicrosoftWindows NTCurrentVersionImage File Execution Optionszapsetup3001.exe
Unregister DLLs:
npswf32.dll
Delete files:
%AppData%Protector-[rnd].exe
About the author