Windows Malware Firewall. How to remove? (Uninstall guide)
Windows Malware Firewall is a rogue anti-spyware application that displays exaggerated or completely false scan results and fake security pop-ups to make you think your computer is infected with malware, spyware and ads sponsored software. Once installed, the rogue security application will display a list of fake malware infections and supposed security threat and then will state that you must purchase this program to remove found malware and protect your computer from the newest viruses. Don't pay for the rogue anti-spyware program, it's a scam. You should remove Windows Malware Firewall from your computer upon detection.
Windows Malware Firewall is promoted through the use of Trojan downloaders, fake online virus scanners and hacked websites that load malicious code once you visit them. It's otherwise known as drive-by download. Usually, Trojan viruses display fake security alerts stating that your computer has many security issues or is under attack from a remote server. Fake online anti-malware scanners display similar notifications too but they also hijacks web browsers. While active, Trojans may hijack your Desktop and display the following text:
System Security Warning
Attempt to modify register key entries is detected. Register entries analysis is recommended.
Warning!
Location: c:\windows\system32\taskmgr.exe
Viruses: Backdoor.Win32.Rbot
While running, Windows Malware Firewall will "scan" your computer for viruses and list a variety of security threats that won't be removed unless you first purchase the rogue security program. The scan results are false, so you can ignore that safely. The same applies to fake security warnings that will come from Windows task bar or Windows Security Center. These are also completely fake. The main problem with those fake security warnings is that they look like legitimate ones and it is very difficult to get rid of them. Fake security alerts will show up like every every two or five minutes. What is more, Windows Malware Firewall will also slow down your computer and block antivirus software. Likely, it will hijack your web browser too.
Windows Malware Firewall is a scam designed to steal money from inexperienced computer users. Do not purchase this program. If you have already paid for it, contact your credit card company and dispute the charges. Then, remove Windows Malware Firewall from your computer using legitimate malware removal software listed below.
The latest parasite names used by FakeVimes:
[newest]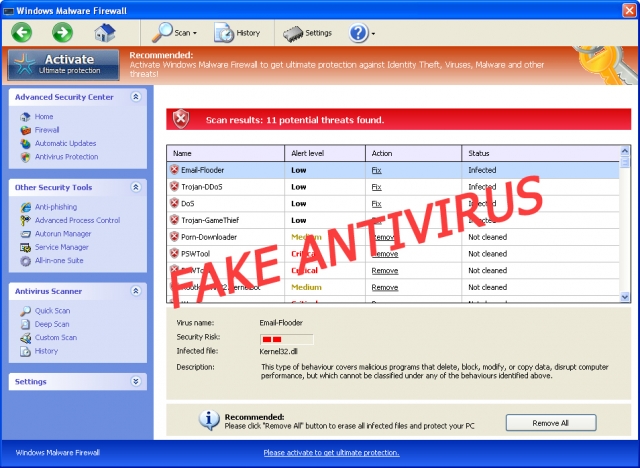 Windows Malware Firewall manual removal:
Kill processes:
Protector-[random].exe
Delete registry values:
HKEY_LOCAL_MACHINESOFTWAREMicrosoftWindows NTCurrentVersionImage File Execution Optionsafwserv.exe "Debugger" = 'svchost.exe'
HKEY_LOCAL_MACHINESOFTWAREMicrosoftWindows NTCurrentVersionImage File Execution Optionsavastsvc.exe "Debugger" = 'svchost.exe'
HKEY_LOCAL_MACHINESOFTWAREMicrosoftWindows NTCurrentVersionImage File Execution Optionsavastui.exe "Debugger" = 'svchost.exe'
HKEY_LOCAL_MACHINESOFTWAREMicrosoftWindows NTCurrentVersionImage File Execution Optionsegui.exe "Debugger" = 'svchost.exe'
HKEY_LOCAL_MACHINESOFTWAREMicrosoftWindows NTCurrentVersionImage File Execution Optionsekrn.exe "Debugger" = 'svchost.exe'
HKEY_LOCAL_MACHINESOFTWAREMicrosoftWindows NTCurrentVersionImage File Execution Optionsmsascui.exe "Debugger" = 'svchost.exe'
HKEY_LOCAL_MACHINESOFTWAREMicrosoftWindows NTCurrentVersionImage File Execution Optionsmsmpeng.exe "Debugger" = 'svchost.exe'
HKEY_LOCAL_MACHINESOFTWAREMicrosoftWindows NTCurrentVersionImage File Execution Optionsmsseces.exe "Debugger" = 'svchost.exe'
HKEY_LOCAL_MACHINESOFTWAREMicrosoftWindows NTCurrentVersionSystemRestore "DisableSR " = '1'
Delete files:
Protector-[random].exe
About the author