Windows Multi Control System. How to remove? (Uninstall guide)
Windows Multi Control System is a rogue anti-spyware program that is being distributed via the use of fake online virus scanners and trojans that come moslty from infected websites and spam emails. Once installed, this rogue anti-spyware program reports false scan results and displays fake security alerts about non-existing system security threats and critical malware infections. It claims that you must purchase the rogue anti-spyware program to remove those threats and to ensure further system protection against malware. However, you shouldn't buy this program, because it is nothing more than a scam and won't protect your computer one way or another. Instead, remove Windows Multi Control System from your computer upon detection.
Usually, Windows Multi Control System enters the system with the help of Trojan viruses or other malicious software. It can be also downloaded and installed manually from several download websites and torrent sites. Once installed, the program will supposedly scan your computer for viruses. The scan can doesn't take too long, just a few seconds actually. The scan results are of course false and you can safely ignore them. Windows Multi Control System will find many infections, mostly Trojan viruses, worms, adware and viruses. This infections may also identify legitimate system files as infections, for example Internet Explorer. In order to remove found infections you have to purchase the program, but we strongly recommend you not to do so.
Microsoft Security Essentials Alert
Potential Threat Details
Microsoft Security Essentials detected potential threats that might compromise your private or damage your computer. Your access to these items may be suspended until you take an action. Click 'show details' to learn more.
System Security Warning
Attempt to modify register key entries is detected. Register entries analysis is recommended.
Warning!
Location: c:\windows\system32\taskmgr.exe
Viruses: Backdoor.Win32.Rbot
It is obvious that Windows Multi Control System is unwanted and useless security program that will infect your computer instead of cleaning it. It won't protect it, that's for sure. Please use the removal guide to remove Windows Multi Control from the system as soon as possible using legitimate malware removal software listed below.
The latest parasite names used by FakeVimes:
[newest]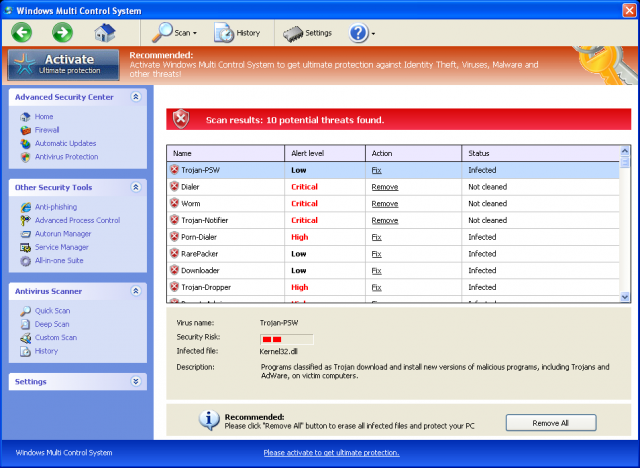 Windows Multi Control System manual removal:
Kill processes:
Protector-[random].exe
Delete registry values:
HKEY_LOCAL_MACHINESOFTWAREMicrosoftWindows NTCurrentVersionImage File Execution Optionsafwserv.exe "Debugger" = 'svchost.exe'
HKEY_LOCAL_MACHINESOFTWAREMicrosoftWindows NTCurrentVersionImage File Execution Optionsavastsvc.exe "Debugger" = 'svchost.exe'
HKEY_LOCAL_MACHINESOFTWAREMicrosoftWindows NTCurrentVersionImage File Execution Optionsavastui.exe "Debugger" = 'svchost.exe'
HKEY_LOCAL_MACHINESOFTWAREMicrosoftWindows NTCurrentVersionImage File Execution Optionsegui.exe "Debugger" = 'svchost.exe'
HKEY_LOCAL_MACHINESOFTWAREMicrosoftWindows NTCurrentVersionImage File Execution Optionsekrn.exe "Debugger" = 'svchost.exe'
HKEY_LOCAL_MACHINESOFTWAREMicrosoftWindows NTCurrentVersionImage File Execution Optionsmsascui.exe "Debugger" = 'svchost.exe'
HKEY_LOCAL_MACHINESOFTWAREMicrosoftWindows NTCurrentVersionImage File Execution Optionsmsmpeng.exe "Debugger" = 'svchost.exe'
HKEY_LOCAL_MACHINESOFTWAREMicrosoftWindows NTCurrentVersionImage File Execution Optionsmsseces.exe "Debugger" = 'svchost.exe'
HKEY_LOCAL_MACHINESOFTWAREMicrosoftWindows NTCurrentVersionSystemRestore "DisableSR " = '1'
Delete files:
Protector-[random].exe
About the author