Windows Power Expansion. How to remove? (Uninstall guide)
Windows Power Expansion is a rogue anti-spyware that uses misleading methods to trick users into buying the full version of the program to remove the threats. It is promoted through the use of Trojans and other malware that may come from fake online scanners and infected websites. Once installed Windows Power Expansion will be configured to start automatically when you login to Windows. It will scan your computer and then state that there are many infections on your PC. However, it will not allow you to remove any of supposedly found viruses until you first purchase the program. You should ignore what this program displays and remove Windows Power Expansion from your computer upon detection. The fake application will displays fake security alerts too. These alerts may be pop-up windows from your Windows taskbar that state active infections have been found or that your computer is under attack.
System Security Warning
Attempt to modify register key entries is detected. Register entries analysis is recommended.
System component corrupted!
System reboot error has occurred due to lsass.exe system process failure.
This may be caused by severe malware infections.
Automatic restore of lsass.exe backup copy completed.
The correct system performance can not be resumed without eliminating the cause of lsass.exe corruption.
Please ignore these fake security alerts as they were created to make you think that your computer is infected when in reality, the only infection on your PC is Windows Power Expansion. You can remove the rogue program manually, but it may come bundled with other malicious software, rootkits, trojans that can install additional malware onto your computer. We strongly recommend you to use an automatic removal tool given below to remove Windows Power Expansion and additional viruses from your computer. WindowsPowerExpansion is not a program that you want on your computer or that you should trust what it says. If you have already purchased the program then we suggest you contact your credit card company and dispute the charges.
Alternate Software
We have tested Plumbytes Anti-Malware's efficiency in removing Windows Power Expansion (2011-03-29)
We have tested Malwarebytes's efficiency in removing Windows Power Expansion (2011-03-29)
We have tested Hitman Pro's efficiency in removing Windows Power Expansion (2011-03-29)
We have tested Malwarebytes's efficiency in removing Windows Power Expansion (2011-03-29)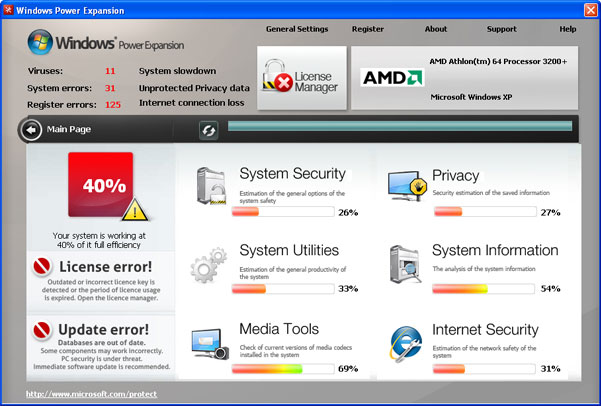 Windows Power Expansion manual removal:
Kill processes:
[random].exe
Delete registry values:
HKEY_LOCAL_MACHINESOFTWAREMicrosoftWindows NTCurrentVersionImage File Execution Optionsafwserv.exe "Debugger" = 'svchost.exe'
HKEY_LOCAL_MACHINESOFTWAREMicrosoftWindows NTCurrentVersionImage File Execution Optionsavastsvc.exe "Debugger" = 'svchost.exe'
HKEY_LOCAL_MACHINESOFTWAREMicrosoftWindows NTCurrentVersionImage File Execution Optionsavastui.exe "Debugger" = 'svchost.exe'
HKEY_LOCAL_MACHINESOFTWAREMicrosoftWindows NTCurrentVersionImage File Execution Optionsegui.exe "Debugger" = 'svchost.exe'
HKEY_LOCAL_MACHINESOFTWAREMicrosoftWindows NTCurrentVersionImage File Execution Optionsekrn.exe "Debugger" = 'svchost.exe'
HKEY_LOCAL_MACHINESOFTWAREMicrosoftWindows NTCurrentVersionImage File Execution Optionsmsascui.exe "Debugger" = 'svchost.exe'
HKEY_LOCAL_MACHINESOFTWAREMicrosoftWindows NTCurrentVersionImage File Execution Optionsmsmpeng.exe "Debugger" = 'svchost.exe'
HKEY_LOCAL_MACHINESOFTWAREMicrosoftWindows NTCurrentVersionImage File Execution Optionsmsseces.exe "Debugger" = 'svchost.exe'
HKEY_LOCAL_MACHINESOFTWAREMicrosoftWindows NTCurrentVersionSystemRestore "DisableSR " = '1'
Delete files:
%UserProfile%Application Data[random].exe
Delete directories:
About the author