Windows Privacy Counsel. How to remove? (Uninstall guide)
Windows Privacy Counsel is a rogue anti-spyware application that attempts to convince PC users to purchase bogus software in order to remove supposedly found malware on their computers. Found infections do not even exist or sometimes scareware may report genuine Windows files as malicious which may mislead the user of the compromised computer and as a result he may remove Windows files making the whole system unstable. Once installed, this rogue anti-spyware program reports many false system security threats and randomly displays fake security warnings to make you think that your computer is infected with spyware, adware, Trojan Horses and other malicious software. Very often, fake security alerts look just like the real ones so it might be difficult to tell whether they are real or not. Cyber criminals promote their bogus software in various ways. They send spam emails that contain malicious links or attachments; they also spam blogs and forums with links to adult videos and pirated software. There are also fake pages containing exploits, fake torrent files, malicious banner advertisements and etc. Most of the time, scammers use drive-by downloads and exploit packs to infection computers.
When running, Windows Privacy Counsel disables Task Manager, Registry Editor and other system tools to make the removal more complicated. Of course, it blocks anti-virus and anti-spyware programs as well and security related websites too. Actually, this fake program blocks nearly all websites and each time displays fake messages claiming that most of the sites you are trying to visit contain malicious code or may redirect you to hacked websites. Here are some of these fake security alerts:
Warning! Spambot detected!
Attention! A spambot sending viruses from your e-mail has been detected on your PC.
Warning
Firewall has blocked a program from accessing the Internet.
Windows Media Player Resources
C:\Windows\system32\dllcache\wmploc.dll
C:\Windows\system32\dllcache\wmploc.dll is suspected to have infected your PC. This type of virus intercepts entered data and transmits them to a remote server.
How to remove Windows Privacy Counsel?
As you can see, Windows Privacy Counsel is nothing more but a scam. It uses various misleading methods to trick you into purchasing the program. If you are reading this article, then your computer is probably infected with this rogue anti-spyware program. If you have already bought it then you should contact your credit card company and dispute the charges. To remove Windows Privacy Counsel from the system, please download and run an automatic malware removal tool give below..
The latest parasite names used by FakeVimes:
[newest]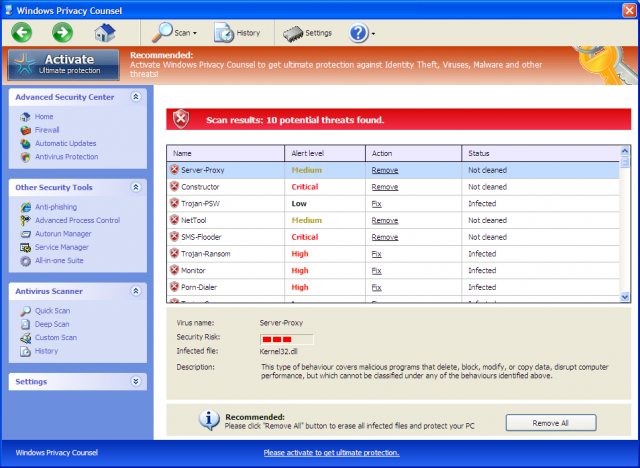 Windows Privacy Counsel manual removal:
Kill processes:
Protector-[rnd].exe
Delete registry values:
HKEY_LOCAL_MACHINESOFTWAREMicrosoftInternet ExplorerMainFeatureControlFEATURE_ERROR_PAGE_BYPASS_ZONE_CHECK_FOR_HTTPS_KB954312
HKEY_CURRENT_USERSoftwareMicrosoftWindowsCurrentVersionInternet Settings "WarnOnHTTPSToHTTPRedirect" = 0
HKEY_CURRENT_USERSoftwareMicrosoftWindowsCurrentVersionPoliciesSystem "DisableRegedit" = 0
HKEY_CURRENT_USERSoftwareMicrosoftWindowsCurrentVersionPoliciesSystem "DisableRegistryTools" = 0
HKEY_CURRENT_USERSoftwareMicrosoftWindowsCurrentVersionPoliciesSystem "DisableTaskMgr" = 0
HKEY_CURRENT_USERSoftwareMicrosoftWindowsCurrentVersionRun "Inspector"
HKEY_CURRENT_USERSoftwareMicrosoftWindowsCurrentVersionSettings "ID" = 0
HKEY_CURRENT_USERSoftwareMicrosoftWindowsCurrentVersionSettings "net" = "2012-2-17_2"
HKEY_CURRENT_USERSoftwareMicrosoftWindowsCurrentVersionSettings "UID" = "rudbxijemb"
HKEY_LOCAL_MACHINESOFTWAREMicrosoftWindows NTCurrentVersionImage File Execution Options_avp32.exe
HKEY_LOCAL_MACHINESOFTWAREMicrosoftWindows NTCurrentVersionImage File Execution Options_avpcc.exe
HKEY_LOCAL_MACHINESOFTWAREMicrosoftWindows NTCurrentVersionImage File Execution OptionsashDisp.exe
HKEY_LOCAL_MACHINESOFTWAREMicrosoftWindows NTCurrentVersionImage File Execution Optionsdivx.exe
HKEY_LOCAL_MACHINESOFTWAREMicrosoftWindows NTCurrentVersionImage File Execution Optionsmostat.exe
HKEY_LOCAL_MACHINESOFTWAREMicrosoftWindows NTCurrentVersionImage File Execution Optionsplatin.exe
HKEY_LOCAL_MACHINESOFTWAREMicrosoftWindows NTCurrentVersionImage File Execution Optionstapinstall.exe
HKEY_LOCAL_MACHINESOFTWAREMicrosoftWindows NTCurrentVersionImage File Execution Optionszapsetup3001.exe
Unregister DLLs:
npswf32.dll
Delete files:
Protector-[rnd].exe
npswf32.dll
About the author