Windows Pro Safety Release. How to remove? (Uninstall guide)
Windows Pro Safety Release is a rogue anti-spyware program that comes mostly from fake online virus scanners, infected websites and malicious PDF and executable files. The rogue program is usually promoted via exploit packs and crimeware kits. Once installed, the rogue anti-spyware program will performa a fake system scan and display a list of critical infections or system security threats that can't be removed unless you first purchase the rogue program. Windows Pro Safety Release is nothing more but a scam since it asks you to pay for fake malware removal procedure. It will prompt you to pay for a full version of the program to remove the infections which don't even exist in the first place. So how you can trust it? You can't. It goes without saying that you should remove Windows Pro Safety Release from your computer as soon as possible.
While running, Windows Pro Safety Release will flood the system with fake and very annoying security alerts and pop-ups notifications claiming that your computer is infected with malware, spyware and very dangerous viruses that can delete your files or steal your data. It will also claim that your computer is under attack from a remote web server that may install additional malware that may indeed later used to steal personal data or delete files. Anyway, such false information should be ignored just like the false scan results. Furthermore, Windows Pro Safety Release may block pretty much every security related website and disable system security tools such as Task Manager or Regedit to protect itself from being removed. It will probably block antivirus software too.
Error
Keylogger activity detected. System information security is at risk.
It is recommended to activate protection and run a full system scan.
Error
Software without a digital signature detected.
Your system files are at risk. We strongly advise you to activate your protection.
As you can see, Windows Pro Safety Release is absolutely useless program and a scam. If you find that your computer is infected with this rogue anti-spyware program don't delay and remove it upon detection. The removal instructions are provided below. Please use them to remove Windows Pro Safety Release from your computer using legitimate malware removal software listed below.
The latest parasite names used by FakeVimes:
[newest]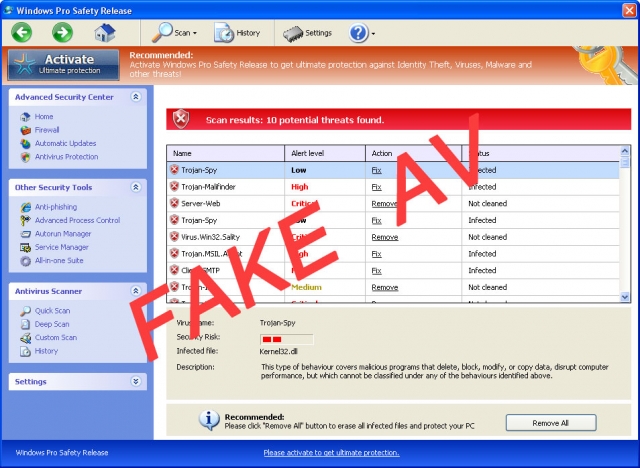 Windows Pro Safety Release manual removal:
Kill processes:
Protector-[random].exe
Delete registry values:
HKEY_LOCAL_MACHINESOFTWAREMicrosoftWindows NTCurrentVersionImage File Execution Optionsafwserv.exe "Debugger" = 'svchost.exe'
HKEY_LOCAL_MACHINESOFTWAREMicrosoftWindows NTCurrentVersionImage File Execution Optionsavastsvc.exe "Debugger" = 'svchost.exe'
HKEY_LOCAL_MACHINESOFTWAREMicrosoftWindows NTCurrentVersionImage File Execution Optionsavastui.exe "Debugger" = 'svchost.exe'
HKEY_LOCAL_MACHINESOFTWAREMicrosoftWindows NTCurrentVersionImage File Execution Optionsegui.exe "Debugger" = 'svchost.exe'
HKEY_LOCAL_MACHINESOFTWAREMicrosoftWindows NTCurrentVersionImage File Execution Optionsekrn.exe "Debugger" = 'svchost.exe'
HKEY_LOCAL_MACHINESOFTWAREMicrosoftWindows NTCurrentVersionImage File Execution Optionsmsascui.exe "Debugger" = 'svchost.exe'
HKEY_LOCAL_MACHINESOFTWAREMicrosoftWindows NTCurrentVersionImage File Execution Optionsmsmpeng.exe "Debugger" = 'svchost.exe'
HKEY_LOCAL_MACHINESOFTWAREMicrosoftWindows NTCurrentVersionImage File Execution Optionsmsseces.exe "Debugger" = 'svchost.exe'
HKEY_LOCAL_MACHINESOFTWAREMicrosoftWindows NTCurrentVersionSystemRestore "DisableSR " = '1'
Delete files:
Protector-[random].exe
About the author