Windows Pro Solutions. How to remove? (Uninstall guide)
Windows Pro Solutions is a rogue anti-spyware program designed to make you think your computer is infected with spyware, Trojans, malware and dangerous viruses. However, you should worry if you start seeing continuous fake system security alerts of this rogue anti-spyware program because it means that your computer was infected by Trojans that distribute scareware. User may get infected in various ways. You may have clicked on some kind of fake system scanner when browsing the Web, or even installed a fake video codec foolishly required for watching something online. The rogue antispyware program is also promoted via spam and other malicious software. Windows Pro Solutions seems to be spreading in a pretty aggressive way, but most of the time you need to install it manually. It means that users think it's a legitimate program when it's actually not. You should remove Windows Pro Solutions immediately after you notice its interruptions and never purchase it. Use legitimate anti-spyware program listed below to remove this malware from your computer.
Having infiltrated on the PC's system successfully, Windows Pro Solutions starts persistently reporting that your computer is under the risk of malware or under attack from a remote server which belongs to scammers. In order to convince its victims, malware firstly drops some fake harmless files and then detects those files as malware infections.
When running, the rogue program begins displaying exaggerated and completely false system security alerts and system tray notifications that in fact don't have anything to do with real state of your computer. Scareware was also noticed to display false system scanners that have no value because they find the same fake earlier created files. Additionally, It displays highly optimized notifications that read like this:
Warning
Firewall has blocked a program from accessing the Internet.
Windows Media Player Resources
C:\Windows\system32\dllcache\wmploc.dll
C:\Windows\system32\dllcache\wmploc.dll is suspected to have infected your PC. This type of virus intercepts entered data and transmits them to a remote server.
Error
Keylogger activity detected. System information security is at risk.
It is recommended to activate protection and run a full system scan.
It goes without saying, you should remove Windows Pro Solutions from your computer upon detection. This program tries to sell its "full" version and asks around $100 for Lifetime Guard Subscription which is a waste of money. Do not purchase this rogue program and if you already did so, then contact your credit card company and dispute the charges. Then use recommend antimalware removal tool to remove this malware program from your computer for good.
The latest parasite names used by FakeVimes:
[newest]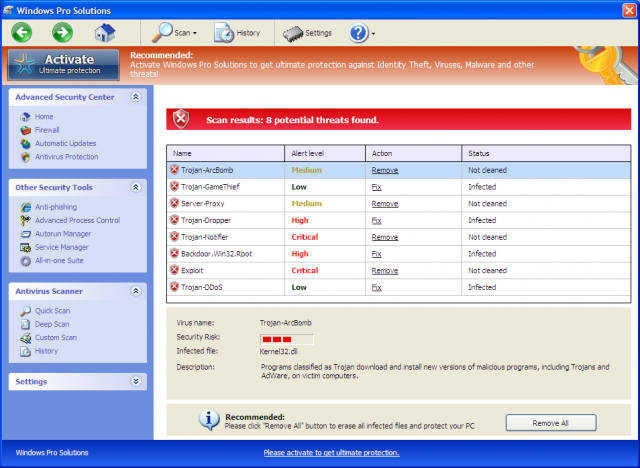 Windows Pro Solutions manual removal:
Kill processes:
Protector-[random].exe
Delete registry values:
HKEY_LOCAL_MACHINESOFTWAREMicrosoftWindows NTCurrentVersionImage File Execution Optionsafwserv.exe "Debugger" = 'svchost.exe'
HKEY_LOCAL_MACHINESOFTWAREMicrosoftWindows NTCurrentVersionImage File Execution Optionsavastsvc.exe "Debugger" = 'svchost.exe'
HKEY_LOCAL_MACHINESOFTWAREMicrosoftWindows NTCurrentVersionImage File Execution Optionsavastui.exe "Debugger" = 'svchost.exe'
HKEY_LOCAL_MACHINESOFTWAREMicrosoftWindows NTCurrentVersionImage File Execution Optionsegui.exe "Debugger" = 'svchost.exe'
HKEY_LOCAL_MACHINESOFTWAREMicrosoftWindows NTCurrentVersionImage File Execution Optionsekrn.exe "Debugger" = 'svchost.exe'
HKEY_LOCAL_MACHINESOFTWAREMicrosoftWindows NTCurrentVersionImage File Execution Optionsmsascui.exe "Debugger" = 'svchost.exe'
HKEY_LOCAL_MACHINESOFTWAREMicrosoftWindows NTCurrentVersionImage File Execution Optionsmsmpeng.exe "Debugger" = 'svchost.exe'
HKEY_LOCAL_MACHINESOFTWAREMicrosoftWindows NTCurrentVersionImage File Execution Optionsmsseces.exe "Debugger" = 'svchost.exe'
HKEY_LOCAL_MACHINESOFTWAREMicrosoftWindows NTCurrentVersionSystemRestore "DisableSR " = '1'
Delete files:
Protector-[random].exe
About the author