Windows Proactive Safety. How to remove? (Uninstall guide)
Windows Proactive Safety is a rogue security program, which is made to show fake alerts and system messages to make you believe that your computer is infected. Almost all of the rogue anti-spyware programs say that your computer is infected with lots of different spyware, trojans, adware or even viruses. But the fact is, that if you would have a real virus in your computer, you wouldn't be able to use it. Probably the only infection you have on your computer is Windows Proactive Safetyitself, and a trojan downloader which dropped this rogue antispyware in your PC. Upon installation, Windows Proactive Safety will mimic a questionably fast system scan and display a bunch of infections that won't be removed with a trial version. Later, Windows Proactive Safety will promote its full version to remove those nonexisting infections. Nevertheless, we strongly recommend you not to buy it. The only think you should do with Windows Proactive Safety, is to remove it from your computer.
SYMPTOMS OF WINDOWS PROACTIVE SAFETY
A running Windows Proactive Safety program will display fake security alerts and notifications every 10 to 15 minutes in the task bar claiming that your computer is attacked, and the attacks were blocked to protect your PC from more damage. The rogue program will look like Windows Security Center, and it will say that you don't have an antivirus program. Moreover, Windows Proactive Safety will suggest you to buy a licensed and active anti-spyware software.
The fake alerts you will receive will look like this:
Error

Keylogger activity detected. System information security is at risk.
It is recommended to activate protection and run a full system scan.
Error

Software without a digital signature detected.
Your system files are at risk. We strongly advise you to activate your protection.
Torrent Alert

Recommended: Please use secure encrypted protocol for torrent links.Torrent link detected!
Receiving this notification means that you have violated the copyright laws. Using Torrent for downloading movies and licensed software shall be prosecuted and you may be sued for cybercrime and breach of law under the SOPA legislation.
As you can see, Windows Proactive Safety is a totally useless security program that must be removed from the system as soon as it was detected.
HOW TO REMOVE WINDOWS PROACTIVE SAFETY
If you find any similar activity on your computer or if you looking how to remove Windows Proactive Safety from your machine, we recommend using Plumbytes Anti-MalwareWebroot SecureAnywhere AntiVirus or Reimage.
The latest parasite names used by FakeVimes:
[newest]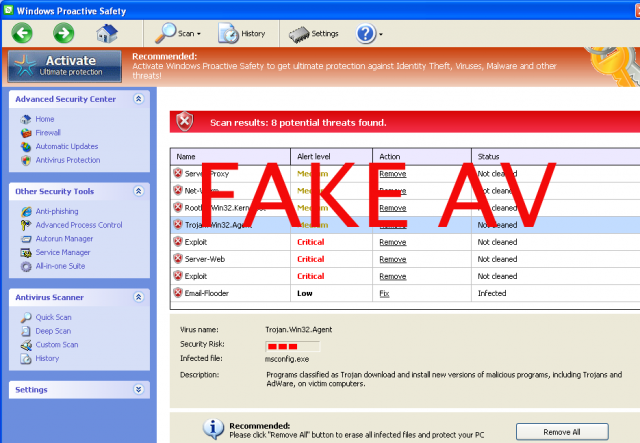 Windows Proactive Safety manual removal:
Kill processes:
Protector-[3 random characters].exe
Protector-[4 random characters].exe
Delete registry values:
HKEY_LOCAL_MACHINESOFTWAREMicrosoftWindows NTCurrentVersionImage File Execution Optionsafwserv.exe "Debugger" = 'svchost.exe'
HKEY_LOCAL_MACHINESOFTWAREMicrosoftWindows NTCurrentVersionImage File Execution Optionsavastsvc.exe "Debugger" = 'svchost.exe'
HKEY_LOCAL_MACHINESOFTWAREMicrosoftWindows NTCurrentVersionImage File Execution Optionsavastui.exe "Debugger" = 'svchost.exe'
HKEY_LOCAL_MACHINESOFTWAREMicrosoftWindows NTCurrentVersionImage File Execution Optionsegui.exe "Debugger" = 'svchost.exe'
HKEY_LOCAL_MACHINESOFTWAREMicrosoftWindows NTCurrentVersionImage File Execution Optionsekrn.exe "Debugger" = 'svchost.exe'
HKEY_LOCAL_MACHINESOFTWAREMicrosoftWindows NTCurrentVersionImage File Execution Optionsmsascui.exe "Debugger" = 'svchost.exe'
HKEY_LOCAL_MACHINESOFTWAREMicrosoftWindows NTCurrentVersionImage File Execution Optionsmsmpeng.exe "Debugger" = 'svchost.exe'
HKEY_LOCAL_MACHINESOFTWAREMicrosoftWindows NTCurrentVersionImage File Execution Optionsmsseces.exe "Debugger" = 'svchost.exe'
HKEY_LOCAL_MACHINESOFTWAREMicrosoftWindows NTCurrentVersionSystemRestore "DisableSR " = '1'
Delete files:
%AppData%Protector-[rnd].exe
%AppData%NPSWF32.dll
%AppData%Protector-[3 random characters].exe
%AppData%Protector-[4 random characters].exe
%AppData%result.db
%AppData%1st$0l3th1s.cnf
About the author