Windows Risks Preventions. How to remove? (Uninstall guide)
Windows Risks Preventions is a fake security program that enters your computer through Trojans and software vulnerabilities. This rogue program imitates a system scan and then states that your computer in infected with viruses and has numerous errors. If you want to fix those errors and remove viruses you have to pay for a full version of Windows Risks Preventions. Of course, you shouldn't do that because this program is a scam. It won't fix any errors simply because they are all fake. Fake scan results is a method to scare you into purchasing the program. You should remove Windows Risks Preventions as soon as possible; otherwise it may cause even more problems. You can remove it manually or spyware removal tool given below.
System Security Warning
Attempt to modify register key entries is detected. Register entries analysis is recommended.
Warning!
Location: c:\windows\system32\taskmgr.exe
Viruses: Backdoor.Win32.Rbot
Windows Risks Preventions will display fake alerts stating that your computer in infected with keyloggers and other malicious software. It will rate major components of your system by given scores. They are usually very low. It will also block other programs on your computer randomly and states that they are infected or potentially harmful. Windows Risks Preventions is nothing more but a scam. It displays fake error messages and security alerts to make you think that your computer in infected. Then it prompts to pay for a full version of the program to clean up the computer. Do not buy it. Instead, use our removal instructions below to remove Windows Risks Preventions using an automatic removal tool or manually.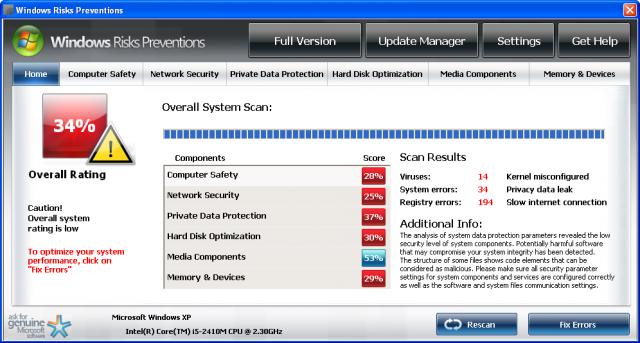 Windows Risks Preventions manual removal:
Kill processes:
[random].exe
Delete registry values:
HKEY_LOCAL_MACHINESOFTWAREMicrosoftWindows NTCurrentVersionImage File Execution Optionsafwserv.exe "Debugger" = 'svchost.exe'
HKEY_LOCAL_MACHINESOFTWAREMicrosoftWindows NTCurrentVersionImage File Execution Optionsavastsvc.exe "Debugger" = 'svchost.exe'
HKEY_LOCAL_MACHINESOFTWAREMicrosoftWindows NTCurrentVersionImage File Execution Optionsavastui.exe "Debugger" = 'svchost.exe'
HKEY_LOCAL_MACHINESOFTWAREMicrosoftWindows NTCurrentVersionImage File Execution Optionsegui.exe "Debugger" = 'svchost.exe'
HKEY_LOCAL_MACHINESOFTWAREMicrosoftWindows NTCurrentVersionImage File Execution Optionsekrn.exe "Debugger" = 'svchost.exe'
HKEY_LOCAL_MACHINESOFTWAREMicrosoftWindows NTCurrentVersionImage File Execution Optionsmsascui.exe "Debugger" = 'svchost.exe'
HKEY_LOCAL_MACHINESOFTWAREMicrosoftWindows NTCurrentVersionImage File Execution Optionsmsmpeng.exe "Debugger" = 'svchost.exe'
HKEY_LOCAL_MACHINESOFTWAREMicrosoftWindows NTCurrentVersionImage File Execution Optionsmsseces.exe "Debugger" = 'svchost.exe'
HKEY_CURRENT_USERSoftwareMicrosoftWindowsCurrentVersionInternet Settings "WarnOnHTTPSToHTTPRedirect" = '0'
HKEY_LOCAL_MACHINESOFTWAREMicrosoftWindowsCurrentVersionInternet Settings "WarnOnHTTPSToHTTPRedirect" = '0'
HKEY_LOCAL_MACHINESOFTWAREMicrosoftWindows NTCurrentVersionSystemRestore "DisableSR " = '1'
Delete files:
%UserProfile%Application DataMicrosoft[random].exe
About the author