Windows Safety Checkpoint. How to remove? (Uninstall guide)
Windows Safety Checkpoint is a rogue anti-spyware program that pretends to be a legitimate antivirus software but actually it's just a piece of malware. It pretends to scan the infected computer for viruses, spyware and other malicious software and later states that your computer is infected and has to be cleaned using fake scammers' program. The rogue program is promoted mostly through the use of Trojans, fake virus scanners and compromised websites. Usually, such rogue programs have to be manually installed, but sometimes they masquerades as legitimate software, usually flash player or an update, so that the user thinks it's a genuine udpdate or software developed by reliable companies. When running it will display false scan results and fake security alerts to scare you into thinking that your computer is infected with all sorts of malware. Windows Safety Checkpoint will remind you about the fake infections all the time. And it will display fake security alerts and notifications like every one or two minutes.
Error
Trojan activity detected. System data security is at risk.
It is recommended to activate protection and run a full system scan.
Warning
Firewall has blocked a program from accessing the Internet
C:\program files\internet explorer\iexplore.exe
is suspected to have infected your PC. This type of virus intercepts entered data and transmits them to a remote server.
Please don't fall victim to this rogue anti-spyware program. If you find that your computer is infected, please use the removal instructions below to remove Windows Safety Checkpoint from the system using legitimate malware removal software.
It could be that Windows Safety Checkpoint will set up a local proxy server and hijack Internet Explorer and ther web browsers that you may use. In such case, you won't be able to visit any other websites than the payment page of the rogue program. It usually also blocks Task Manager, Registry Editor, and some other system utilities to protect itself from being removed. So first of all you will have to end the main processes of Windows Safety Checkpoint and then remove its files. Or you can reboot your computer in safe mode with networking and download an automatic remove tool given below. Also, note that this rogue program can download and install additional malware onto your computer. That's why it is very important to remove all the infections from your computer. We strongly recommend you scan your computer with anti-malware software given below. If you have already purchased it, then call your credit card company and dispute the charges.
The latest parasite names used by FakeVimes:
[newest]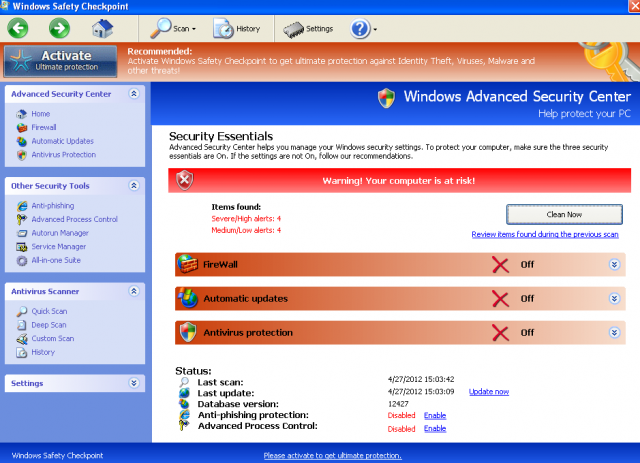 Windows Safety Checkpoint manual removal:
Kill processes:
Inspector-[rnd].exe
Protector-[rnd].exe
Delete registry values:
HKEY_LOCAL_MACHINESOFTWAREMicrosoftInternet ExplorerMainFeatureControlFEATURE_ERROR_PAGE_BYPASS_ZONE_CHECK_FOR_HTTPS_KB954312
HKEY_CURRENT_USERSoftwareMicrosoftWindowsCurrentVersionInternet Settings "WarnOnHTTPSToHTTPRedirect" = 0
HKEY_CURRENT_USERSoftwareMicrosoftWindowsCurrentVersionPoliciesSystem "DisableRegedit" = 0
HKEY_CURRENT_USERSoftwareMicrosoftWindowsCurrentVersionPoliciesSystem "DisableRegistryTools" = 0
HKEY_CURRENT_USERSoftwareMicrosoftWindowsCurrentVersionPoliciesSystem "DisableTaskMgr" = 0
HKEY_CURRENT_USERSoftwareMicrosoftWindowsCurrentVersionRun "Inspector"
HKEY_CURRENT_USERSoftwareMicrosoftWindowsCurrentVersionSettings "ID" = 0
HKEY_CURRENT_USERSoftwareMicrosoftWindowsCurrentVersionSettings "net" = "2012-2-17_2"
HKEY_CURRENT_USERSoftwareMicrosoftWindowsCurrentVersionSettings "UID" = "rudbxijemb"
HKEY_LOCAL_MACHINESOFTWAREMicrosoftWindows NTCurrentVersionImage File Execution Options_avp32.exe
HKEY_LOCAL_MACHINESOFTWAREMicrosoftWindows NTCurrentVersionImage File Execution Options_avpcc.exe
HKEY_LOCAL_MACHINESOFTWAREMicrosoftWindows NTCurrentVersionImage File Execution OptionsashDisp.exe
HKEY_LOCAL_MACHINESOFTWAREMicrosoftWindows NTCurrentVersionImage File Execution Optionsdivx.exe
HKEY_LOCAL_MACHINESOFTWAREMicrosoftWindows NTCurrentVersionImage File Execution Optionsmostat.exe
HKEY_LOCAL_MACHINESOFTWAREMicrosoftWindows NTCurrentVersionImage File Execution Optionsplatin.exe
HKEY_LOCAL_MACHINESOFTWAREMicrosoftWindows NTCurrentVersionImage File Execution Optionstapinstall.exe
HKEY_LOCAL_MACHINESOFTWAREMicrosoftWindows NTCurrentVersionImage File Execution Optionszapsetup3001.exe
Delete files:
%AppData%Inspector-[rnd].exe
%AppData%Protector-[rnd].exe
About the author