Windows Safety Manager. How to remove? (Uninstall guide)
Windows Safety Manager is a rogue anti-spyware program that uses various malicious methods to promote itself and to scare users into thinking that their computers are infected with spyware and trojans. This anti-spyware program is absolutely nonfunctional. Do not install or purchase this bogus security product. Instead, remove Windows Safety Manager from your computer as soon as possible if it is already infected. Don't delay removal because this rogue anti-spyware program can download and install even more malware on your computer.
Usually, Windows Safety Manager is distributed through the use of Trojans, malicious software and hacked websites. Very often it enters a compromised computer secretly without your permission and knowledge. However, some user may install it manually as well. Once installed, the rogue program will display legitimately looking security alerts from your Windows Task bar. It will display many annoying security alerts as well. Windows Safety Manager will state that your computer is seriously infected with spyware and viruses and must be cleaned immediately. In oder to do so, you have to purchase the program. However, we strongly recommend you not to do so, because Windows Safety Manager is nothing more but scam. Some of the fake security alerts that you may see:
Error
Keylogger activity detected. System information security is at risk.
It is recommended to activate protection and run a full system scan.
Error
Software without a digital signature detected.
Your system files are at risk. We strongly advise you to activate your protection.
While running, Windows Safety Manager will also perform a fake system scan and report many infections. The scan results are obviously false. What is more, this parasite will hijack the Internet Explorer and redirect you to various malicious websites with fake reviews or advertisements. You may also notice that your computer works slower that usual. That's just another sign of this bogus software.
If you find that your computer is infected with this rogue program, do not purchase it. Instead, please use recommended malware software to remove Windows Safety Manager and related malware from your computer.
The latest parasite names used by FakeVimes:
[newest]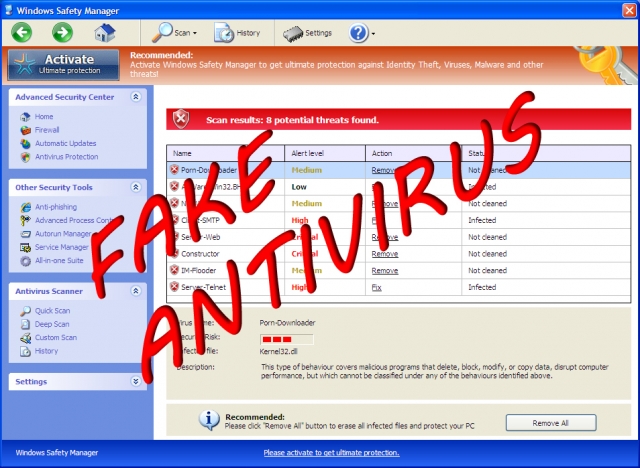 Windows Safety Manager manual removal:
Kill processes:
Inspector-[rnd].exe
Protector-[rnd].exe
Delete registry values:
HKEY_LOCAL_MACHINESOFTWAREMicrosoftInternet ExplorerMainFeatureControlFEATURE_ERROR_PAGE_BYPASS_ZONE_CHECK_FOR_HTTPS_KB954312
HKEY_CURRENT_USERSoftwareMicrosoftWindowsCurrentVersionInternet Settings "WarnOnHTTPSToHTTPRedirect" = 0
HKEY_CURRENT_USERSoftwareMicrosoftWindowsCurrentVersionPoliciesSystem "DisableRegedit" = 0
HKEY_CURRENT_USERSoftwareMicrosoftWindowsCurrentVersionPoliciesSystem "DisableRegistryTools" = 0
HKEY_CURRENT_USERSoftwareMicrosoftWindowsCurrentVersionPoliciesSystem "DisableTaskMgr" = 0
HKEY_CURRENT_USERSoftwareMicrosoftWindowsCurrentVersionRun "Inspector"
HKEY_CURRENT_USERSoftwareMicrosoftWindowsCurrentVersionSettings "ID" = 0
HKEY_CURRENT_USERSoftwareMicrosoftWindowsCurrentVersionSettings "net" = "2012-2-17_2"
HKEY_CURRENT_USERSoftwareMicrosoftWindowsCurrentVersionSettings "UID" = "rudbxijemb"
HKEY_LOCAL_MACHINESOFTWAREMicrosoftWindows NTCurrentVersionImage File Execution Options_avp32.exe
HKEY_LOCAL_MACHINESOFTWAREMicrosoftWindows NTCurrentVersionImage File Execution Options_avpcc.exe
HKEY_LOCAL_MACHINESOFTWAREMicrosoftWindows NTCurrentVersionImage File Execution OptionsashDisp.exe
HKEY_LOCAL_MACHINESOFTWAREMicrosoftWindows NTCurrentVersionImage File Execution Optionsdivx.exe
HKEY_LOCAL_MACHINESOFTWAREMicrosoftWindows NTCurrentVersionImage File Execution Optionsmostat.exe
HKEY_LOCAL_MACHINESOFTWAREMicrosoftWindows NTCurrentVersionImage File Execution Optionsplatin.exe
HKEY_LOCAL_MACHINESOFTWAREMicrosoftWindows NTCurrentVersionImage File Execution Optionstapinstall.exe
HKEY_LOCAL_MACHINESOFTWAREMicrosoftWindows NTCurrentVersionImage File Execution Optionszapsetup3001.exe
Delete files:
%AppData%Inspector-[rnd].exe
%AppData%Protector-[rnd].exe
About the author