Windows Sleek Performance. How to remove? (Uninstall guide)
Windows Sleek Performance is a rogue anti-spyware program promoted through fake online virus scanners and and infected websites. Fake online virus scanners report that your computer is infected with a bunch of various infections, including dangerous Trojans. The fake scanner then prompts the user to download and run their malware removal tool to remove infections that were found on your machine. Windows Sleek Performance can also come bundled with other malware or it can enter your computer through software updates, for example, Java and Adobe. If you find that your computer is infected with this virus, please follow the removal instructions below and remove Windows Sleep Performance from the system as soon as possible.
Once Windows Sleek Performance is installed, it will be configured to start automatically when Windows starts. The rogue program will scan your computer and detect fake files as infections. It will not let you remove them until you purchase the rogue program. This is obviously a scam because it asks you to pay for a license of a program that removes malware infections that do not even exist on your computer. Also, Windows Sleek Performance will display fake security alerts on your computer claiming that your PC is badly infected and needs to be scanned and cleaned. Some of the fake security alerts claim:
Warning
Firewall has blocked a program from accessing the Internet.
Windows Media Player Resources
C:\Windows\system32\dllcache\wmploc.dll
C:\Windows\system32\dllcache\wmploc.dll is suspected to have infected your PC. This type of virus intercepts entered data and transmits them to a remote server.
Error
Keylogger activity detected. System information security is at risk.
It is recommended to activate protection and run a full system scan.
When running, Windows Sleek Performance may block legitimate anti-spyware programs, for example, Task Manager and other useful system tools to protect itself from being removed. It may also block certain websites, so that you couldn't download malware removal tools. It won't let you download malware removal tools that is why you have to end processes of Windows Sleek Performance first or reboot your computer is Safe Mode with Networking. As you can see, the main purpose of Windows Sleek Performance is to trick you into purchasing the program. If you have already paid for it, make sure you contact your bank and dispute the charges. Then use removal instructions of Windows Sleek Performance below to remove this malware from your computer as soon as possible.
The latest parasite names used by FakeVimes:
[newest]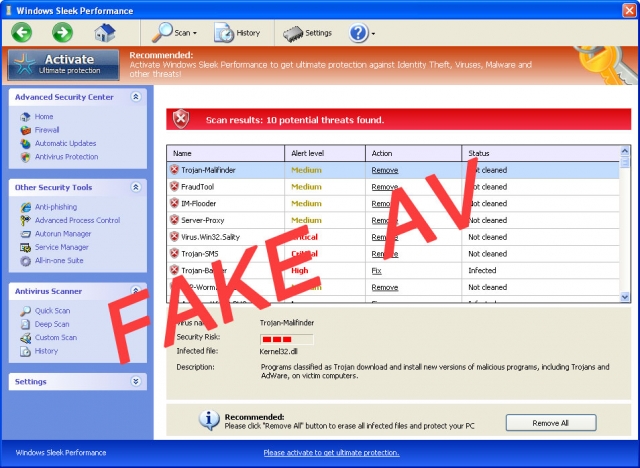 Windows Sleek Performance manual removal:
Kill processes:
Protector-[random].exe
Delete registry values:
HKEY_LOCAL_MACHINESOFTWAREMicrosoftWindows NTCurrentVersionImage File Execution Optionsafwserv.exe "Debugger" = 'svchost.exe'
HKEY_LOCAL_MACHINESOFTWAREMicrosoftWindows NTCurrentVersionImage File Execution Optionsavastsvc.exe "Debugger" = 'svchost.exe'
HKEY_LOCAL_MACHINESOFTWAREMicrosoftWindows NTCurrentVersionImage File Execution Optionsavastui.exe "Debugger" = 'svchost.exe'
HKEY_LOCAL_MACHINESOFTWAREMicrosoftWindows NTCurrentVersionImage File Execution Optionsegui.exe "Debugger" = 'svchost.exe'
HKEY_LOCAL_MACHINESOFTWAREMicrosoftWindows NTCurrentVersionImage File Execution Optionsekrn.exe "Debugger" = 'svchost.exe'
HKEY_LOCAL_MACHINESOFTWAREMicrosoftWindows NTCurrentVersionImage File Execution Optionsmsascui.exe "Debugger" = 'svchost.exe'
HKEY_LOCAL_MACHINESOFTWAREMicrosoftWindows NTCurrentVersionImage File Execution Optionsmsmpeng.exe "Debugger" = 'svchost.exe'
HKEY_LOCAL_MACHINESOFTWAREMicrosoftWindows NTCurrentVersionImage File Execution Optionsmsseces.exe "Debugger" = 'svchost.exe'
HKEY_LOCAL_MACHINESOFTWAREMicrosoftWindows NTCurrentVersionSystemRestore "DisableSR " = '1'
Delete files:
Protector-[random].exe
About the author