Windows Smart Warden. How to remove? (Uninstall guide)
Windows Smart Warden is a dangerous application that should be categorized as rogue anti-spyware. It hails from the same family of malwares as Windows Protection Master, Windows Functionality Checker and many other scams sharing almost the same GUI and malicious activity based on faked alerts and scanners. Similarly to its earlier versions, this rogue is distributed by trojans that come inside the system through security vulnerabilities found. So, in order to avoid this unpleasant surprise on your computer, you should always make sure your anti-virus and anti-spyware programs are updated and have all virus fixes. In addition, Windows Smart Warden is set to start every time you reboot your computer and additionally display numerous system scanner and alerts. The main thing you must remember is that you must ignore its faked alerts and scanners because they are displayed only to mislead you. The only aim of this program is to make you buy the licensed version of Windows Smart Warden, so please never do that.
After a closer look, Windows Smart Warden seems to be especially annoying because it almost disables users from browsing the web and displays its completely useless alerts and notifications every time they start using their computers. In addition, Windows Smart Warden shows how it scans the system for viruses and then detects the same ones as it reports on alerts. Without any doubt, that clearly shows that this scam is capable to integrate really deep into the system and tries to do anything in order to make its victims believe that it is friendly. However, Windows Smart Warden should never be trusted and must be removed from the system without any delay.
In order to trick you, Windows Smart Warden displays such alerts:
Warning
Firewall has blocked a program from accessing the Internet.
Windows Media Player Resources
C:\Windows\system32\dllcache\wmploc.dll
C:\Windows\system32\dllcache\wmploc.dll is suspected to have infected your PC. This type of virus intercepts entered data and transmits them to a remote server.
Error
Keylogger activity detected. System information security is at risk.
It is recommended to activate protection and run a full system scan.
Error
Software without a digital signature detected.
Your system files are at risk. We strongly advise you to activate your protection.
As you can see, Windows Smart Warden is a dangerous rogue that could do anything to mislead you into thinking that your computer is infected and that you must remove its license. However, you should never believe this cyber threat and remove Windows Smart Warden from your computer. If you are disabled from running a full system scan with your anti-spyware, reboot to safe mode with networking first and try running a full system scan then. We highly recommend using reputable anti-spyware programs, Plumbytes Anti-MalwareWebroot SecureAnywhere AntiVirus, Reimage or other.
The latest parasite names used by FakeVimes:
[newest]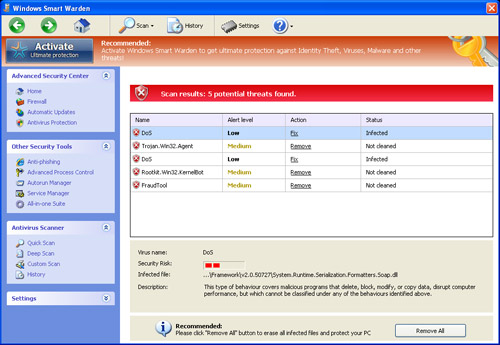 Windows Smart Warden manual removal:
Kill processes:
Inspector-[rnd].exe
Delete registry values:
HKEY_LOCAL_MACHINESOFTWAREMicrosoftInternet ExplorerMainFeatureControlFEATURE_ERROR_PAGE_BYPASS_ZONE_CHECK_FOR_HTTPS_KB954312
HKEY_CURRENT_USERSoftwareMicrosoftWindowsCurrentVersionInternet Settings "WarnOnHTTPSToHTTPRedirect" = 0
HKEY_CURRENT_USERSoftwareMicrosoftWindowsCurrentVersionPoliciesSystem "DisableRegedit" = 0
HKEY_CURRENT_USERSoftwareMicrosoftWindowsCurrentVersionPoliciesSystem "DisableRegistryTools" = 0
HKEY_CURRENT_USERSoftwareMicrosoftWindowsCurrentVersionPoliciesSystem "DisableTaskMgr" = 0
HKEY_CURRENT_USERSoftwareMicrosoftWindowsCurrentVersionRun "Inspector"
HKEY_CURRENT_USERSoftwareMicrosoftWindowsCurrentVersionSettings "ID" = 0
HKEY_CURRENT_USERSoftwareMicrosoftWindowsCurrentVersionSettings "net" = "2012-2-17_2"
HKEY_CURRENT_USERSoftwareMicrosoftWindowsCurrentVersionSettings "UID" = "rudbxijemb"
HKEY_LOCAL_MACHINESOFTWAREMicrosoftWindows NTCurrentVersionImage File Execution Options_avp32.exe
HKEY_LOCAL_MACHINESOFTWAREMicrosoftWindows NTCurrentVersionImage File Execution Options_avpcc.exe
HKEY_LOCAL_MACHINESOFTWAREMicrosoftWindows NTCurrentVersionImage File Execution OptionsashDisp.exe
HKEY_LOCAL_MACHINESOFTWAREMicrosoftWindows NTCurrentVersionImage File Execution Optionsdivx.exe
HKEY_LOCAL_MACHINESOFTWAREMicrosoftWindows NTCurrentVersionImage File Execution Optionsmostat.exe
HKEY_LOCAL_MACHINESOFTWAREMicrosoftWindows NTCurrentVersionImage File Execution Optionsplatin.exe
HKEY_LOCAL_MACHINESOFTWAREMicrosoftWindows NTCurrentVersionImage File Execution Optionstapinstall.exe
HKEY_LOCAL_MACHINESOFTWAREMicrosoftWindows NTCurrentVersionImage File Execution Optionszapsetup3001.exe
Unregister DLLs:
npswf32.dll
Delete files:
%appdata%npswf32.dll
%appdata%Inspector-[rnd].exe
%desktopdir%Windows Functionality Checker.lnk
%appdata%result.db
About the author