Windows System Suite. How to remove? (Uninstall guide)
Windows System Suite is a misleading application that reports non-existing infections and computer threats. The main goal of this program is to convince you that your computer is infected and that you should purchase a full version of WindowsSystem Suite to protect your PC. Of course, we strongly recommend you not to do so. Instead, you must uninstall Windows System Suite from the system as soon as possible; otherwise it may cause serious problems to your computer.
Windows System Suite is from the family of Windows Security Suite, Fast Antivirus 2009, Virus Shield 2009, Extra Antivirus and others. Usually, this bogus application is promoted through the use of Trojans and fake online anti-malware scanners. Those fake scanners display warnings about serious computer problems and recommend you to download WindowsSystemSuite. Regardless of what you click in those warnings, you will be redirected to the pay page of this parasite.
When running, Windows System Suite will imitate system scan and report a variety of infections. Those infections of course are false and won't harm your computer. The rogue program will state that your computer is infected with Spyware, Trojans and adware. In reality, though, the only infection is Windows System Suite. To make things worse, it will display legitimately looking security alerts from Windows Task bar. You may even see two Windows Security Center icons. Likely, your Internet browser (Internet Explorer or Firefox) will be hijacked and you won't be able to open certain security websites or download antivirus program. It is possible that your computer will works slower than usual because of this malicious program.
Do not purchase this program; it's a scam and nothing more. Please use the removal guide below to remove Windows System Suite from your computer manually for free.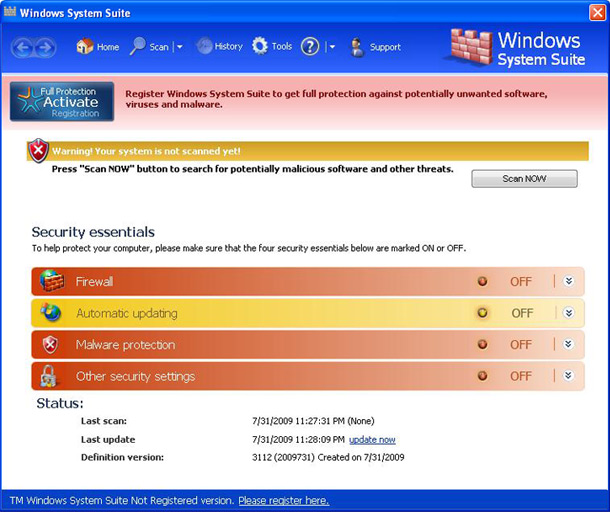 Windows System Suite manual removal:
Kill processes:
cb.exe
eb.exe
ppal.exe
WS83b.exe
Delete registry values:
HKEY_CLASSES_ROOTReleaseXP.DocHostUIHandler
HKEY_CURRENT_USERSoftwareMicrosoftWindowsCurrentVersionInternet Settings5.0User AgentPost Platform "986707143803"
HKEY_CURRENT_USERSoftwareMicrosoftWindowsCurrentVersionRun "Windows System Suite"
Unregister DLLs:
mozcrt19.dll
sqlite3.dll
cid.dll
ddv.dll
Delete files:
Windows System Suite.lnk
cookies.sqlite
436.mof
mozcrt19.dll
sqlite3.dll
WSYSS.ico
vd952342.bd
ANTIGEN.tmp
cb.exe
cid.dll
CLSV.tmp
DBOLE.sys
ddv.dll
eb.drv
eb.exe
eb.sys
energy.sys
fan.drv
FS.drv
hijackthis.log.lnk
PE.drv
PE.tmp
ppal.exe
runddlkey.drv
tempdoc.tmp
WS83b.exe
wsyss.cfg
Delete directories:
%UserProfile%Application DataWindows System Suite
%UserProfile%DesktopWSYSSSys
c:Documents and SettingsAll UsersApplication DataWSYSSSys
c:Documents and SettingsAll UsersApplication Data61a60
c:Documents and SettingsAll UsersApplication Data345d567
About the author