Windows Test Master. How to remove? (Uninstall guide)
Windows Test Master is the member of one of the most annoying malicious families these days. Just like earlier released members of fake Microsoft Security Essentials family, Windows Test Master is also designed to be capable enough to get inside the system undetected and the start to mislead its victims about dangerous malware detected. However, all these 'viruses' are harmless or legitimate your system files so they should be ignored and never removed from the system. The only thing that must be eliminated is Windows Test Master, so you are highly recommended to get a reputable anti-spyware and delete all infected files and folders.
In order to make you concerned, this cyber threat starts reporting:
Microsoft Security Essentials Alert
Potential Threat Details
Microsoft Security Essentials detected potential threats that might compromise your private or damage your computer. Your access to these items may be suspended until you take an action. Click 'show details' to learn more.
System Security Warning
Attempt to modify register key entries is detected. Register entries analysis is recommended.
System component corrupted!
System reboot error has occurred due to lsass.exe system process failure.
This may be caused by severe malware infections.
Automatic restore of lsass.exe backup copy completed.
The correct system performance can not be resumed without eliminating the cause of lsass.exe corruption.
Warning!
Name: firefox.exe
Name: c:program filesfirefoxfirefox.exe
Application that seems to be a key-logger is detected. System information security is at risk. It is recommended to enable the security mode and run total System scanning
Never dream that Windows Test Master will help you to keep your PC protected from viruses! It's just another scam that must be uninstalled from every computer. If you happen to receive some alerts or see scanners from Windows Test Master that you never initiated – keep in mind that you are dealing with a scareware that came into your machine with a help of Trojans. Don't waste your time and remove Windows Test Master immediately with all its Trojans.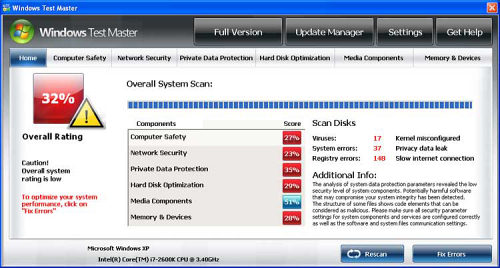 Windows Test Master manual removal:
Kill processes:
%UserProfile%Application DataMicrosoft[random].exe
Delete registry values:
HKEY_LOCAL_MACHINESOFTWAREMicrosoftWindows NTCurrentVersionImage File Execution Optionsafwserv.exe "Debugger" = 'svchost.exe'
HKEY_LOCAL_MACHINESOFTWAREMicrosoftWindows NTCurrentVersionImage File Execution Optionsavastsvc.exe "Debugger" = 'svchost.exe'
HKEY_LOCAL_MACHINESOFTWAREMicrosoftWindows NTCurrentVersionImage File Execution Optionsavastui.exe "Debugger" = 'svchost.exe'
HKEY_LOCAL_MACHINESOFTWAREMicrosoftWindows NTCurrentVersionImage File Execution Optionsegui.exe "Debugger" = 'svchost.exe'
HKEY_LOCAL_MACHINESOFTWAREMicrosoftWindows NTCurrentVersionImage File Execution Optionsekrn.exe "Debugger" = 'svchost.exe'
HKEY_LOCAL_MACHINESOFTWAREMicrosoftWindows NTCurrentVersionImage File Execution Optionsmsascui.exe "Debugger" = 'svchost.exe'
HKEY_LOCAL_MACHINESOFTWAREMicrosoftWindows NTCurrentVersionImage File Execution Optionsmsmpeng.exe "Debugger" = 'svchost.exe'
HKEY_LOCAL_MACHINESOFTWAREMicrosoftWindows NTCurrentVersionImage File Execution Optionsmsseces.exe "Debugger" = 'svchost.exe'
HKEY_CURRENT_USERSoftwareMicrosoftWindowsCurrentVersionInternet Settings "WarnOnHTTPSToHTTPRedirect" = '0'
HKEY_LOCAL_MACHINESOFTWAREMicrosoftWindowsCurrentVersionInternet Settings "WarnOnHTTPSToHTTPRedirect" = '0'
HKEY_LOCAL_MACHINESOFTWAREMicrosoftWindows NTCurrentVersionSystemRestore "DisableSR " = '1'
Delete files:
%UserProfile%Application DataMicrosoft[random].exe
Delete directories:
About the author