Windows Ultimate Security Patch. How to remove? (Uninstall guide)
Windows Ultimate Security Patch is another rogue anti-spyware program in a row that displays false scan results and fake security pop-ups in order to convince you that your computer is infected with spyware and viruses. Most of the time, this rogue program reports non-existent infections but it might also report genuine syste files as malicious. Do not delete files flaged as malicious by this malware manually.
Windows Ultimate Security Patch is promoted via Trojans, fake virus scanners, infected websites and other malicious software. This rogue anti-spyware program can be manually downloaded and installed form certain websites but most of the time they pretend to be legitimate software, for example flash player update or even Windows update sites. Anyway, this is not so common situation. Very often, Trojans display fake security alerts form Wndows taskbar stating that your computer is infected and that your personal information is in danger and as a result you may end up with identity theft. This is the most commonly used method to scare users into thinking that their computers are compromised – displaying fake security alerts.
Once installed, Windows Ultimate Security Patch will pretend to scan your computer for viruses. After the fake scan, it will list many infections that do not even exist on your PC. They are all fake. Windows Ultimate Security Patch will flood your computer with very annoying and dangerous security alerts. Usually, these alerts state that your PC can be easily accessed from other hosts and suggest you to purchase Windows Ultimate Security Patch in order to activate real-time protection. However, these alerts are fake as well.
Error
Keylogger activity detected. System information security is at risk.
It is recommended to activate protection and run a full system scan.
Error
Software without a digital signature detected.
Your system files are at risk. We strongly advise you to activate your protection.
As you can tell already, this program is a scam and cannot protect your computer from malware. Don't buy it for any reason. Instead, please use the removal guide below to remove Windows Ultimate Security Patch and any related malware using legitimate malware removal software.
The latest parasite names used by FakeVimes:
[newest]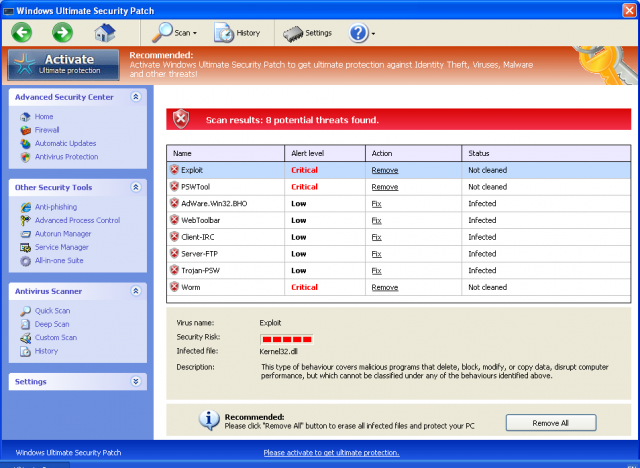 Windows Ultimate Security Patch manual removal:
Kill processes:
Protector-[random].exe
Delete registry values:
HKEY_LOCAL_MACHINESOFTWAREMicrosoftWindows NTCurrentVersionImage File Execution Optionsafwserv.exe "Debugger" = 'svchost.exe'
HKEY_LOCAL_MACHINESOFTWAREMicrosoftWindows NTCurrentVersionImage File Execution Optionsavastsvc.exe "Debugger" = 'svchost.exe'
HKEY_LOCAL_MACHINESOFTWAREMicrosoftWindows NTCurrentVersionImage File Execution Optionsavastui.exe "Debugger" = 'svchost.exe'
HKEY_LOCAL_MACHINESOFTWAREMicrosoftWindows NTCurrentVersionImage File Execution Optionsegui.exe "Debugger" = 'svchost.exe'
HKEY_LOCAL_MACHINESOFTWAREMicrosoftWindows NTCurrentVersionImage File Execution Optionsekrn.exe "Debugger" = 'svchost.exe'
HKEY_LOCAL_MACHINESOFTWAREMicrosoftWindows NTCurrentVersionImage File Execution Optionsmsascui.exe "Debugger" = 'svchost.exe'
HKEY_LOCAL_MACHINESOFTWAREMicrosoftWindows NTCurrentVersionImage File Execution Optionsmsmpeng.exe "Debugger" = 'svchost.exe'
HKEY_LOCAL_MACHINESOFTWAREMicrosoftWindows NTCurrentVersionImage File Execution Optionsmsseces.exe "Debugger" = 'svchost.exe'
HKEY_LOCAL_MACHINESOFTWAREMicrosoftWindows NTCurrentVersionSystemRestore "DisableSR " = '1'
Delete files:
Protector-[random].exe
About the author