Windows Ultra Antivirus. How to remove? (Uninstall guide)
Windows Ultra Antivirus is a fake antivirus that aggressively works on trying to get the money from unaware PC users. This program stealthily gets inside the system first and additionally displays tons of fake alerts and scanners reporting about dangerous malware detected. Of course, this is a typical way how Windows Ultra-Antivirus seeks to make its victims concerned about their computers and additionally tries to push them into purchasing licensed its version which in reality is fake. Keep in mind that Windows Ultra Antivirus must be categorized as Rogue anti-virus and that you must remove it from your computer without any delay. Check your computer with Reimage anti-spyware if you are infected with Windows Ultra Antivirus.
HOW CAN I GET INFECTED WITH WINDOWS ULTRA ANTIVIRUS?
Typically to rogue programs, Windows Ultra Antivirus is also distributed with a help of trojans that are set to get inside the system through security holes and vulnerabilities found. Additionally, these trojans download all malware files on victim's computer and set it to start as soon as infected PC is rebooted. As a result, rogue starts running startup scanners and displays numerous alerts that all report about non-existent malware. Be sure that you won't find these 'threats' with a help of legitimate anti-malware program and you may also have some troubles when trying to find Windows Ultra Antivirus files because it uses rootkits in order to prevent its removal. Finally, this rogue starts asking for a license payment to get those mythical things removed.
If you are interested how these Windows Ultra-Antivirus alerts look like, here is an example:
Security Warning!

Your computer is not checked for viruses! System scan isrecommended. Press "scan" to check.
As you must have already realized, it's critical to be careful with this application because the only thing it seeks is your money. Windows Ultra Antivirus reports only fake infections on your machine while in reality these threats are not there. Be sure that this is done for the only reason – this malware tries to persuade you that some serious security issues have been spotted on your computer and now you should remove them using Windows Ultra Antivirus licensed version. Please, never do that! The only real threat you have on your computer is the same Windows Ultra Antivirus, so be sure you use reputable anti-spyware program and eliminate it from your PC.
HOW TO REMOVE WINDOWS ULTRA ANTIVIRUS?
In order to remove Windows Ultra Antivirus, we highly recommend running a full sysytem scan with Reimage. If you can't launch the program, we recommend running msconfig first and disabling all unknown startup entries. After doing that, scan with Spyhunter anti-malware to get rid of all infected files from your computer.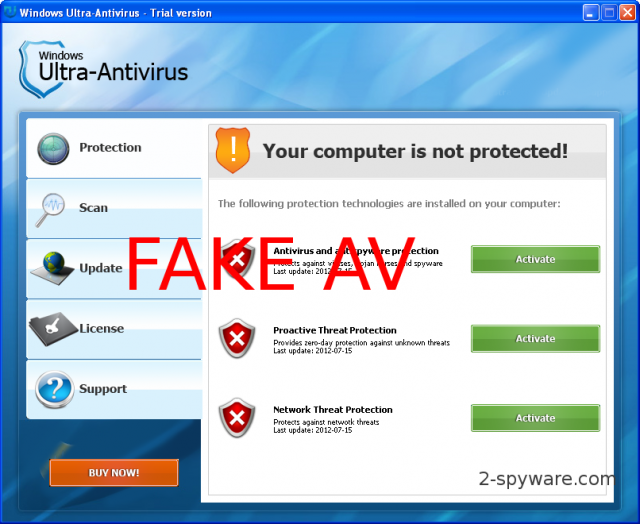 Windows Ultra Antivirus manual removal:
Kill processes:
[random.exe
Delete registry values:
HKEY_LOCAL_MACHINESYSTEMControlSet001EnumRootLEGACY_[random2]
HKEY_LOCAL_MACHINESYSTEMControlSet001EnumRootLEGACY_[random2]000
HKEY_LOCAL_MACHINESYSTEMControlSet001EnumRootLEGACY_[random2]000Control
HKEY_LOCAL_MACHINESYSTEMControlSet001EnumRootLEGACY_1FE50
HKEY_LOCAL_MACHINESYSTEMControlSet001EnumRootLEGACY_1FE50000
HKEY_LOCAL_MACHINESYSTEMControlSet001EnumRootLEGACY_1FE50000Control
HKEY_LOCAL_MACHINESYSTEMControlSet001Services112da10e6b8dcd07
HKEY_LOCAL_MACHINESYSTEMCurrentControlSetEnumRootLEGACY_[random2]
HKEY_LOCAL_MACHINESYSTEMCurrentControlSetEnumRootLEGACY_[random2]000
HKEY_LOCAL_MACHINESYSTEMCurrentControlSetEnumRootLEGACY_[random2]000Control
HKEY_LOCAL_MACHINESYSTEMCurrentControlSetEnumRootLEGACY_1FE50
HKEY_LOCAL_MACHINESYSTEMCurrentControlSetEnumRootLEGACY_1FE50000
HKEY_LOCAL_MACHINESYSTEMCurrentControlSetEnumRootLEGACY_1FE50000Control
HKEY_LOCAL_MACHINESYSTEMCurrentControlSetServices[random2]
HKEY_CURRENT_USERSoftwareWinUltraAntivirus
random2 - name of the rootkit file name.
Delete files:
%System%drivers[random2].sys, like %System%drivers142da10e6b8dcd07.sys
About the author
Removal guides in other languages