Windows Web Combat. How to remove? (Uninstall guide)
Windows Web Combat is a malicious program from FakeVimes which distributes its rogues with the help of the same trojan. Be sure that this malware will start its malicious campaign as soon as it will find a way on your computer. Windows Web Combat displays tons of annoying alerts and system scanners and then offers its victim to purchase licensed version. We highly recommend NOT to to that and remove Windows Web Combat without any delay.
HOW CAN YOU GET INFECTED WITH Windows Web Combat
Windows Web Combat is mostly spreading through software vulnerabilities and backdoors with a help of trojans. As soon as it manages to get there, malware is set to start as soon as PC is rebooted and then displays its misleading malware detection alerts. All these warning messages tell that you have numerous trojans, malware and other kinds of viruses. Besides, Windows Web Combat recommends you to push a 'Scan' button and also reports the same misleading infections. Every time Windows Web Combat victim reboots his computer, he receives such or similar alerts:
Torrent Alert
Recommended: Please use secure encrypted protocol for torrent links.Torrent link detected!
Receiving this notification means that you have violated the copyright laws. Using Torrent for downloading movies and licensed software shall be prosecuted and you may be sued for cybercrime and breach of law under the SOPA legislation.
Error
Software without a digital signature detected.
Your system files are at risk. We strongly advise you to activate your protection.
Error
Keylogger activity detected. System information security is at risk.
It is recommended to activate protection and run a full system scan.
If all goes according to the hackers' plan, you should be paying for Windows Web Combat. However, be sure that all these viruses reported is a trap. This program has no virus database and is capable to report only about invented viruses and problems. We highly advise you to ignore these alerts and uninstall this malware immediately. If you simply leave it on your machine, you will be continuously receiving an incredible quantity of fake popup alerts and fabricated scan reports. Also, your computer will become slow and infected with more viruses in the future.
HOW CAN YOU REMOVE WINDOWS Windows Web Combat
In order to remove Windows Web Combat from your computer, run a full system scan with reputable anti-malware programs. We recommend using Plumbytes Anti-MalwareWebroot SecureAnywhere AntiVirus or Reimage if you are infected with Windows Web Combat.
The latest parasite names used by FakeVimes:
[newest]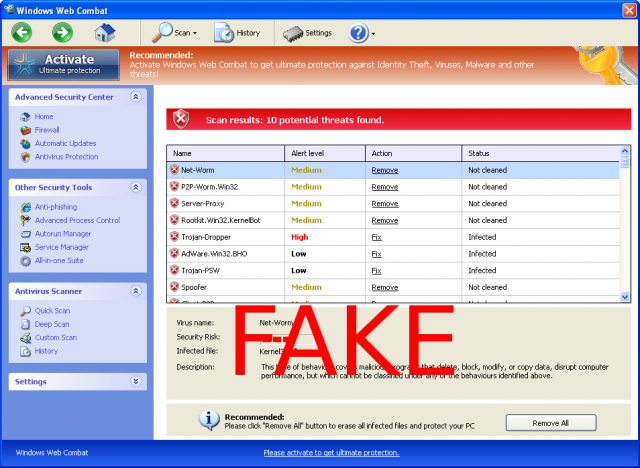 Windows Web Combat manual removal:
Kill processes:
Protector-[3 random characters].exe
Protector-[4 random characters].exe
Delete registry values:
HKEY_LOCAL_MACHINESOFTWAREMicrosoftWindows NTCurrentVersionImage File Execution Optionsafwserv.exe "Debugger" = 'svchost.exe'
HKEY_LOCAL_MACHINESOFTWAREMicrosoftWindows NTCurrentVersionImage File Execution Optionsavastsvc.exe "Debugger" = 'svchost.exe'
HKEY_LOCAL_MACHINESOFTWAREMicrosoftWindows NTCurrentVersionImage File Execution Optionsavastui.exe "Debugger" = 'svchost.exe'
HKEY_LOCAL_MACHINESOFTWAREMicrosoftWindows NTCurrentVersionImage File Execution Optionsegui.exe "Debugger" = 'svchost.exe'
HKEY_LOCAL_MACHINESOFTWAREMicrosoftWindows NTCurrentVersionImage File Execution Optionsekrn.exe "Debugger" = 'svchost.exe'
HKEY_LOCAL_MACHINESOFTWAREMicrosoftWindows NTCurrentVersionImage File Execution Optionsmsascui.exe "Debugger" = 'svchost.exe'
HKEY_LOCAL_MACHINESOFTWAREMicrosoftWindows NTCurrentVersionImage File Execution Optionsmsmpeng.exe "Debugger" = 'svchost.exe'
HKEY_LOCAL_MACHINESOFTWAREMicrosoftWindows NTCurrentVersionImage File Execution Optionsmsseces.exe "Debugger" = 'svchost.exe'
HKEY_LOCAL_MACHINESOFTWAREMicrosoftWindows NTCurrentVersionSystemRestore "DisableSR " = '1'
Delete files:
%AppData%Protector-[rnd].exe
%AppData%NPSWF32.dll
%AppData%Protector-[3 random characters].exe
%AppData%Protector-[4 random characters].exe
%AppData%result.db
%AppData%1st$0l3th1s.cnf
About the author
Removal guides in other languages