XP Antispyware 2011. How to remove? (Uninstall guide)
XP Antispyware 2011 is an important part of dangerous group of malwares, that have infected numerous PCs and seems like it was just a beginning. Mostly overtaking computers that run Windows XP, XP Antispyware 2011 reaches them through Trojans viruses that sneak inside secretly if machine is unprotected. Additionally, virus will do some secret modifications needed for its normal functionality, like launching just after computer's reboot, and then will start its activity. You will notice XP Antispyware 2011 on various system security notifications that all will be concentrated for creating a need of the paid version. By telling you that there are tons of viruses detected, XP Antispyware 2011 will offer you to fix your computer with its useless "full" version. You should never do that and remove the trial version of XP Antispyware 2011. Otherwise, it will lead you PC to bigger security problems.
XP Antispyware 2011 displays foolishly looking alerts, system scanners, pop-up ads and notifications for making users scared about the viruses. None of them will tell a truth while they will be declaring:
Stealth intrusion!
Infection detected in the background. Your computer is now attacked by spyware and rogue software. Eliminate the infection safely, perform a security scan and deletion now.
System danger!
Your system security is in danger. Privacy threats detected. Spyware, keyloggers or Trojans may be working the background right now. Perform an in-depth scan and removal now, click here.
System Hijack!
System security threat was detected. Viruses and/or spyware may be damaging your system now. Prevent infection and data loss or stealing by running a free security scan.
Internet Explorer alert. Visiting this site may pose a security threat to your system!
Possible reasons include:
– Dangerous code found in this site's pages which installed unwanted software into your system.
– Suspicious and potentially unsafe network activity detected.
– Spyware infections in your system
– Complaints from other users about this site.
– Port and system scans performed by the site being visited.
Things you can do:
– Get a copy of XP Antispyware 2011 to safeguard your PC while surfing the web (RECOMMENDED)
– Run a spyware, virus and malware scan
– Continue surfing without any security measures (DANGEROUS)
Please keep in mind that XP Antispyware 2011 and all its relative programs like XP Security 2011 or Win 7 Security 2011 belong to rogue anti-spywares category what means that they will do their best for ripping users off. Don't support the scammers by paying for it and remove XP Antispyware 2011. As soon as you notice misleading activity of malware, make sure you stop its executable pw.exe and MSASCui.exe and follow the additional guide for XP Antispyware 2011 removal.
To remove XP Antispyware 2011 you will need another PC, as removing it from safe mode with networking will not work in most of the cases.
a) Burn these programs to CD or write them to USB disk. You can use your MP3 player, or smartphone if it has storage functions. This parasite does not spread through USB at the moment:
1.STOPzilla or an automatic removal tool below. Update STOPzilla and run a full system scan.
2.You might want to download Hitman Pro or Malwarebytes as alternate scanners. Though you are likely to be able to download them later on.
b) Boot normally. Wait for XP Antispyware 2011 to launch, and run exeregfix.reg . This should allow launching legitimate programs
c) Delete or remove the files that are mentioned in our files box. You can use STOPzilla to identify the infected files and additional infections or automatic XP Antispyware 2011 removal tool. Do not forget update it before scanning. Remove what it finds.
d) Scan with STOPzilla and secondary tools and reboot your PC. This should fully get rid of XP Antispyware 2011.
UPDATE!!! One of PC security bloggers, S!Ri, has announced about a serial code that may help you to disable those malwares that change their names according to OS they find. Enter this serial code when doing registration: 1145-17884799-7733. This and the order number 21197673 should also work for earlier versions of this type of parasite. After typing them, you should become able to use your anti-spyware, if it fails follow the guide written above. Be aware that these numbers are expected to change in the near future!
Alternative Software
Different security software includes different virus database. If you didn't succeed in finding malware with Reimage, try running alternative scan with SpyHunter.
Alternative Software
Different security software includes different virus database. If you didn't succeed in finding malware with Reimage, try running alternative scan with Combo Cleaner.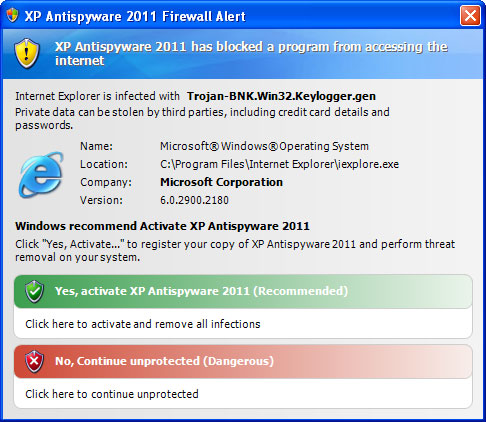 About the author

November 19th, 2010 at 4:11 pm

Manual Removal worked great – thanks for the help.


February 19th, 2011 at 11:02 am

worked great, thanks for the help.

Raimond, the Netherlands


February 19th, 2011 at 3:02 pm

Now seems to run as qmg.exe instead of pw.exe. STOPzilla completely useless – didn't detect any problem at all!


March 20th, 2011 at 10:03 am

my computer has it with wtd.exe


March 28th, 2011 at 3:03 am

how do i use it??? how will i start with it?? please answer this is urgent!


April 14th, 2011 at 7:04 am

I got a dose of XP AntiSpyware and got rid of it by deleting a bop.exe and a related pf file. It may be a temporary fix but the endlessly annoying popups and fake warnings have disappeared. For some reason McAfee does not even have the bop.exe in its database, which is probably why its AV software doesnt clear it out.

14 April 2011

T


April 17th, 2011 at 3:04 am

Oh my God, I almost downloaded it.
I was freaking out because this is my bosses computer and thought I did something, but it kind of seemed weird the internet was informing me of the viral attack instead of the computer so I decided to google it. Wow, jeez, thanks.
– slowly calms down from panic attack –


April 30th, 2011 at 9:04 am

STOPzilla did not help at all. I downloaded it onto my uninfected computer, then tried transferring it to my infected laptop, and it wouldnt transfer at all! None of this information helped.


May 1st, 2011 at 1:05 pm

I dont have any of the exe files suggested here. How do I get rid of it?!?!


May 2nd, 2011 at 10:05 am

Malwarebytes did the trick for me


May 2nd, 2011 at 9:05 pm

Anti Malware and spy doctor wont even pop up what do I do? Its showing up as mjc.exe for me I cant even go on firefox and anti vir keeps getting disabled but I was able to use ccleaner and team viewer and auslogics, I havent even downloaded anything lately I have no idea how I got it on my computer 🙁

Help me please


May 6th, 2011 at 8:05 am

the same soft..but except the .exe register nothing else was there…and i saw the 2010 version on my neighbours PC and he had a background pic with the text "your computer is in big danger blah blah" and no .exe file can be open…in my case exe files working..no background with text….i think this soft is trying to go deeper everytime he infects a PC…in every case strange thing


May 13th, 2011 at 7:05 pm

.exe file on my computer was not any listed above, it was deb.exe Worked to stop anti-spyware from running.


May 15th, 2011 at 11:05 pm

Any chance of a new code to disable this and allow anti spyware software to run?


May 20th, 2011 at 11:05 am

Download Malwarebytes Anti-Malware to remove


May 24th, 2011 at 11:05 pm

I too have Windows XP and got the XP Anti Spyware Virus. This is what worked for me:

I used a free program called Super Anti Spyware. I have used it previously, and it effectively removed the Windows Repair virus when Malwarebytes could not. It's totally free and it continues to rock my socks off! Go to "http://www.superantispyware.com/" and download the free edition and then transfer it to your infected computer using a cd or usb drive.

Also, in order to fix the EXE problem where programs won't load because of a broken file association, I visited "http://www.pcreview.co.uk/forums/exe-files-wont-open-t532346.html" and followed Venkatesh's link "http://www.dougknox.com/xp/fileassoc/xp_exe_fix.zip". Inside the zip folder, I found a reg file, which I transferred via usb/ cd, then simply double clicked, and pressed "okay".

Abracadabra, my computer was fixed! Hope this works for you too!

PS. I was able to open Superantispyware and after a couple of scans and quarantines remove the virus completely. Then I used the reg file. If doing them in this order does not work, you might try the reverse (Use reg file first, then wipe out the virus with SuperAntiSpyware).

PS.S. Make sure to update SuperAntiSpyware, if possible, before scanning. And continue to scan until nothing else needs to be removed.


May 31st, 2011 at 10:05 am

fuc..kin virus.pls somebody help me i have to remove it,but thes programs are useles (malwarebytes,super anti spyware,etc)


June 2nd, 2011 at 9:06 pm

what program should we use?


June 3rd, 2011 at 10:06 am

It works!!! I followed Ryans instructions below (no.3) carefully and I used a Mac to download files and transferred the files to a flash drive and then into the virus affected PC and ran the program including the additional file. I did the longer scan (45mins) to be sure, but the shorter one probably will do as well.
Saved $80-100 in a repair shop by following these instructions! Thank you, thank you,

Alan, Chicago