XP Antivirus Pro 2013. How to remove? (Uninstall guide)
XP Antivirus Pro 2013 is not a helpful program, actively trying to eliminate viruses from your computer. This is a rogue anti-spyware, which hails from a sneaky family called Rogue.FakeRean-Braviax. It attacks only those systems that have Windows XP running on them. However, there are many other versions that have been designed to work on Windows Vista and Windows 8 versions. After getting on board, this program alters system's settings and starts displaying its fake alerts and notifications every time user reboots his computer. All these warnings are designed to make people think that they have dangerous viruses on their computers. As a matter of fact, XP Antivirus Pro 2013 is a virus by itself and it is the only one that should be eliminated. Under no circumstances you should believe this program – XP Antivirus Pro 2013 is malware, which helps for computer criminals to get some easy money. You must remove this program as soon as possible.
HOW CAN I GET INFECTED WITH XP Antivirus Pro 2013?
XP Antivirus Pro 2013 gets on one's computer without any permission asked. Typically, it relies on Trojan horse that additionally downloads all the files that are needed for further XP Antivirus Pro 2013's activity. Once it's set to start, rogue begins its campaign: it performs its regular scans and displays its regular alerts that are identical on all computers. It can be predetermined that XP Antivirus Pro 2013 will report about Trojan-BNK.Win32.Keylogger.gen, privacy-threathening software, rogue malware and other malicious components that have nothing to do with real computer's situation. Here's what XP Antivirus Pro 2013 claims:
Threat detected!
Security alert! Your computer was found to be infected with privacy-threathening software. Private data may get stolen and system damage may be severe. Recover your PC from the infection right now, perform a security scan.
Privacy alert!
Rogue malware detected in your system. Data leaks and system damage are possible. Click here for a free security scan and spyware deletion.
Security Breach
Beware! Spyware infection was found. Your system security is at risk. Private information may get stolen, and your PC activity may get monitored. Click for an anti-spyware scan.
XP Antivirus Pro 2013 is definitely not a trustworthy program because it has an empty virus database and has no ability to scan computer for viruses. Additionally, it offers to purchase its useless 'licensed' version and seeks to get you out of your money in this way. Before you do that, scan your PC with legitimate anti-malware program. This will clrealy show you real threats on your machine.
HOW TO REMOVE XP Antivirus Pro 2013?
In order to remove XP Antivirus Pro 2013, you should immediately scan your computer with reputable anti-malware. We recommend using Reimage after updating. You cal alternative scan with Plumbytes Anti-MalwareWebroot SecureAnywhere AntiVirus or Malwarebytes Anti Malware as well.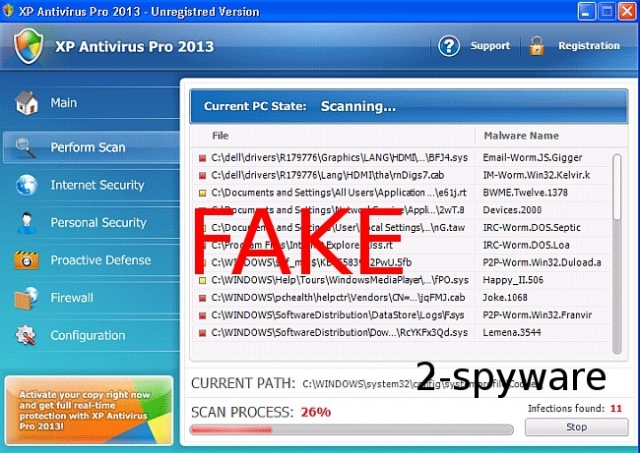 XP Antivirus Pro 2013 manual removal:
Kill processes:
%AppData%[random 3 letters].exe
Delete files:
%AppData%[random 3 letters].exe
About the author