XP Malware 2010. How to remove? (Uninstall guide)
XP Malware 2010 is a rogue anti-spyware program. XPMalware2010 displays false scan results as a trick to make you think that you are infected. However reported infections do not actually exist on your computer. Once installed, XP Malware 2010 will be configured to start automatically when you log on into Windows. When active, it will simulate a system scan and then display fake results. The rogue rogue program won't allow you to remove the infections until you purchase the program. It goes without saying that you shouldn't purchase this phony program. Instead, please use the removal instructions below to remove XP Malware 2010 from your computer as soon as possible.
This fake program is currently being promoted via malware, fake online scanners or bogus video online sites. It may be also promoted on popular social networks, so be careful. Another very annoying thing about this infection is fake security alerts and notifications from Windows Task bar stating that your computer is infected or under attack by an Internet virus or from a remote computer. What is more, it will hijack Internet Explorer and probably other web browsers too and redirect you to various misleading sites sites full of advertisements or that promote phony programs. Furthermore, it will be block legitimate anti-malware programs and disable Windows system tools such as task manager and registry editor. That's why you will have to follow removal instructions stated below to remove XP Malware 2010 from your computer. Also please note that this virus may come bundled with other malware so you should scan your PC with a legitimate anti-spyware program to make sure that there are no other malware installed on your PC.
XP Malware 2010 removal instructions:
1. Click Start->Run (or WinKey+R). Input: "command". Press Enter or click OK.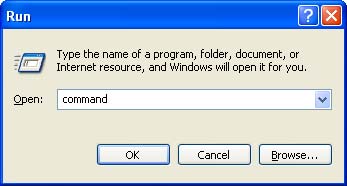 2. Type "notepad" as shown in the image below and press Enter. Notepad will open.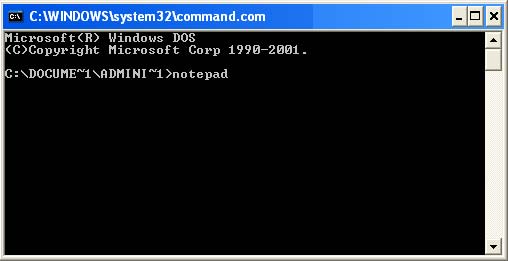 3. Copy and past the following text into Notepad:
Windows Registry Editor Version 5.00
[-HKEY_CURRENT_USERSoftwareClasses.exeshellopencommand]
[-HKEY_CURRENT_USERSoftwareClassessecfileshellopencommand]
[-HKEY_CLASSES_ROOT.exeshellopencommand]
[HKEY_CLASSES_ROOT.exe]
@="exefile"
"Content Type"="application/x-msdownload"
[-HKEY_CLASSES_ROOTsecfile]
4. Save file as "exefix.reg" (without quotation-marks) to your Desktop.
NOTE: choose Save as type: All files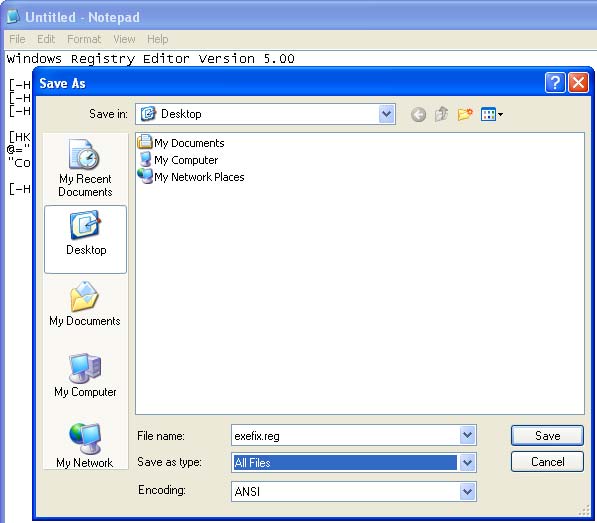 5. Double-click to open exefix.reg. Click "Yes" for Registry Editor prompt window.
6. Download STOPzilla or an automatic removal tool below. Update STOPzilla and run a full system scan.
If you can't complete the above steps then please use another PC to download an automatic removal tool and exefix.reg (Right Click (Save Target As)) to download file. Copy these files to USB flash drive or any other external media and transfer them to infected computer. Launch exefix.reg file first and then install STOPzilla.
XP Malware 2010 manual removal:
Kill processes:
av.exe
ave.exe
Delete files:
av.exe
ave.exe
About the author