XP Micro Antivirus Online Scan. How to remove? (Uninstall guide)
XP Micro Antivirus Online Scan is a rogue scanner, which should be avoided and never trusted. This threat shows its forged system scan when user enters the domain, which is hosting it. So, while it may seem that this security application works in a window of My Computer, in reality it is the online virus scanner, which has been built in for tricking PC users into checking their PCs for viruses. Classically, such scams are used to scare users into purchasing the fake licensed version. Please, never pay for XP Micro Antivirus Online or similar malware no matter that it reports about 4 viruses detected in the Shared Documents folder or 4 viruses found in your Hard drive. If you want to make sure that your computer is free of viruses, scan it with updated Reimage.
How can I get infected with XP Micro Antivirus Online Scan?
XP Micro Antivirus Online Scan is distributed in a different way, not just like typical rogue anti-spyware. As we have said, attackers have integrated its fake scan into the malicious website, so it doesn't need to attack the PC and download its files onto the system. However, this virus needs to increase the number of its visitors, so there is a great danger that it will be propagated with a help of browser hijacker. If you enter such domain while browsing on the Internet, it will immediately try to deceive you that your PC is in danger. For that, malware displays a huge window, which tries to convince people into believing that this scan is made locally. Please, ignore XP Micro Antivirus Online Scan because it's misleading and seeks to get you out of your money.
How to remove XP Micro Antivirus Online Scan?
If you have been rerouted to the website, which shows XP Micro Antivirus online Scan, you should leave this site as soon as possible. In addition, scan your machine with updated anti-spyware to make sure that your PC is free of viruses. For that we recommend using Reimage.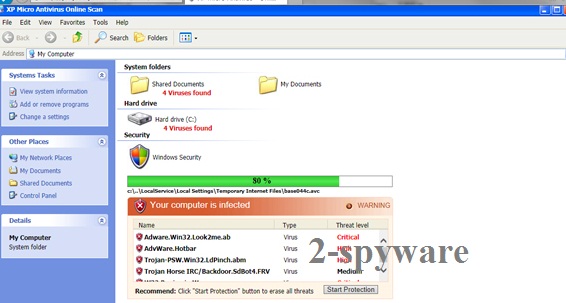 About the author
Removal guides in other languages